2018's global heat wave is so pervasive it's surprising scientists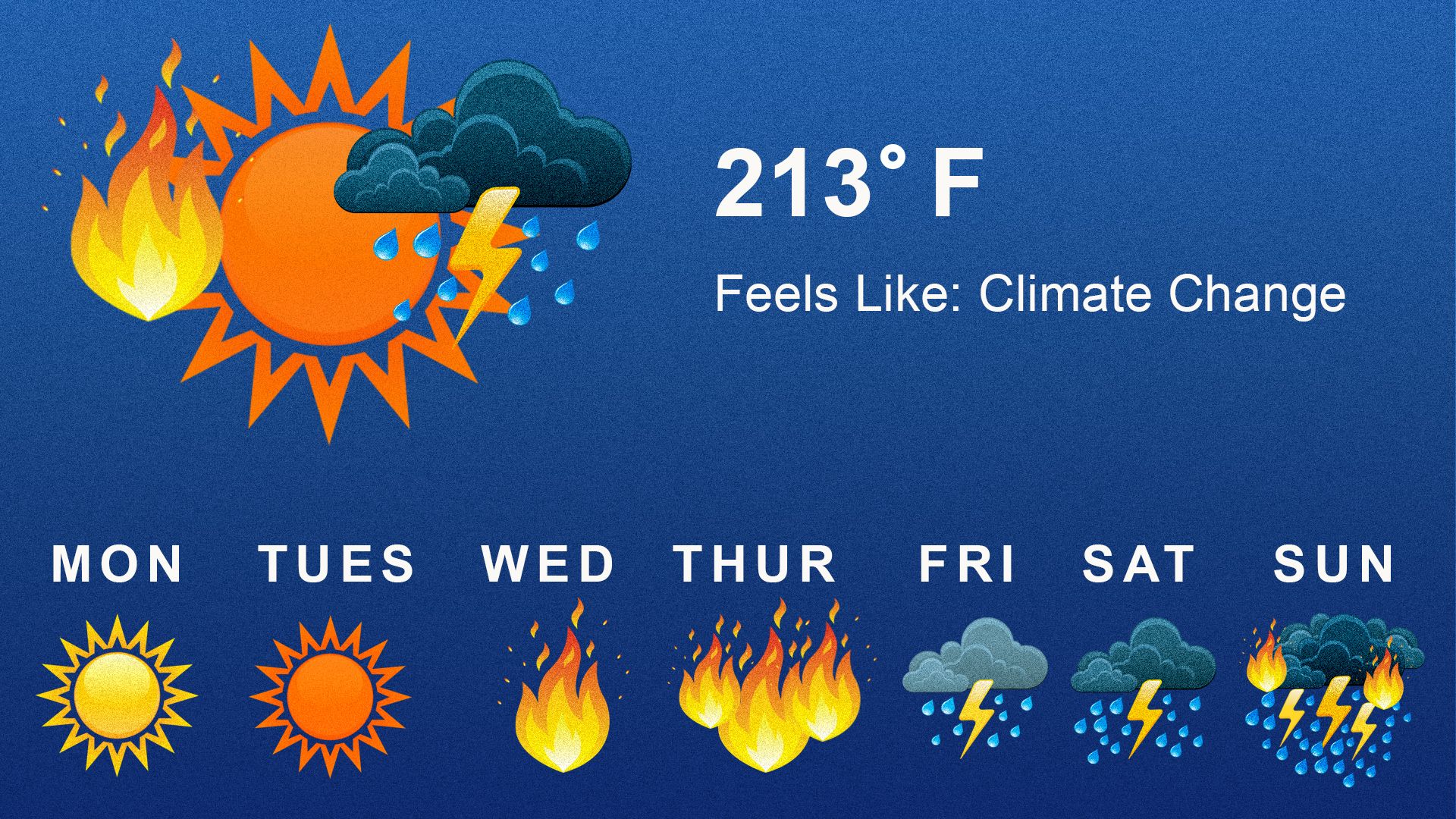 The deadly heat waves, floods and fires occurring from Japan to the Middle East, and North America to Europe have clear links to human-caused climate change, according to climate scientists, and this summer's abnormal weather is just the beginning of what's in store for us in coming years.
Why it matters: The biggest near-term impacts of climate change on society come in the form of weather and climate extremes, so this summer illustrates the danger of even a relatively small amount of warming. So far, the planet has only warmed by close to 1°C, or 1.8°F, above preindustrial levels. We're on a trajectory to reach 3 degrees Celsius, or 5.4°F, by 2100.
The big picture: All-time high temperature records, along with heavy rainfall milestones have fallen as a warmer, wetter climate exerts its influence on day-to-day weather. Here are just a few of the records set so far:
In North America: Los Angeles set an all-time high temperature record of 111°F on July 6. Montreal, Canada also set its all-time high temperature record, during a deadly Quebec heat wave in early July. This week, Death Valley, California, has broken three straight daily records with a high of 127°F. Update, July 31, 2018: Death Valley is poised to set a record for the hottest month ever recorded on Earth, with an average temperature of 108°F, breaking last year's record by about half a degree.
Several locations are reporting that July was their warmest all-time month, including the normally temperate Caribou, Maine.
In Europe: Unprecedented heat led to a wildfire outbreak in Scandinavia, and record highs have been set all the way above the Arctic Circle this month. According to the U.N., Sodankyla, Finland hit 89.2°F, or 31.8°C, on July 17, which was an all-time record for that location.
On Sunday, Sortland, in far northern Norway, saw the temperature reach 87.8°F, or 31.0°C, which was an all-time high for any month at that location, according to meteorologist Etienne Kapikian.
July 27 was the hottest temperature on record in Amsterdam, at 34.8°C, or 94.6°F.
Remarkably, in northern Norway, Makkaur, set a new record high overnight low temperature of 25.2°C, or 77°F, on July 18.
Heat records have also fallen in the U.K., Ireland and France. In London, high temperatures hit 35°C on Thursday, and were forecast to potentially eclipse that on Friday. The U.K. is suffering through one of its driest years on record.
In Asia, Chinese media is reporting that "22 counties and cities" have had their hottest July on record. South Korea set its all-time high temperature record on Aug. 1, when the temperature soared to 40.7°C, or 105.2°F, in Hongcheon, according to the Korea Meteorological Administration.
It was the highest ever recorded across the country since the KMA started compiling the data in 1907. The previous high of 40 degrees Celsius was logged at the southeastern city of Daegu in North Gyeongsang province on Aug. 1 in 1942.
Temperature in the capital Seoul reached a daily high of 39.6 degrees Celsius in midday, marking the highest in 111 years. The previous high was 38.4 degrees Celsius recorded on July 24, 1994.
In the Middle East: Quriyat, Oman, which likely set the world's hottest low temperature ever recorded on June 28, when the temperature failed to drop below 109°F, or 42.8°C.
In Africa: Ouargla, Algeria, may have set Africa's all-time highest temperature on July 5, with a reading of 124.3°F, or 51.3°C.
In Asia: Japan set a national temperature record of 106°F, or 41.1°C, in a heat wave that followed deadly floods.
According to an analysis published Friday, climate scientists found a clear link between climate change and extreme heat in Europe, particularly in Scandinavia, although year-to-year variability prevented researchers from making definitive statements.
"We found that for the weather station in the far north, in the Arctic Circle, the current heat wave is just extraordinary – unprecedented in the historical record," said Geert Jan van Oldenborgh, senior researcher at the Royal Netherlands Meteorological Institute (KNMI).
And it's not just heat records that are noteworthy this summer. Large expanses of forests are burning in response to hot, dry conditions, from Scandinavia to Siberia, and California to Oregon. The Ferguson Fire forced Yosemite National Park to close this week at the peak of tourist season. Another conflagration killed at least 84 outside Athens earlier this week.
In addition, extreme precipitation events have struck, which is another expected consequence of climate change since warmer air holds more water vapor.
Between the lines: Climate scientists told Axios that while they are not surprised by the simultaneous extremes observed so far this summer — reports have warned about this for years — they are taken aback by the severity and number of these extreme events.
"Even for somebody who understands extreme weather and how climate change affects extreme weather, what's happening this summer is incredible," said Bernadette Woods, chief meteorologist and climate matters program director at Climate Central, a nonpartisan climate science research and communications group.
Likewise, Michael Wehner, a climate researcher at Lawrence Berkeley National Laboratory in California, called 2018 "an unusual year."
"While I expect that high temperatures records will continue to be broken at abnormally high rates because of global warming, I would not have guessed that so many would be broken in the same year," he said via email.
Noah Diffenbaugh, a climate scientist at Stanford University, published a study last year that found a fingerprint of climate change in heat milestones worldwide. The study found that climate change has boosted the odds of record-breaking heat across more than 80% of the surface area of the globe for which reliable observations were available.
"Not only should we not be surprised to see the increasing frequency of the hot extremes and wet extremes, but even more directly they actually should be expected"
— Noah Diffenbaugh, a climate scientist at Stanford University
The bottom line: One point climate scientists emphasized is that as average global temperatures increase, the impacts of climate change are becoming more visible.
Daniel Swain, a climate researcher at UCLA, told Axios: "From my perspective as a climate scientist, one of the most striking (and disconcerting) aspects of this is that we're now seeing decades-old scientific predictions being validated in the real world, right before our eyes," he said via email.
"And now we're seeing these changes manifest themselves in a very tangible sense in London, and Tokyo, and Delhi, and Los Angeles, and Washington D.C.—places where hundreds of millions of people live."
— Daniel Swain, climate scientist at UCLA
Go deeper: Yosemite National Park evacuated as wildfire worsens
Heat records fall in the Arctic as fires erupt in Sweden and Siberia
Special report: A 30-year alarm on the reality of climate change
Editor's note: This story has been updated to include additional temperature records in Maine and China, and to correct the name of Lawrence Berkeley National Laboratory.
Go deeper