What Netflix's big miss means for the new tech economy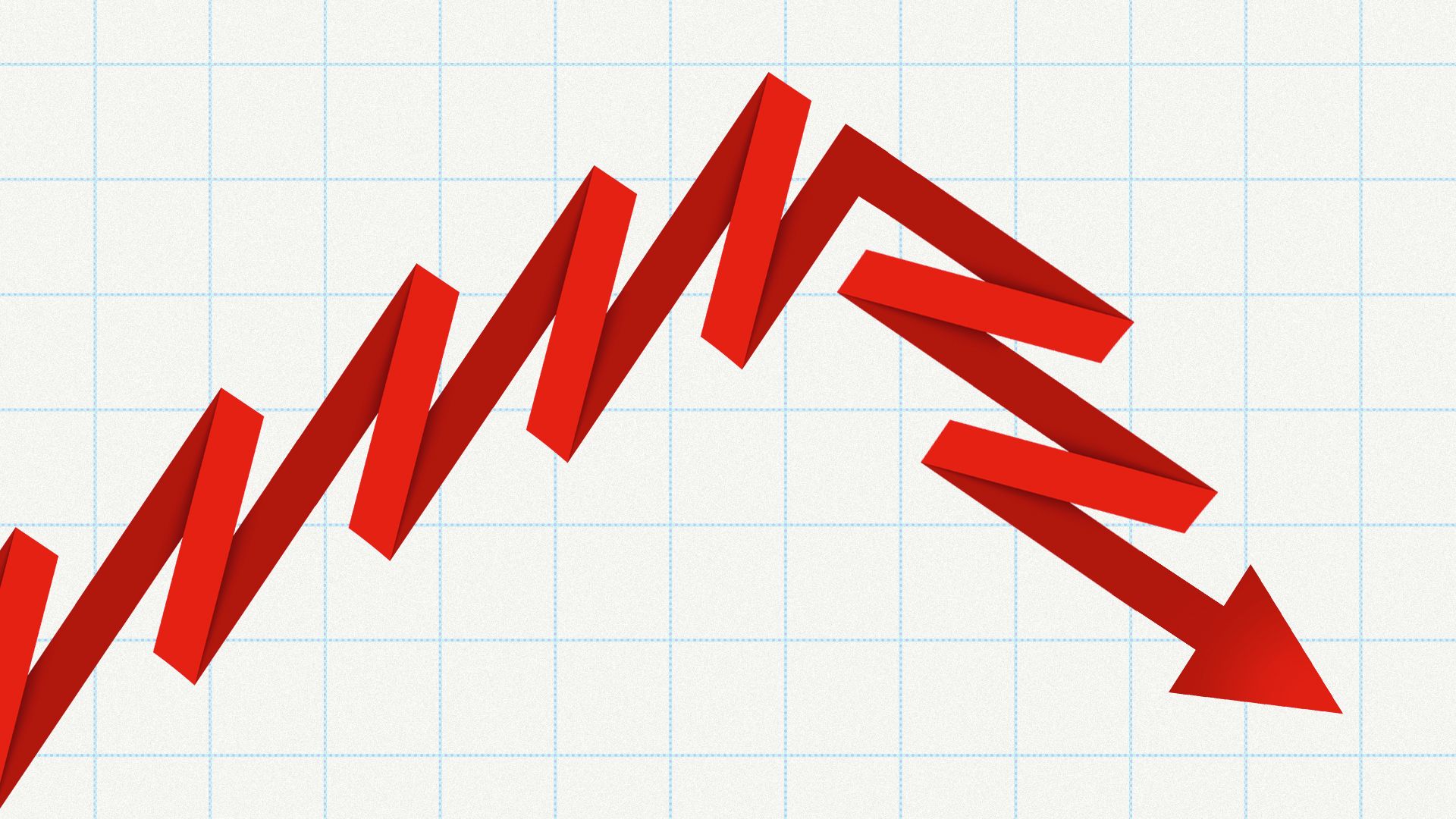 Netflix's stock was down nearly 14% in after-hours trading Monday after the company missed expectations on revenue and subscriber growth. Stocks for almost every other tech company in the streaming business, like Roku, Spotify, Twitter, Facebook and Google, were also down following the news.
Why it matters: Netflix's miss is reigniting debate around whether the new tech economy, where companies are highly valued despite being barely or far from profitable, is sustainable long-term.
"The bulls expected continuing upside to their subscriber guidance ... and when those expectations were cracked, the stock cracked."
— Michael Pachter, managing director of Equity Research at Wedbush Securities to Axios
The miss wasn't entirely shocking. Most analysts agree that Netflix's momentum wasn't sustainable, especially in the U.S., where analysts say the tech giant was beginning to reach a point of saturation.
Jill Rosengard, EVP at broadcast research firm Frank N. Magid Associates, tells Axios their research predicted a 2% net decrease in subscribers for Netflix in the U.S. six months ago.
The streamer is also facing increasing competition from other subscription video on-demand companies gaining market share, like Amazon, HBO and Hulu, as well as legacy media companies looking to break into the on-demand economy, like Disney and AT&T, says eMarketer principal analyst Paul Verna.
Bullish investors argue that the company will bounce back, and that Netflix is still an attractive investment for the foreseeable future.
"As an investor, we're looking over next five-ten years and Netflix is the number one service that every single person uses in general and probably across the world in the next couple of years. We're not concerned about the business. We love the way the numbers are trending. The only issue anyone has with the stock is the valuation."
— Ross Gerber, Co-Founder, President and CEO of Gerber Kawasaki Wealth and Investment Management on
CNBC
Bottom line: The corporate structure of newer tech companies, as well as the pace of tech innovation, has caused investors to reward companies that can scale and adapt to consumer trends quickly, as opposed to companies that focus on consistently delivering profit, like legacy media networks.
Because of this, streaming companies are able to invest billions of dollars in creating and buying content to lure viewers from traditional networks, creating a virtuous cycle of dominance.
Case in point: Netflix topped HBO for the first time in 17 years with the most Emmy nominations for a network this year.
What's next? None of Netflix's competitors consistently disclose subscriber numbers, but earnings over the next few weeks for AT&T (HBO's new owner), Amazon, and Hulu's owners (Disney, Comcast, Fox and Turner, now owned by AT&T) could shed light on their content strategies.
Go deeper: The rising cost of digital TV
Go deeper