The future of online shopping: Ads that let you try things on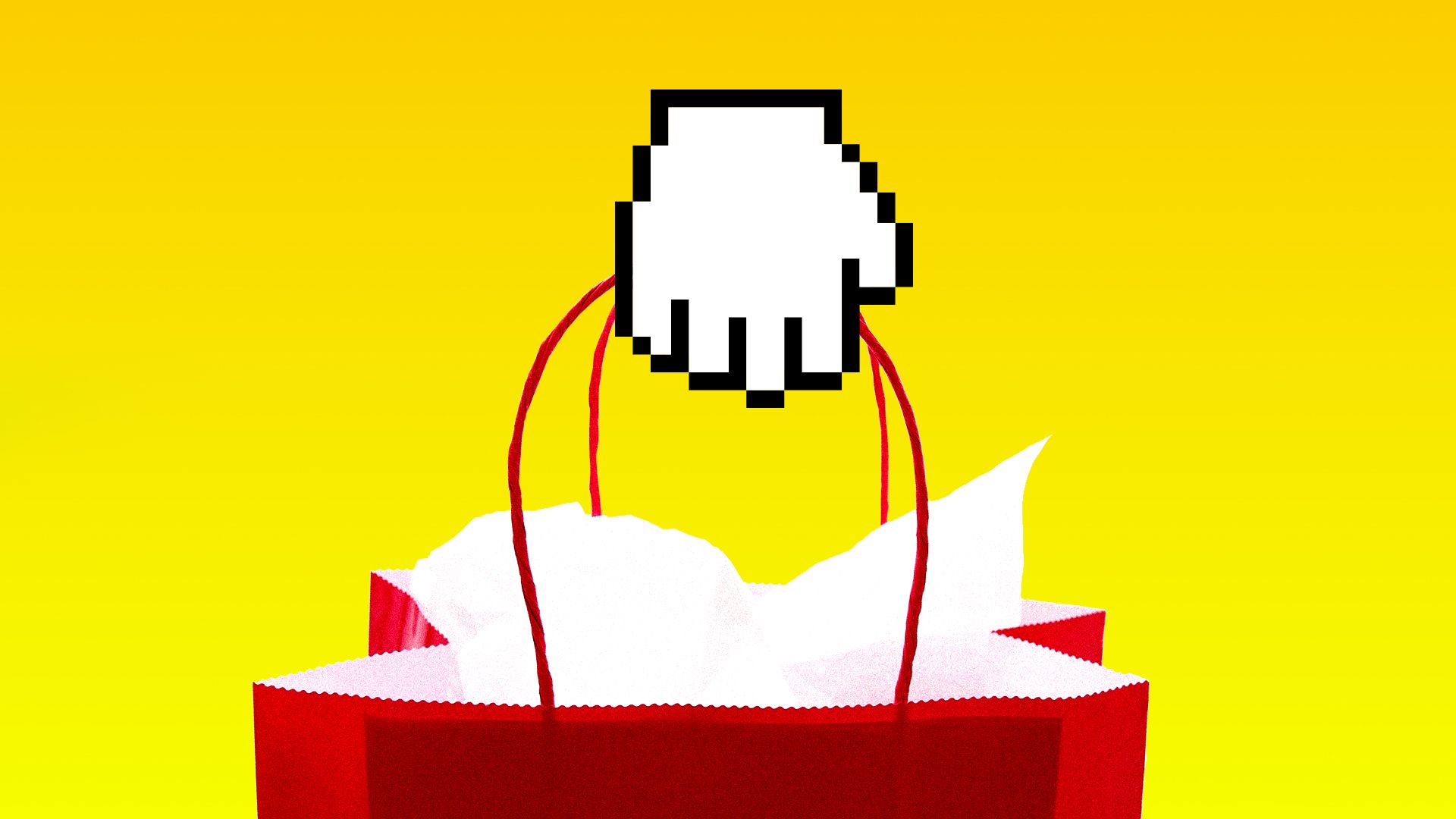 Some of the biggest U.S. social media giants are beginning to roll out ads that feature augmented reality, giving marketers the ability to let users virtually test their goods before buying them.
Why it matters: The technology brings virtual and real world shopping experiences closer together, and would likely shift retail spending further online.
How it works: A user who sees a digital ad using AR could see what a pair of glasses looks like on their face, or what a rug would look like in their living room, before making a purchase.
The ads are also digitally targeted to users based on their preferences, increasing the likelihood that they'd be interested in the product to begin with.
Tech giants are pioneering the ad technology because they are already camera-friendly platforms, meaning the major use of their apps is taking pictures of yourself or your space anyway.
Snapchat was the first company to give advertisers the ability to use augmented reality in their ads. The feature, called "Shoppable AR," allows users to buy things directly from a movable augmented reality image. Brands like Adidas and Clairol have already begun using the feature.
Facebook soon followed, announcing this week that it is rolling out AR within ads this year on Facebook's News Feed. Michael Kors was the first brand to test the feature. Sephora and others will begin using AR ads on Facebook later this summer.
Amazon and Google are using similar technologies to implement AR into their shopping platforms. Given Google's ad dominance and Amazon's push into online advertising, it wouldn't be surprising if they too begin to roll out AR advertising offerings for marketers.
The big picture: Until now, AR has mostly been used in marketing at the "top of the funnel," meaning it helps drive general awareness around brands. By making it possible to buy things through AR, the technology can now be used closer to the "bottom of the funnel," meaning it can push people to actually buy products.
Can something like this scale? eMarketer predicts that this year, there will be 51.2 million monthly users of AR. And BCG reports 1 in 3 smartphone users in the US now play with AR every month.
Snapchat's AR ads, called "Lenses," are some of the most engaging ad units for younger users. More than 70 million people

play

with Lenses every day.
What's next? In the future, AR could help consumers more easily find and discover products that are tailored to their specific needs in the real world.
"One potential application could be, let's say you are gluten-free. With AR, you could walk down a super market aisle with AR glasses or your phone and all of the things in the aisle that are gluten free can be coded to pop out at you."
— Victoria Petrock, analyst with
eMarketer
Go deeper