Africa's all-time hottest temperature was likely set Thursday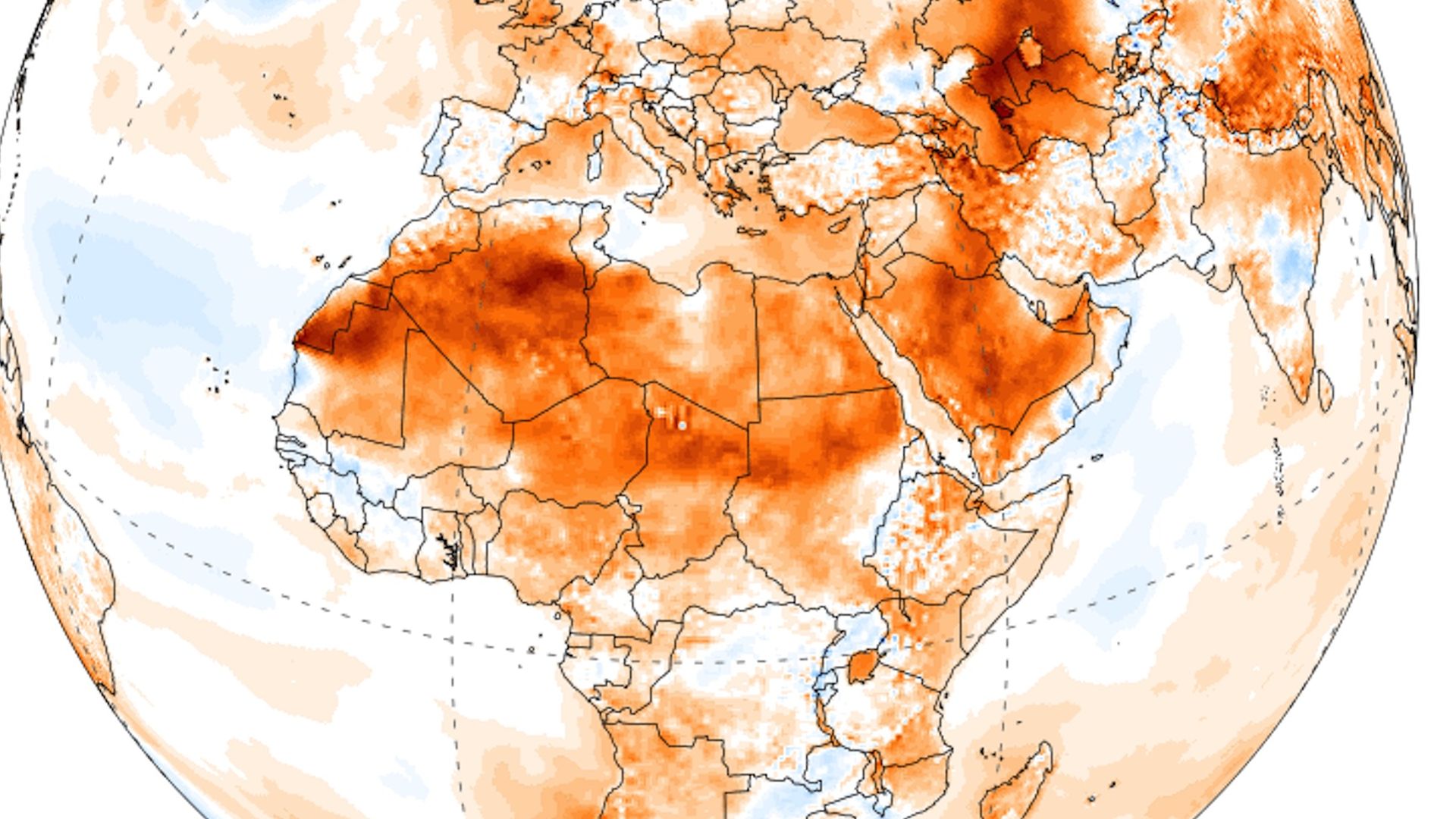 The Sahara Desert community of Ouargla, Algeria likely set a new record on Thursday for the hottest temperature in Africa: 124 degrees Fahrenheit (51 degrees Celsius).
Why it matters: Africa is already Earth's hottest continent, and as a series of heat waves shatter longstanding records around the world this summer, it's a reminder that one of the clearest effects of global climate change is more heat extremes.
Between the lines: The record is not yet official, since experts from the World Meteorological Organization need to examine the thermometer that registered the record to make sure it was functioning properly. Also, the sensor needs to be situated away from pavement or other influences that would have artificially elevated the temperature.
However, there is supporting evidence suggesting that record high temperatures were set in Algeria on Thursday. The area was under the influence of a sprawling area of high pressure, or a heat dome, that forced the air to sink and warm as it did so. Temperatures were about 25 degrees Fahrenheit above average for this time of year.
The big picture: The Africa heat record only adds to the record heat seen around the Northern Hemisphere during the past two weeks, with a deadly heat wave in Quebec and much of the U.S., record warmth in Siberia as well as other parts of the globe. Intense, long-lasting heat waves are one of the most robust signs of global warming, according to numerous scientific studies.
Reality check: As the Washington Post's Capital Weather Gang blog notes, there have been hotter temperatures recorded in Africa before, but they have turned out to be unreliable readings. Currently, a temperature of 131 degrees Fahrenheit, or 55 degrees Celsius, observed in Tunisia, on July 7, 1931 is Africa's official high temperature record. But that observation has come under criticism by meteorologists.
French meteorologist Etienne Kapikian, as well as the Weather Underground's records experts, consider the most reliable previous Africa high temperature record to be 50.3 degrees Celsius, or 122.5 degrees Fahrenheit, set in Morocco in 1961.
However, in order for Thursday's high temperature to be certified as official, the previous record in Tunisia would need to be declared invalid, and the new one would have to be deemed accurate.
Go deeper: By the numbers: The heat records broken across the world this week
Go deeper