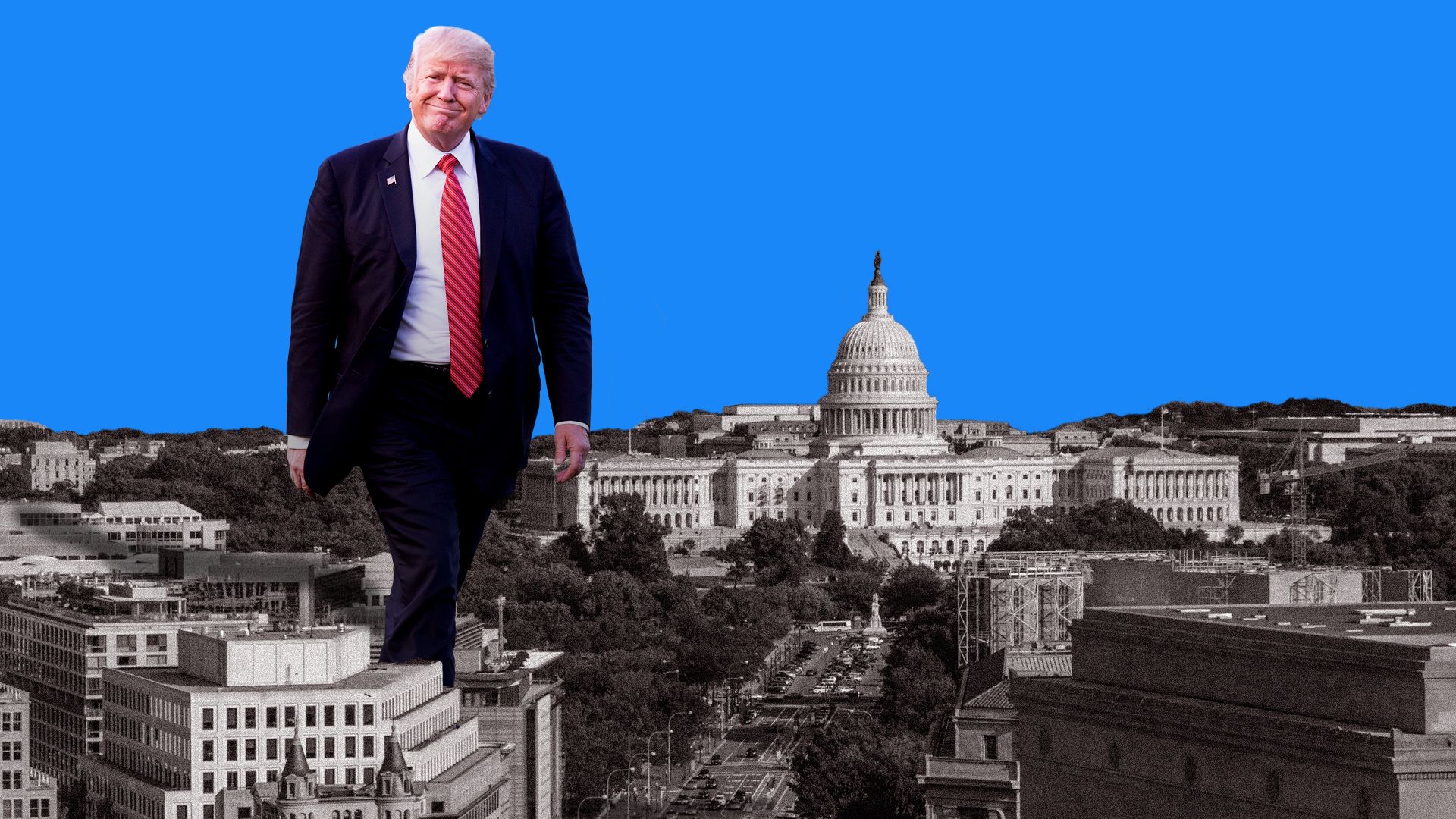 President Trump, with his refusal to take advice or yield to experts, is the West Wing. Republicans who control both halves of Congress won't lift a finger against him and fully support his every move. 
The big picture: With his chance to replace Justice Anthony Kennedy, Trump may have fewer checks on his power than any president in his lifetime. (Trump was born in 1946, the year after FDR died in office, 72 years ago.)
The media, normally the last check on a president with total control of government, has lost the trust of most Republicans and many Democrats, after two years of Trump pummeling. 
An alumnus of the Bush 43 administration told me: "This president is facing fewer checks and balance than any president in recent history except perhaps George W. Bush after 9/11."
Consider Trump's scorecard:
Trump will soon have the conservative Supreme Court that Republicans dreamed of for a lifetime. 
His one big legislative accomplishment — a huge tax cut — will silence business critics as long as he's around. 
Scott Reed of the U.S. Chamber of Commerce told me that for all the establishment skepticism of Trump, he "has united national security conservatives, social conservatives and economic conservatives."
The Republicans who control the House and Senate have performed little real oversight — and won't.
Be smart: The 2018 elections matter exponentially more today than they did 24 hours ago.
If you're a Democrat who now can't digest breakfast, presidential historian Michael Beschloss has this solace:
"If you look at presidential power in terms of checks and balances, Donald Trump may feel as if he is riding high. If he manages to get his first choice confirmed, he could soon enjoy a strong conservative majority on the Supreme Court, and he dominates his party in Congress in a way we have rarely seen in modern times."
"Polls show him with high standing among Republican voters. But history suggests that this may not last forever. Trump is under the growing shadow of the Mueller probe and other investigations."
"If those inquiries or failure of any of his key policies should undermine his popularity and standing, he may find that Republican senators and members of Congress are no longer so obedient."
"As for the Supreme Court majority, history is full of examples in which justices have not turned out to consistently vote as expected."
"And how often in history has a President been opposed by a majority of the voters with the intensity of the current national opposition to Trump?"
Go deeper: What Anthony Kennedy's retirement means.
Go deeper