Secret backchannel talks ended Israel-Poland crisis over Holocaust law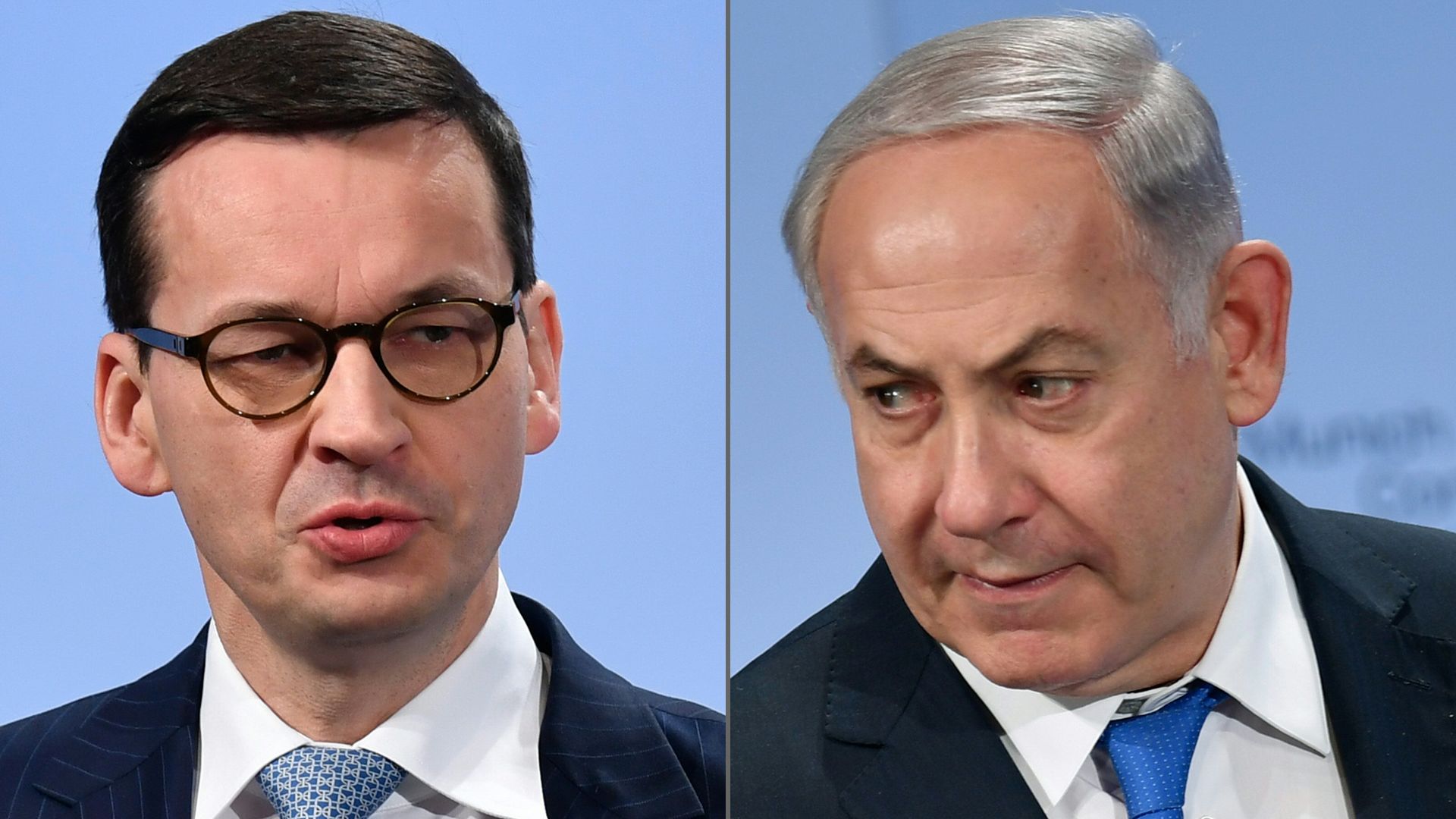 Secret backchannel talks between Israel and Poland, which began several months ago, led to the Polish parliament's decision today to amend a controversial "Holocaust law".
Why it matters: The law, passed in January, carried penalties of up to three years in prison for people who attribute crimes committed during the Holocaust to Poland. The bill was denounced worldwide, most vocally in Israel, Germany and the U.S., and created a deep crisis between Israel and Poland — staunch allies until then. As I reported in April, the Trump administration pressured Poland to amend the bill and pressured Israel to mend relations with the government in Warsaw.
In February, a Polish delegation visited Israel in an attempt to solve the crisis, but it very quickly became clear that political sensitivities on both sides would make it harder to make progress in formal and public negotiations.
Israeli officials tell me Prime Minister Netanyahu decided to open backchannel talks with the Polish government and appointed two close confidants to lead them – Yossi Ciechanover, the former director general of the foreign ministry, and Jacob Nagel, his former national security adviser .
Ciechanover and Nagel negotiated with two Polish members of parliament from the ruling party, who were appointed for the mission by Polish prime minister Mateusz Morawiecki.
The negotiation teams met secretly several times in the last few months, during which time Netanyahu and Morawiecki also spoke several times, and drafted an amended bill and a joint statement from both governments.
This morning, the Polish prime minister tabled an amendment which canceled the criminal liability clause and sent it to parliament.
In a super speedy process, the bill was voted on in the lower house of parliament and in the Senate. Right after, it was approved by the Polish President. A few hours later, Netanyahu and Morawiecki held separate press conferences in Tel-Aviv and in Warsaw and announced the crisis between both countries was over.
In a joint statement, both leaders endorsed the Polish narrative about the Holocaust and stated that "the term 'Polish concentration/death camps' is blatantly erroneous and diminishes the responsibility of Germans for establishing those camps."
The Polish government, on the other hand, agreed to "acknowledge and condemn every single case of cruelty against Jews perpetrated by Poles during World War II." Poland stressed it "condemns all forms of anti-Semitism" while Israel expressed "rejection of anti-Polonism and other negative national stereotypes."
Go deeper