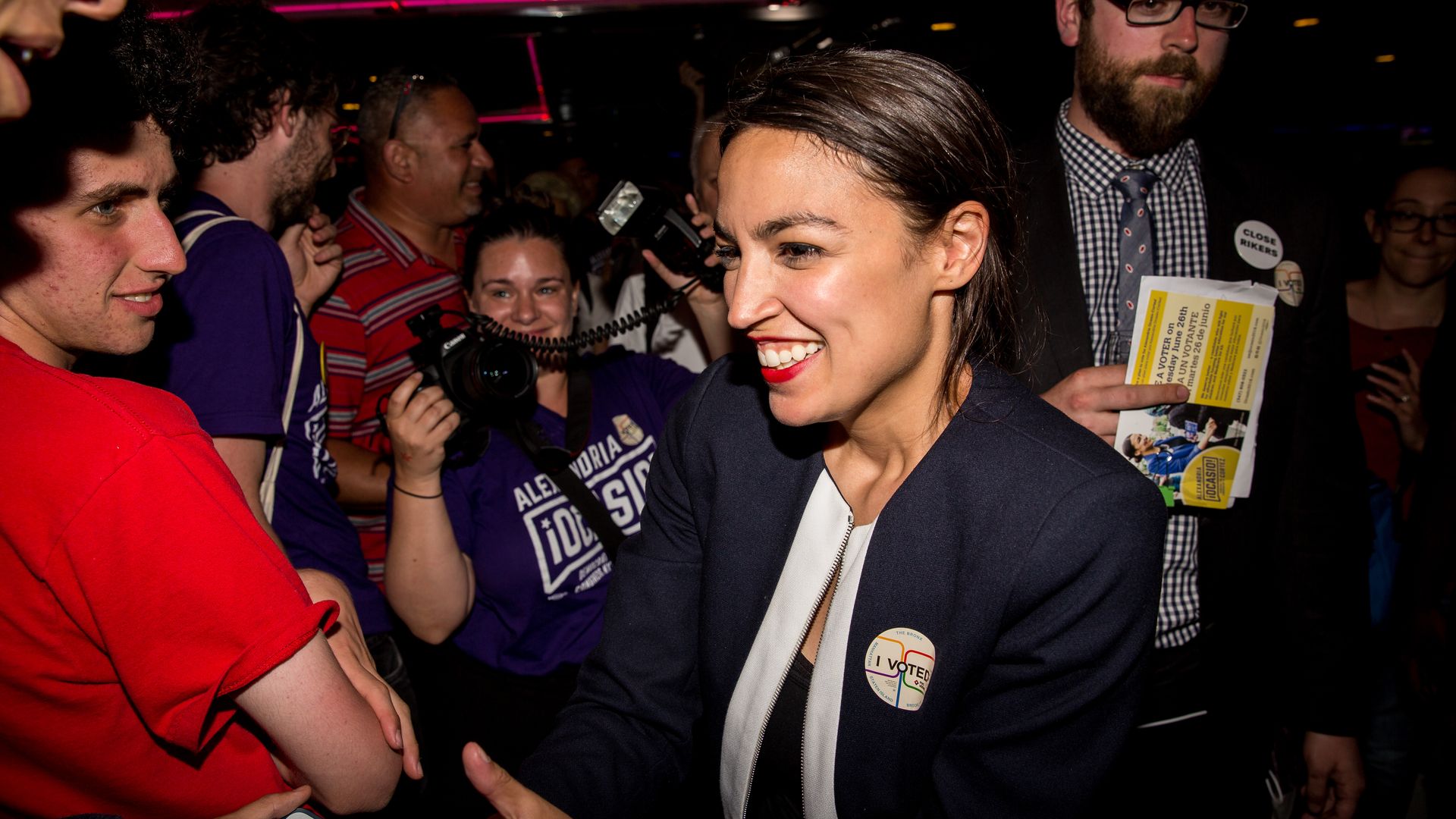 Liberals are rising in Polarization Nation. Last night's upset of 10-term Rep. Joe Crowley of Queens points to Democratic energy that could fuel a House takeover in November.
What happened: Crowley — the No. 4 House Democrat, and the party's first incumbent to be knocked off this primary season — was shellacked 57%-43% to Alexandria Ocasio-Cortez, a former organizer for Bernie Sanders. It was the biggest congressional upset since House Majority Leader Eric Cantor lost in 2014.
Why it matters:
A pugnacious left, along with President Trump's court victories, is showing what strong, niceties-be-damned politics can get you.
Medicare-for-all candidates are winning.
Liberal donors (notably Tom Steyer) + Trump hatred = impeachment promises.
House Democratic Leader Nancy Pelosi is last night's big winner as Crowley was widely seen as a favorite to be her successor.
Thought bubble from Axios' Alexi McCammond: A 28-year-old socialist Latina beating a 56-year-old white man is the most 2018 thing to happen this cycle.
Just like we saw the strength of the Tea Party in 2014 with Cantor, progressives are starting to win their fight to reshape the Democratic Party.
The backdrop:
Crowley was a plausible challenger to Pelosi for Speaker if Dems took the House in November. (N.Y. Times A1: "Democratic Power Broker, Once a Possible House Leader, Loses New York Primary.")
Ocasio-Cortez made abolishing Immigration and Customs Enforcement one of her top demands, and protested at detention centers.
A N.Y. Times editorial on June 19, with a photo of Crowley in D.C., criticized him for skipping a debate with Ocasio-Cortez: "This is the second primary debate in which Mr. Crowley was a no-show ... inevitably leaving voters to wonder — what are we, chopped liver?"
Crowley hasn't faced a primary challenger in 14 years.
The district is minority-majority.
It wasn't the money: Crowley out-raised Ocasio-Cortez 10-1, per CNN.
The reaction:
A senior Democratic aide: "Pelosi has made clear that she's staying put. Real question is which younger Members of leadership will step up in their leadership roles. One real way to do that now is to raise money now. We literally are in a position of where we cannot afford the opportunity that exists on the map."
Matt Bennett of the center-left Third Way: "In this Year of the Woman and Year of the Outsider, it is very tough to be neither. Ms. Ocasio-Cortez deserves credit for knocking off a titan. But her win had more to do with the nature of her very blue district than it does with national politics."
Bennett adds: "Sanders-style candidates are still losing almost all of the Democratic primaries they run in. If Democrats do regain control of the House ... it will be largely because of moderates winning in tough red and purple districts."
Matt Miller, Obama administration alumnus: "I don't think it's a problem [for the national party] at all. With no disrespect to Crowley, outside of Congress and K Street, no one is going to really lose sleep over an incumbent losing to an energetic Latina with a powerful message."
Go deeper:
Go deeper