Dysfunctional U.S. needs "Sputnik moment" on future tech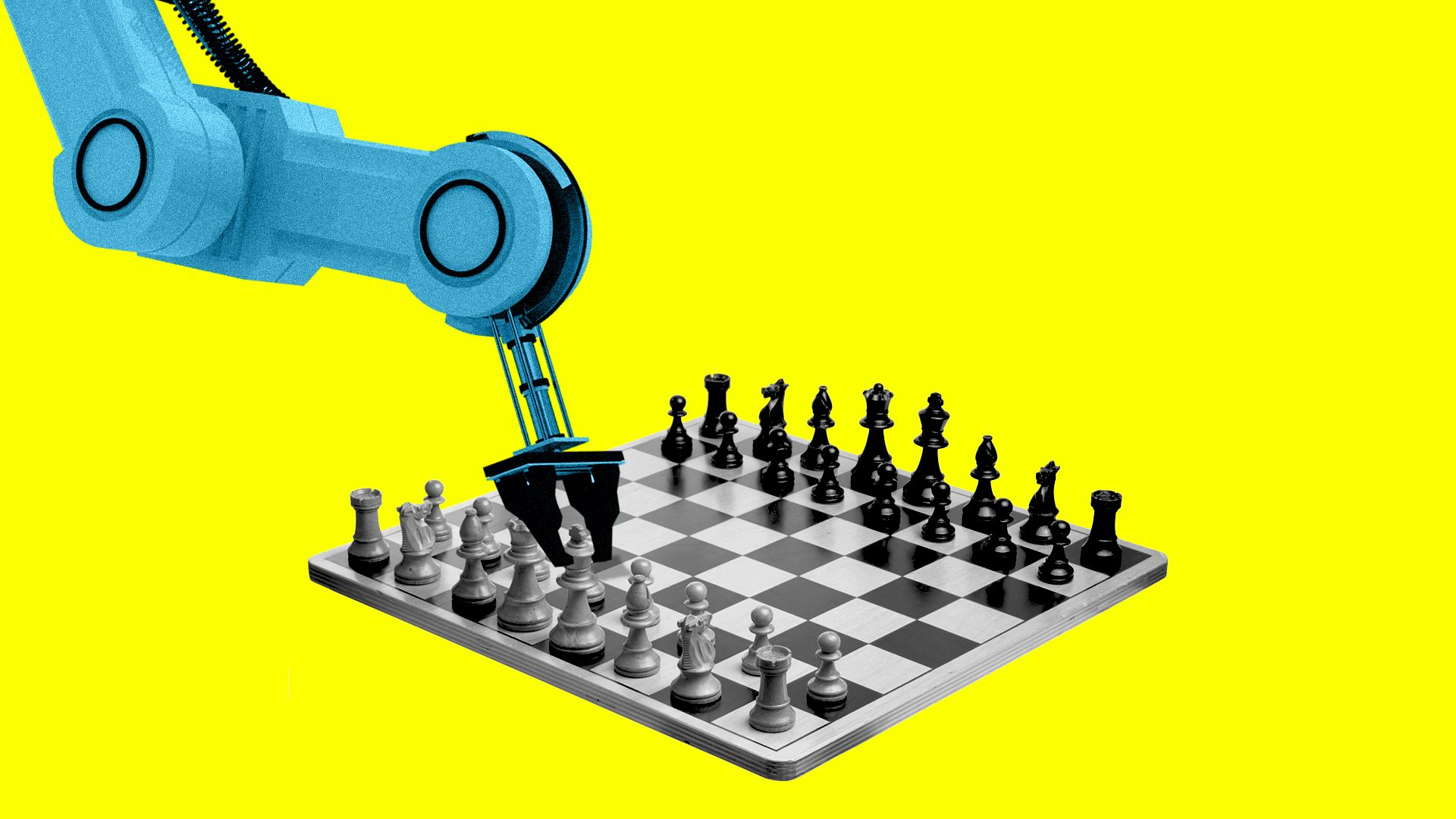 The U.S. is putting up relatively meager competition in a potent new global tech race that, combined with the wave of go-it-alone nationalism led by President Trump, is reshaping global politics and may lead to war, according to a major new report.
Why it matters: In the late 1950s, the U.S., facing a similar momentous challenge in Sputnik, threw all its resources into a single-minded effort to dominate the future. But this time the U.S is failing to grasp the urgency, argues the Atlantic Council, and it could blow the race to lead the age of "geotechnology."
Defining the terms: "Geotechnology today is what geopolitics were to the 19th and 20th centuries," the DC-based think tank says in the report, released first to Axios. This means that the sciences underlying geotechnology — artificial intelligence, robotics, renewable energy, biotechnology, 5G telecommunications, 3D printing, among others — will "shape the future of human civilization" and "remake the global order," the authors write.
The big picture ... Robert Manning, the report's lead author, tells Axios:
The U.S. is slumbering: "While I believe one underestimates U.S. resilience at one's peril, given our current dysfunctional political system, trends in education, and general aura of complacency, it is difficult to see a 'Sputnik moment' of across-the-board effort taking the steps needed to reverse these trends."
That leaves Americans exposed: Absent the U.S. regaining its footing, trends suggest a China-centric future in which Beijing shapes global standards for 5G, ethics for gene editing, and norms and limits on AI. In addition, China's "digital location policies could threaten global data flows and hence digital commerce."
And look for this red flag: A sign for real trouble would be if "this burgeoning trade war results in some economic separation and reduced interdependence."
Be smart: There are numerous serious competitors for parts of the tech revolution, including surprising players, like Sweden, Israel, Japan, India and South Korea. But, as Axios and numerous others have reported, China, with more resources than anyone but the U.S., has already declared an effective Sputnik moment with its Made in China 2025 and Belt and Road initiatives.
Those plans ignited heightened conflict between the U.S. and China, with Trump effectively declaring war on Made in China 2025, and Beijing reacting by softening its language about the initiative. 
China's advantage, Manning says, is a "whole-of-nation mobilization of human, scientific and capital resources to dominate in technology by the 2030s. This suggests that, even factoring in its enormous waste, corruption and misallocation of resources, China will achieve a good portion, if not 100%, of its goals."
Even more concerning is the new era's resemblance to among the most troubled episodes in the last century. At the dawn of World War II, most of Europe was ruled by right-wing, non-democratic, nationalistic and often racist governments. Apart from a few countries in northern and western Europe, the continent yearned for strongman leaders, had little patience for democracy, and wanted more than anything to throw out the existing order.
Says Manning: The concern is that the technological revolution, coming "at a moment of not just competing nationalisms but as the post-World War II, rules-based order is unraveling, leads to a world similar to the 1930s. This time without Hitler, but with nukes and AI, rendering geopolitical rivalry all the more dangerous.
Go deeper:
Go deeper