Go deeper: 5 consequential immigration moments this week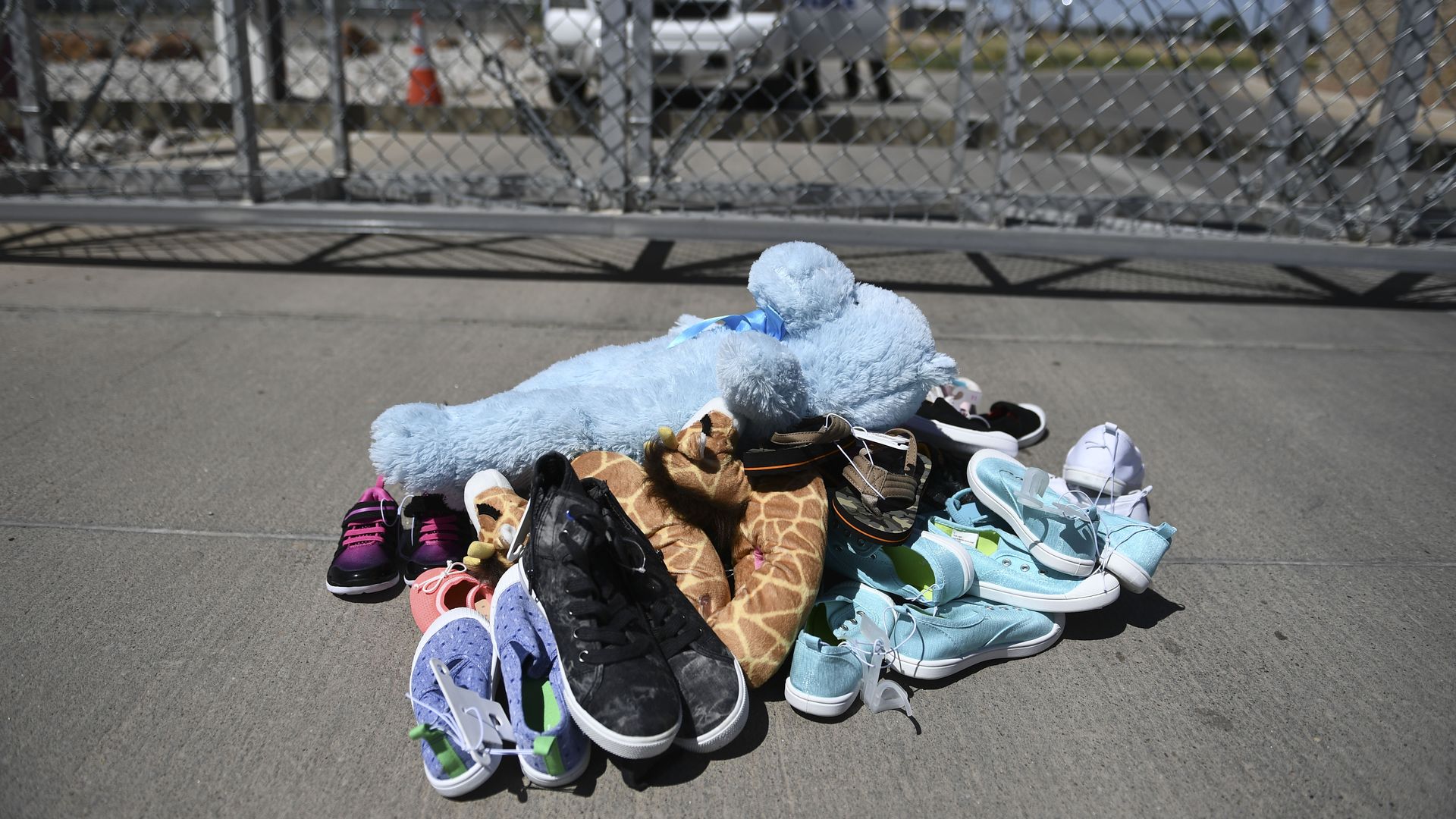 Harrowing images of children in detention centers, the administration's flip flopping on its own family separation policy and two bills struggling to make it through the House have kept the national focus on immigration this week.
The big picture: Trump signed an executive order to end family separation, causing chaos amidst government agencies. He doubled down on his tough immigration message by holding an event with families whose children were killed by undocumented immigrants. One House immigration bill failed, another got punted to next week and Melania wore a $39 jacket that said "I don't really care" on her trip to the border.
1. President Trump's executive order
After consistently blaming Congress for the crisis of children being torn away from their parents, Trump signed an executive order, which:
Told Homeland Security to keep families in detention together throughout all criminal and immigration proceedings.
Told the Justice Department to ask a federal district judge to modify a 2015 decision in order to allow children to be detained for an indefinite period of time with their parents. DOJ submitted the request the next day.
Why it matters: The judge's decision will be crucial to the administration overcoming legal hurdles that prevent them from detaining family migrants together long term.
2. Agency chaos
Homeland Security corrected a statement from the Department of Health and Human Service, which said that children would not be immediately reunited with their parents.
The Justice Department corrected reports quoting Homeland Security officials and clarified that there was still a full-fledged "zero-tolerance" policy in place.
Attorney General Jeff Sessions, who has publicly said that "if you are smuggling a child... that child will be separated from you," claimed this week that he "never really intended" to separate families.
Bottom line: It is still unclear how Homeland Security and HHS are reuniting the 2,300 children who have already been separated with their parents. A senior administration official told AP that 500 children have been successfully reunited, but there have also been reports of parents struggling to locate their kids and being deported while their children remain in the U.S.
3. Failing immigration bills
House Judiciary Chairman Bob Goodlatte's immigration bill failed, and House leadership pushed back a promised vote on a more moderate bill to next week.
What we're hearing: A few details of the compromise bill are still being worked out. Additions are being negotiated, which would ensure the widespread use of E-verify and that there are the needed foreign workers for U.S. agriculture.
Bottom line: This bill is unlikely to pass. Its failure would close another door to allowing Homeland Security to keep migrant families together in detention longer than 20 days. What's in the bill.
4. New housing for child migrants
Meanwhile, tent villages are being constructed on military based to house unaccompanied alien minors and the Pentagon has been asked to house 20,000 immigrant minors from July to the end of the year.
5. The distractions
Melania's jacket: The First Lady took a trip to the Mexican border to spend time with migrant children in detention there, but it was her army green jacket with the words "I don't really care, do u?" printed on the back that made headlines.
Photo correction: The little girl crying in a viral photo which became a symbol for opposition to Trump's immigration policies was never separated from her mother. This revelation became fodder for media critics.
Counter programming: Trump held an event featuring the families of children who had been killed by undocumented immigrants on Friday, comparing their tragic, "permanent separation" from their children to the separation his own administration had been enforcing at the border.
Go deeper:
Go deeper