Qualcomm and Apple begin new round in epic licensing fight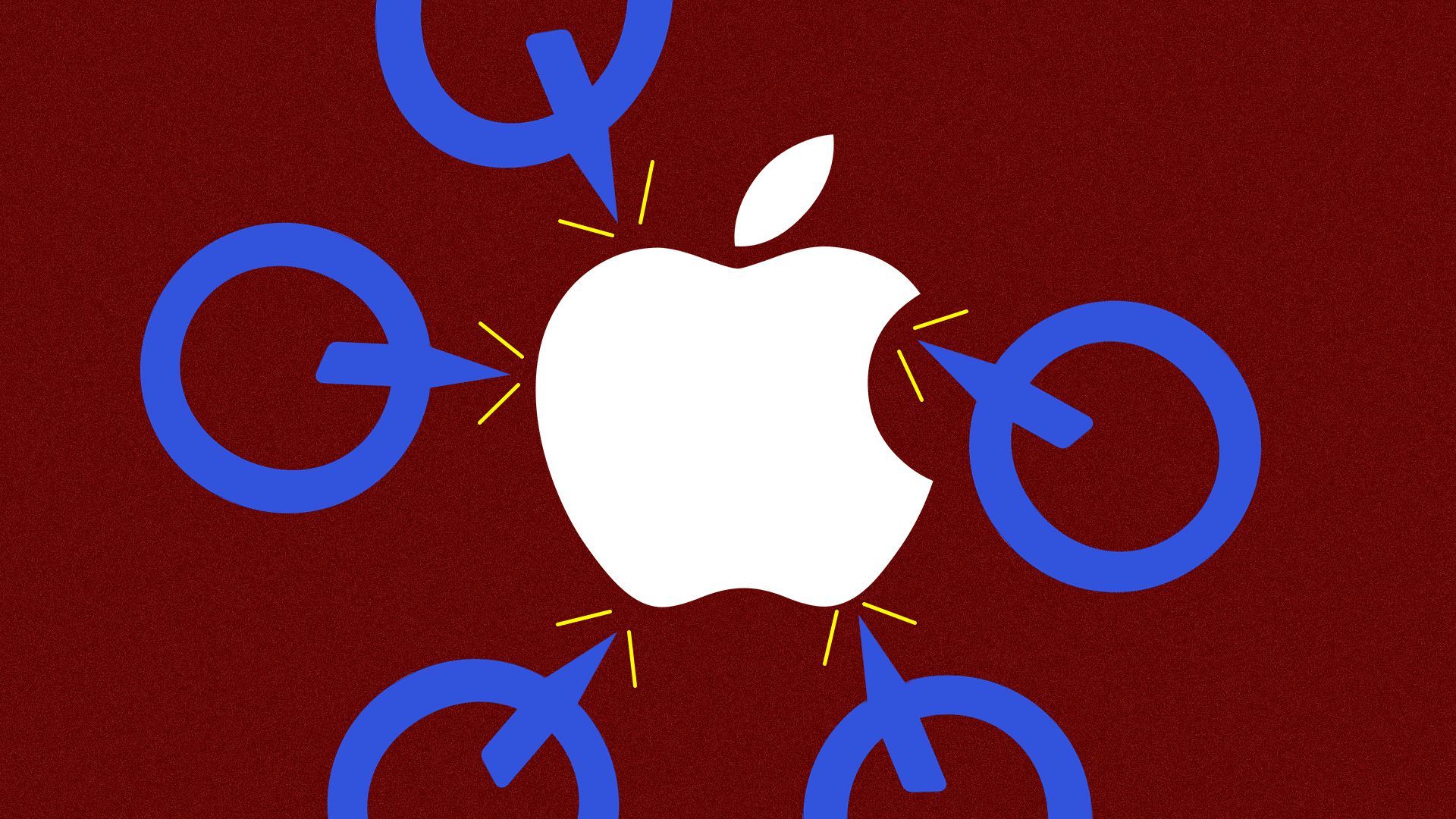 The dispute between Qualcomm and Apple over technology at the heart of cellphones will come to the forefront on Friday, when opening arguments are scheduled before the U.S. International Trade Commission.
Why it matters: It's a battle of two tech giants accustomed to holding sway over their business partners. That said, the ITC case is just one part of a broader legal fight taking place in courts across the globe, involving claims of everything from breach of contract to patent infringement.
What Qualcomm wants: Qualcomm is looking for what's known as an exclusion order, which would keep Apple from importing certain iPhones. Qualcomm has said it isn't looking to stop all iPhones, specifying it would like to see a halt to those with modems from Intel, rather than Qualcomm.
"Given their enormous market presence they think they can infringe our IP with impunity," Qualcomm EVP and general counsel Don Rosenberg said. "But we have the rule of law in our favor and so we're hoping to get their attention by asking a court to stop them from infringing."
What Apple wants: Apple is hoping that the ITC will find that Qualcomm's patents are invalid, not used by Apple products or are otherwise unenforceable. More than anything, it doesn't want to see the commission issue any kind of order banning iPhone shipments.
It maintains that Qualcomm's royalties, calculated as a percentage of the total phone, are unfair.
"For many years Qualcomm has unfairly insisted on charging royalties for technologies they have nothing to do with," Apple said when it sued Qualcomm earlier.
"Apple believes deeply in innovation and we have always been willing to pay fair and reasonable rates for patents we use. We are extremely disappointed in the way Qualcomm is conducting its business with us and unfortunately after years of disagreement over what constitutes a fair and reasonable royalty we have no choice left but to turn to the courts," the company added.
The logistics: Though arcane, the ITC is a sought-after venue for patent disputes because it has the power to bar the import of products that it finds infringe on U.S. patents.
The case should take up all of next week and the early part of the following, with a host of engineers expected to testify for each side.
The case is presided over by an administrative law judge, who issues an initial decision.
If either side is unhappy, it can ask for a review from the commission, which can take up part, all, or none of the case.
Once a final determination is made, there is a 60-day waiting period during which the president can veto a ruling (rare, but not-unheard-of).
The bigger dispute: As mentioned, the Qualcomm-Apple fight has been an ongoing issue.
Apple sued Qualcomm in January 2017, days after an FTC complaint, seeking $1 billion in damages.
Qualcomm has also sued Apple and several Apple contract manufacturers for not living up to their royalty agreements with Qualcomm. And it has brought patent suits. In addition to this case and another before the ITC, it has sued Apple in Germany and China.
Qualcomm also has faced antitrust inquiries from jurisdictions around the globe, including China, Korea, Japan and Europe. It accuses Apple of agitating for many of these probes, in what it says was a violation of an agreement by Apple not to challenge Qualcomm's intellectual property.
The bottom line: The stakes are high for both companies — for one thing, if ITC finds against it, Apple could see supplies of the iPhone disrupted.
While Apple uses its own mobile processors, it has historically relied on Qualcomm for modem chips.
Apple has already shifted to using Intel modems for some iPhones and may up this in the future. However, Apple is still likely to eventually need a license to Qualcomm's considerable patent portfolio.
Go deeper