Scoop: Trump's deal-of-the-decade North Korea plan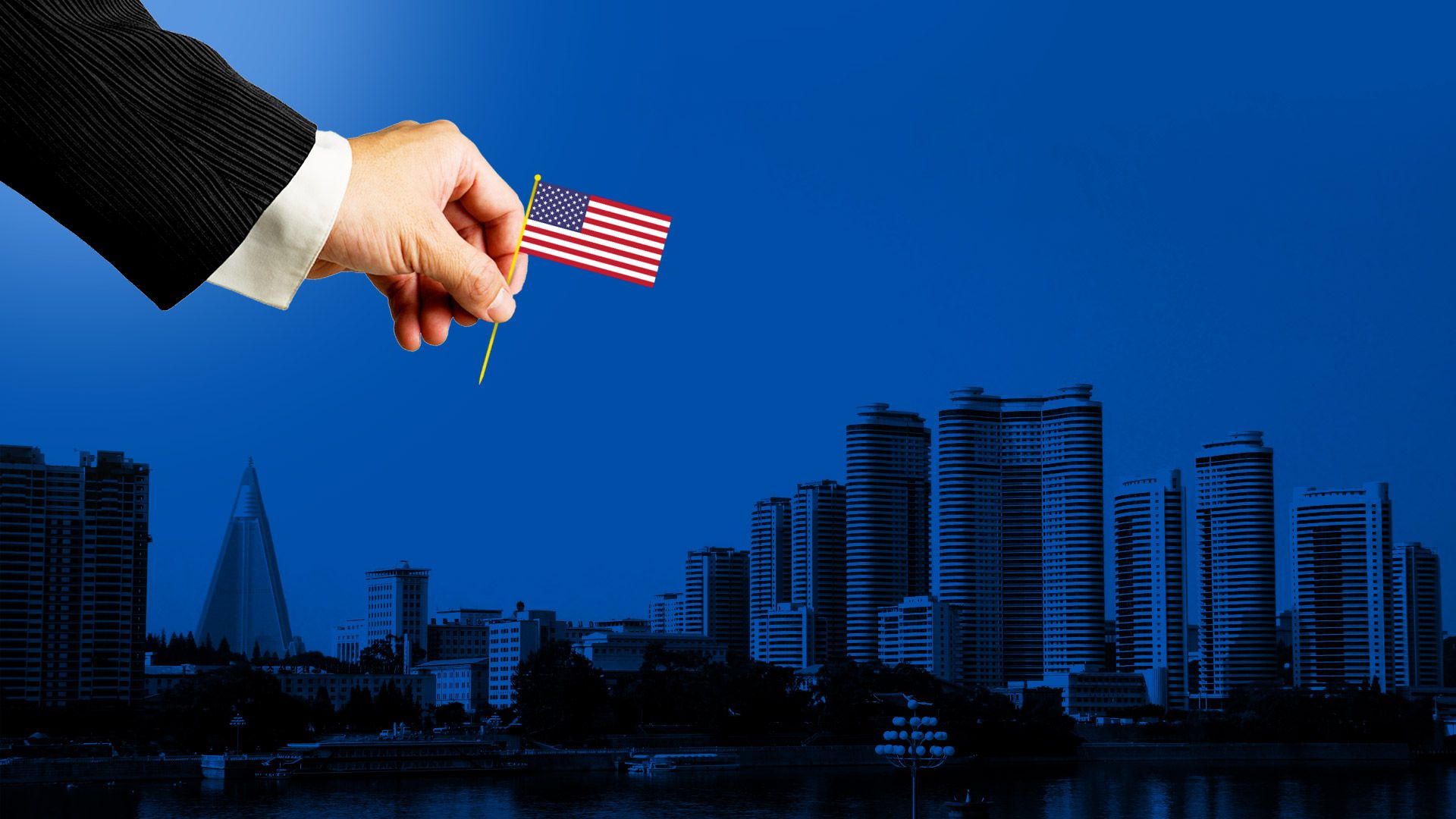 President Trump will confront Kim Jong-un using "a strategy to impress as well as intimidate" — and is open to planting a U.S. embassy in North Korea.
The big picture: U.S. officials involved in the summit preparations have even discussed enlisting gymnasts and musicians to bring the cultures together, sources familiar with summit prep tell Axios.
Part of Trump's expected message is telling Kim how much wealthier he and his people would be if he were engaged with the U.S. A source familiar with the U.S. preparations says Trump likes the idea of iconic American businesses, like McDonald's, eventually getting to North Korea.
Trump will insist that the price of engagement — and modern relationships and amenities — is the start of a denuclearization process, a source close to the White House told Axios. 
Asked about the plans, White House press secretary Sarah Sanders told us: "We aren't going to discuss internal discussions."
It's part of an anything-goes approach that includes, as scooped last night, the possibility of establishing official relations with North Korea and even eventually putting an embassy in Pyongyang.
Trump, Vice President Pence and Secretary of State Mike Pompeo have all discussed the dimension of the offer, sources tell us. 
"It would all depend what he gets in return," the source said. "Denuclearization would have to be happening."
We're told Trump's view is: "We can discuss that: It's on the table. Let's see."
The bottom line: Aides say Trump is taking nothing off the table going in.
Axios has also learned that the U.S. officials involved in pre-summit discussions have been exploring ways to engage North Korea beyond standard official diplomacy:
U.S. diplomats are taking a cue from the "ping-pong diplomacy" of 1971, when the U.S. and China exchanged table tennis players as part of a thaw that led to President Richard Nixon's visit to China in 1972.
So the Trump team is considering avenues for cultural engagement, including the possibility of the U.S. hosting North Korean gymnasts and Pyongyang's symphony orchestra.
Be smart: Unlike any other meeting with any other leader, Trump is negotiating with someone with similar personality quirks and impulses. He truly believes he will know almost instantly whether he can spin up the deal of the decade. 
Trump at Quebec presser, before leaving G7 summit for Singapore, asked how long it'll take him to know if Kim is serious: "I think within the first minute I'll know. ... Just my touch, my feel. That's what I do."
Go deeper: Trump's "great man" play on North Korea.
For more news like this sign up for Jonathan Swan's Sneak Peek newsletter and Mike Allen's Axios AM.
Go deeper