Updated Jun 11, 2018 -

World
The big picture: How Kim Jong-un pivoted to diplomacy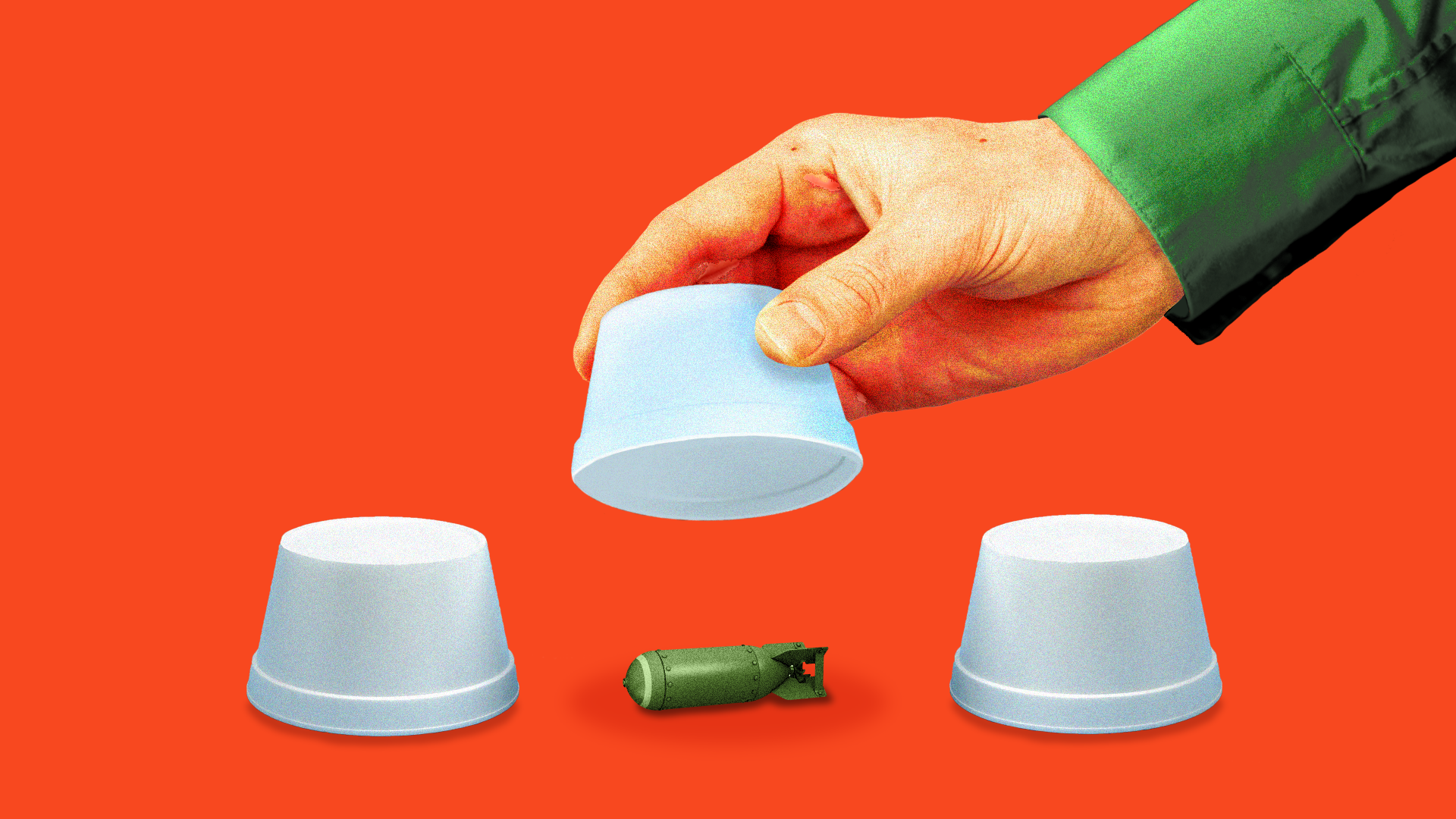 Last year, Kim Jong-un fired off threats about attacking the U.S. and launched increasingly threatening nuclear and missiles tests — but this year, Kim has been meeting with world leaders left and right after six years of isolation.
Why it's working — so far: Kim has been using his meetings with Seoul and Beijing to keep Trump's interest in the talks up, and he's been playing world leaders off each other.
The first signs of a thaw came in his New Year's Day speech this year, when Kim offered to begin talks with South Korea and suggested North Korea could send a delegation to South Korea for the Winter Olympics.
The leverage: "Kim knew that if he started by fixing inter-Korean ties, it would lead to talks with the U.S. and China would reach out," Kim Hyun-wook, a professor at the Korea National Diplomatic Academy, told AFP.
Kim is using Trump, too. Other world leaders, and in particular China, Japan, and Russia, see the upcoming summit as a reason to continue engaging with North Korea, which gives Kim a leg up over Trump.
Yes, but: North Korea has engaged in diplomacy before, but even apparent breakthroughs in conversations about its denuclearization prospects have fallen through every single time.
And North Korea hasn't yet committed to permanent, complete, and verifiable denuclearization (although Secretary of State Mike Pompeo said Kim says he is willing to denuclearize, even though he hasn't specified the contours of it).
Even though North Korea has shown some polite gestures — like posing for pictures with other world leaders, releasing detained Americans, and halting nuclear and missile tests — it could all just be a charade.
And Kim is unlikely to want to give up nuclear weapons, according to the CIA.
Experts are already saying the destruction of a nuclear test site that North Korea demonstrated may have been faked, meaning North Korea is not staying true to its word already.
The big picture: Through this diplomacy with other world leaders, Kim has positioned himself to recover from a meeting with Trump even if it goes poorly to avoid a maximum pressure campaign from the U.S., per AFP.
Even if it does go badly, Kim is more likely to continue the charm offensive and play world leaders off each other than returning to missile and nuclear tests, Go Myong-hyun, an analyst at the Asan Institute of Policy Studies, told AFP.
The bottom line: Kim is operating from a place of strength because he's not just relying on the Trump meeting. His regime is also working with other world leaders, including Moon and China's Xi Jinping, as well as hosting Russia's foreign minister in Pyongyang.
One trend: North Korea has played world leaders off each other before. In 2000, after positive signs in talks between North and South Korea, then-President Bill Clinton met with a senior North Korean leader, Jo Myong-rok, in Washington.
Past meetings between North Korean and U.S. officials:
1994: Former President Jimmy Carter was the first former U.S. president to visit North Korea, where he met with then-North Korean leader Kim Il-sung and laid the groundwork for future diplomacy.
2000: Then-Secretary of State Madeleine Albright then became the highest-level U.S. official to visit North Korea while in office. She met with Kim Jong-il to expand the Agreed Framework. The talks failed.
2003: China began hosting North Korea, the U.S., Japan, South Korea, and Russia for six-party talks, but North Korea insisted it wouldn't give up its nuclear weapons throughout the series of talks. The talks fell apart in 2009.
2009: Former President Bill Clinton went to North Korea unannounced to free two American journalists detained there.
2010: Carter went to North Korea to free a detained American.
2011: Carter went to North Korea to discuss humanitarian aid.
2017: Joesph Yun, the U.S. special representative for North Korean policy, went to North Korea to help bring home Otto Warmbier.
2018: Pompeo went to North Korea on a secret trip and met with Kim Jong-un to discuss the potential upcoming summit between Trump and Kim. Pompeo also made a second, secret trip.
Go deeper:
North Korean diplomacy primer...
At stake for key players...
Go deeper