Go deeper: How social media is changing how we shop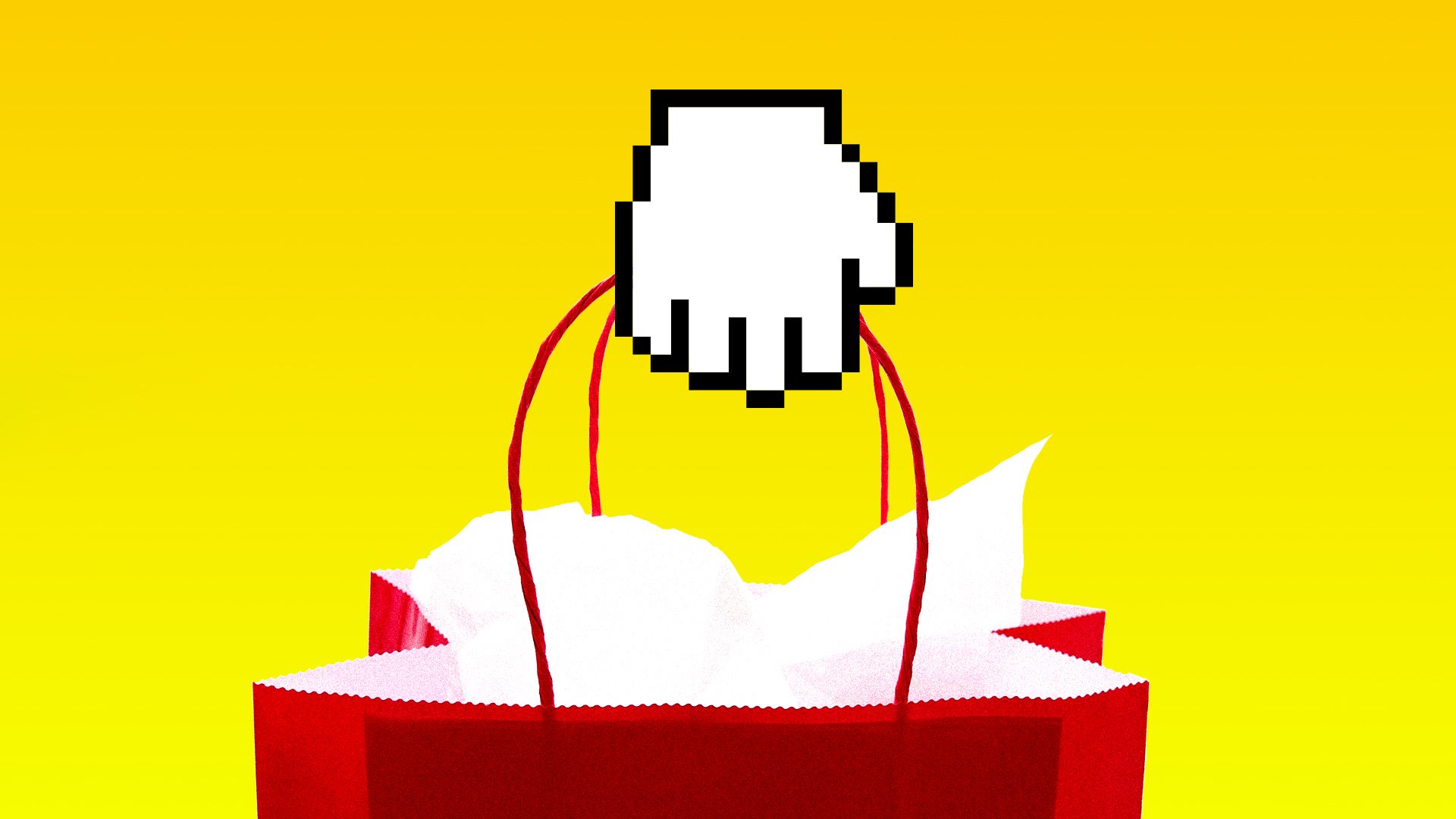 As people spend more time online and get more comfortable with purchasing products there, social media and major tech platforms are increasingly a conduit for online sales.
Why it matters: Now more than ever, ad dollars for e-commerce are spent on platforms like Google, Facebook and Amazon as they perfect the link between what consumers want and their ability to serve up other items the consumers might like.
Mary Meeker, a former Wall Street analyst who's now a partner at venture capital firm Kleiner Perkins Caufield & Byers, gave an update on the state of e-commerce in her closely watched annual Internet Trends report, which she presented at Recode's Code Conference on Wednesday.
Social media in particular is is boosting new product discovery: 55% of consumers report buying products online after stumbling across them on social media, according to a Curalate Consumer Survey.
78% of 18-34 year-olds report discovering products on Facebook
59% on Instagram and Pinterest
34% on Twitter
22% on Snap
Referrals: In addition, 6% of all e-commerce referrals now come via social media platforms like Facebook and Twitter. That's up from just 2% in 2015, according to Adobe Digital Insights.
New brands: These referrals have proven to be effective for lesser-known, direct-to-consumer brands like skin-care company Glossier, eyewear company Warby Parker and mattress seller Casper.
Mobile habits: The amount of time people spend in shopping apps on their mobile devices is the fastest-growing category of app sessions, according to Flurry Analytics, followed by time spent in music, media and entertainment apps. "Shopping is increasingly entertainment," Meeker said.
Video has become a popular resource for shoppers to find out more about products or discover new ones, both through video services like YouTube and as a medium on shopping marketplace like Taobao (China).
Some shopping apps are "gamifying" the process, with flash sales and referrals that earn customers discounts.
The advertising game: Engagement on e-commerce ads on Facebook is on the rise. Click-through rates (the number of people clicking on an ad they see) for e-commerce ads on the social network rose to 3% in the first quarter 2018, up from 1% the same quarter in 2016.
3% may not seem like a lot, but it's actually a large jump in terms of number of people who actually clicking on a particular type of ads.
How shoppers find products:
Google: 36% of shoppers begin looking for a product on a search engine. Google Shopping shows product listing ads and purchasing choices. And Google is starting to integrate shopping actions with its Home smart speaker. (Think: "OK, Google, buy sunscreen.")
The company says the top product listing in the mobile listing ad sees three times more engagement than others listings
Amazon: 49% of shoppers begin their search right on Amazon.com, which makes it easy for Prime members to find specific products and check out with one click. It's now integrating sponsored products in its search listings. Amazon, with more than 100 million Prime subscribers, is also adding advertising into the mix.
"Google, in effect, is evolving from an ad platform to a commerce platform," while Amazon is doing the reverse, Meeker said at Code.
The power of personalization: Online retailers are focusing on making sure consumers see recommendations tailored to their interests and tastes — all based on the detailed data they have on users.
Subscription services like Amazon Prime and personalized clothing service Stitch Fix get to know a consumers' favorite brands, style, size and buying patterns through the information consumers directly provide them.
Ad-based platforms like Facebook and Google glean preferences via users' online behavior — what they click, how long they stay on certain sites, and what they're searching for.
Meanwhile, long-term sales growth in U.S. physical stores is decelerating, but that's not necessarily a concern—at least for Amazon.
Like for Alibaba in China, physical stores are only part of Amazon's commerce strategy, which combines online retail, payments, digital entertainment, cloud services, and other channels like connected devices.
Alibaba's leadership in this approach, which CEO Jack Ma has dubbed "New Retail," is surely helped by Chinese consumers' more favorable views towards sharing their data in exchange for better services.
Go deeper