Inside the month of media merger mayhem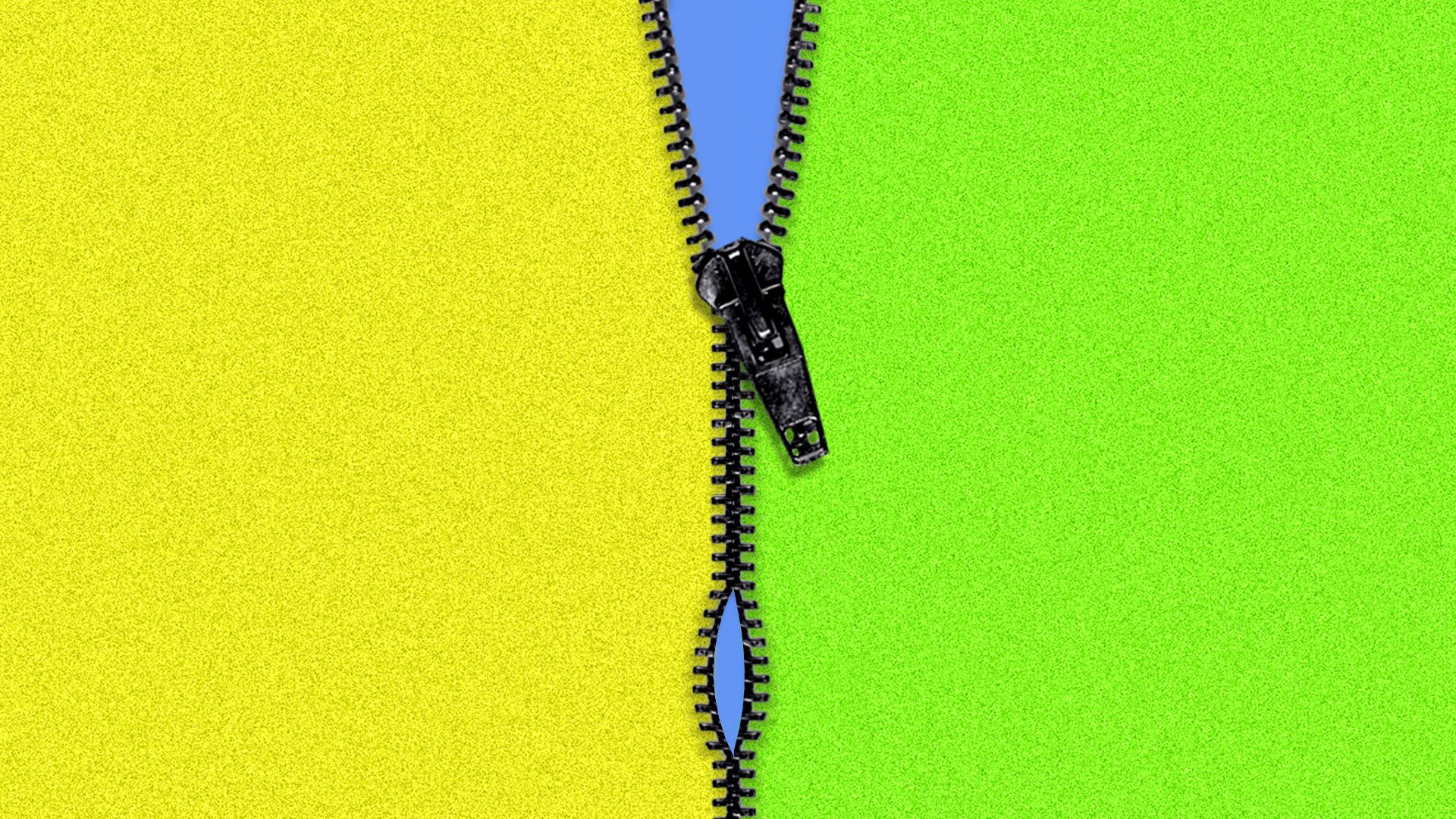 Most major media deals that analysts and experts thought would be sure bets have taken unexpected turns in the past month, introducing new possibilities of what the future of media could look like for decades to come.
Why it matters: Nearly every deal is dependent on the outcome of another pending merger in the space. With a limited number of telecom, tech and TV companies in the mix, the fight for survival has created a game of merger musical chairs.
The biggest factor: The AT&T / Time Warner merger, if approved, would signal to TV networks that a vertical merger with a tech or telecom company isn't such a risky regulatory gamble.
This could lead two current TV networks, Fox and CBS, to ditch their potential horizontal deals with like-minded content companies — Disney and Viacom.
Yes, but: While most analysts think AT&T will win the trial, controversy in the last two weeks over AT&T's payments to President Trump's lawyer Michael Cohen for "insights" about the administration came at an inopportune time for the company. The judge in the case is finalizing his decision, which is expected to come June 12.
The recent drama between CBS and its parent National Amusements could also change how different deals unfold. Thanks to a judge's ruling against CBS on Thursday in a lawsuit against its parent company, CBS likely won't gain the independence it needs to strike its own merger deal with a bigger company than Viacom.
Sources told Axios that CBS' parent previously attempted to block merger interest in CBS from Verizon. Sources also suggest that CBS would much rather merge with a distributor, like a telecom company, than a cable network like Viacom.
But there's still time for CBS to litigate the outcome, and after a week of very public and messy negotiations, CBS' parent could pull the deal altogether. (They say they don't want to "force" anything, although CBS argues otherwise.)
Between the lines: A bitter rivalry between Comcast CEO Brian Roberts and 21st Century Fox CEO Rupert Murdoch is causing a wave of uncertainty in two other mega-media deals: one between Fox and Disney, and the other between Fox and British broadcaster Sky.
According to regulatory filings, Fox initially rebuffed a higher bid from Comcast due to fears of regulatory hurdles. But if AT&T's merger is allowed, Fox (which will need money to pilot its new separate sports and news network) may have incentive to take Comcast's higher bid, leaving Disney in the dust.
Comcast made its own bid for a majority stake in Sky. In a blow to Fox, Sky subsequently pulled its support for an already agreed-upon deal with 21st Century Fox.
The big picture: These mergers are in response to economic pressures technology is putting on legacy TV and telecom companies. TV has lost advertising revenue to tech giants Google and Facebook. Telecom companies are racing to maintain their consumer relationships as more and more drop their Pay-TV packages for digital streaming services.
What's next: There are several TV networks still looking to be bought and tech firms with cash on hand. Telecom companies are desperate for media assets to drive new revenue opportunities, like advertising and video streaming.
Apple, which says it has no interest in acquiring a content company, has been rumored to be looking at big players like Netflix or Disney.
Univision, the largest Spanish-language broadcaster in America, could also be looking for a buyer. Sources told Axios Dan Primack in March that the company was looking to sell after canceling its IPO.
Turner, a subsidiary of Time Warner, could also be up for grabs if the judge in the AT&T case rules that AT&T must divest Turner. AT&T said he won't agree to a divestiture. If the merger doesn't go through, Time Warner properties would be up for grabs.
Verizon CEO Lowell McAdam denied last week that he was interested in acquiring another media company, although there are rumors of potential interest in CBS. It acquired a handful digital media companies last year, like AOL, Yahoo and HuffPost, but it doesn't own a TV network.
Go deeper