Vaping habits may be dipping but non-smoking advocates urge action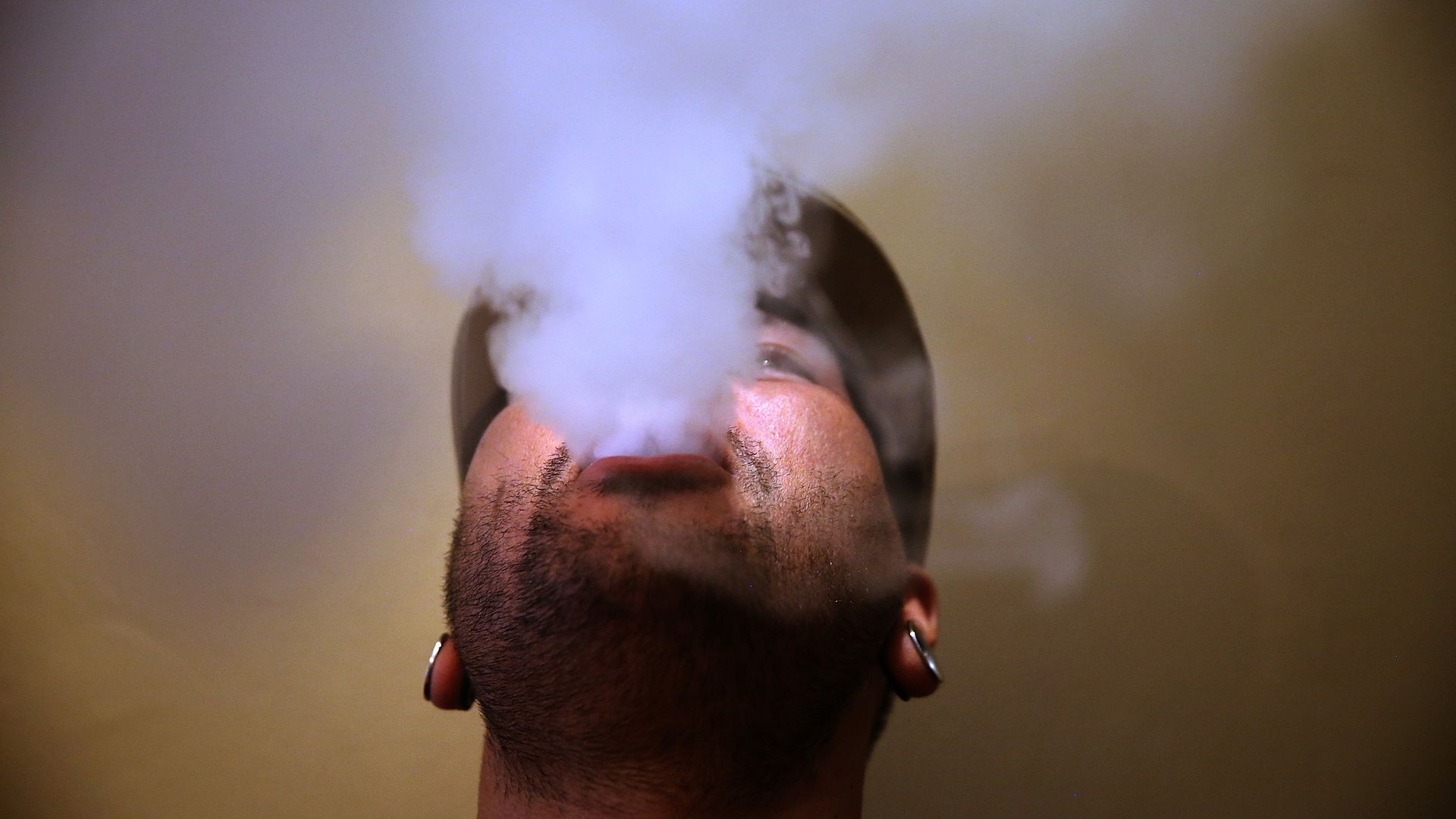 More adults may be giving e-cigarettes a try, but fewer people are making it a habit, according to research published in Journal of the American Medical Association Tuesday.
Why it matters: E-cigarettes often contain the addictive ingredient nicotine and other substances that the Surgeon General says may be dangerous, particularly to young people. Non-smoking advocates say the prevalence drop is encouraging, but the government still needs to mandate further research and curb teenage usage.
Context: E-cigarettes are widely marketed for smoking cessation (although its effectiveness remains uncertain). However, reports of growing illegal use by young people has caused alarm, and the decision by the Food and Drug Administration to delay its review to 2022 brought a March 27 lawsuit by anti-smoking groups.
"Nicotine has adverse effects on cardiovascular system; specifically, it increases heart rate and blood pressure and induces abnormal heart rhythms... it increases the risk of adverse pregnancy outcomes, and it crosses the placenta and negatively affects fetal brain development."
— Study author Wei Bao, of the University of Iowa, tells Axios
By the numbers: The research published Tuesday is an analysis of National Health Interview Survey data on e-cigarette use by U.S. adults in 2014–2016. Out of the roughly 32,000–37,000 people they surveyed each year, they found:
The number of people who tried e-cigarettes grew — 12.6% in 2014, 13.9% in 2015 and 15.3% in 2016.
But, the number who kept using e-cigarettes kept dropping — 3.7% in 2014, 3.5% in 2015, and 3.2% in 2016.
"The decline in current use but increase in ever use in e-cigarettes may suggest that some individuals are trying but not continuing use of e-cigarettes. However, it might be too soon to draw e-cigarette usage trends from just three years of data," Bao says.
Meanwhile, a separate survey by the Centers for Disease Control and Prevention last year, also found that there was a decline in 2016 in usage by youth (2011–2015 had seen a 900% increase in use among high school students).
Yes, but: Dennis Henigan, VP for legal and regulatory affairs at the Campaign for Tobacco-Free Kids, says the lower rates of usage in youth may be due to Juul becoming such a strong brand (like ubering, Juuling has become its own verb) that kids don't think of it as being applicable to surveys on "e-cigarettes."
He pointed to a Truth Initiative survey that found 63% of Juul users don't realize all have nicotine in them — each cartridge contains an entire cigarette pack's worth of nicotine.
What FDA says: They cannot comment on the lawsuit (the agency's legal response in court is expected by May 29), but a spokesperson says the agency is concerned about the impact on youth and is taking some measures to make tobacco products less toxic and appealing, especially for youth.
Industry response:
Juul says it's implementing its recently announced comprehensive strategy to combat underage use of its products.
Tony Abboud, Vapor Technology Association executive director, tells Axios a decline in youth use is a "top priority" for VTA.
As for adult use, he says: "Given the misinformation and fear tactics employed by so-called U.S. public health groups, it should not be surprising that some smokers are being scared away from e-cigarettes."
Go deeper:
This piece sums up the lawsuit against the FDA and some studies examining pod flavors.
The Washington Free Beacon reports on congressional Democrats circulating a petition to ban pod flavors like chocolate and cotton candy.
The New Yorker looks at the rise of Juul.
Editor's note: This piece updated the link and date for the CDC survey.
Go deeper