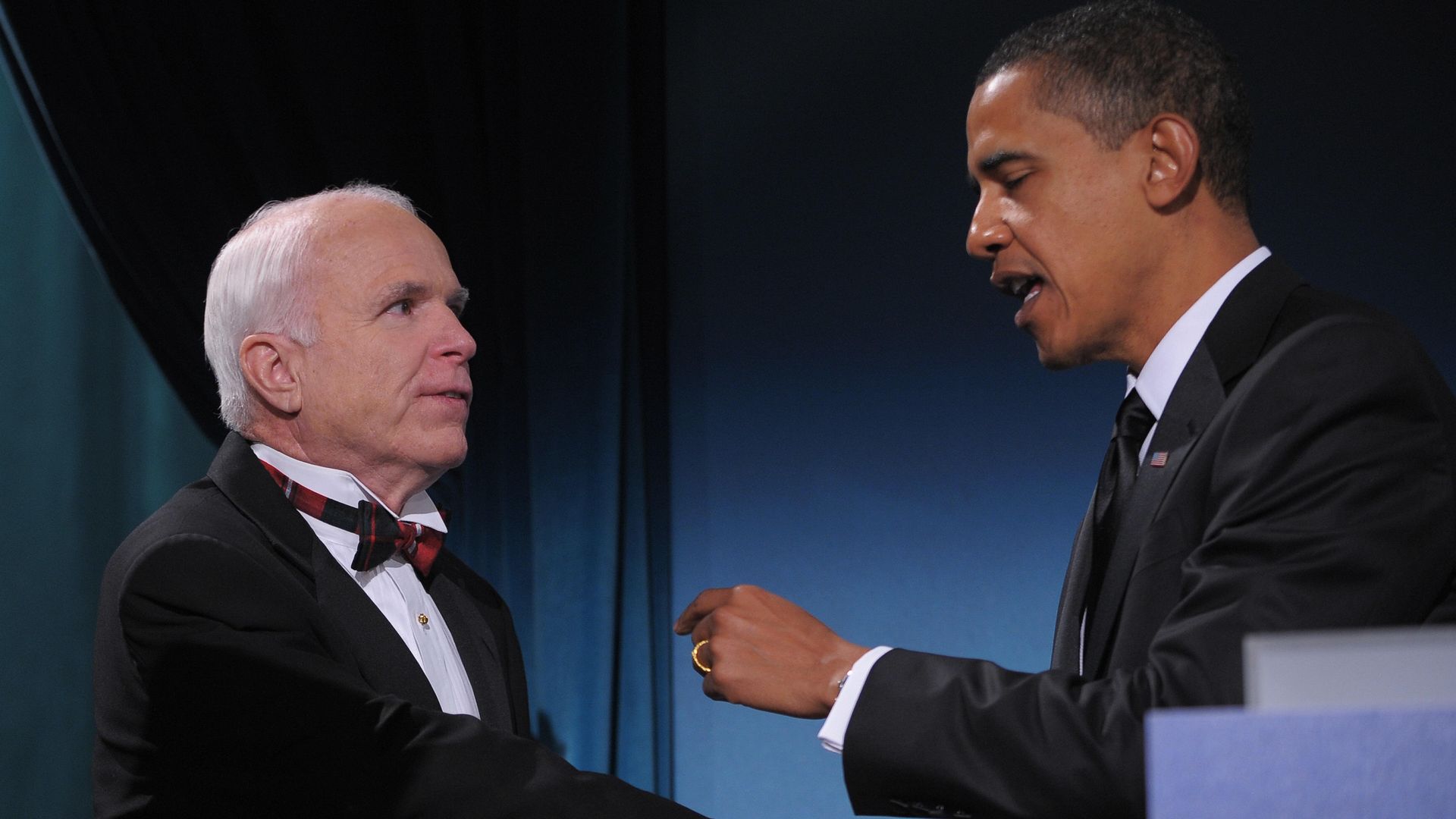 A series of excerpts from Sen. John McCain's forthcoming memoir "The Restless Wave" made their way online today, touching on juicy, wide-ranging topics like the senator's relationship with Barack Obama, his feelings about Vladimir Putin, and his handling of the infamous Steele dossier.
The big picture: Taken as a whole, the excerpts — published by The Wall Street Journal and The Daily Beast — show a longtime public servant attempting to downplay his vital contributions to some of the biggest news stories of our day, often attributing his actions to his duty as an American.
1) President Obama called McCain to thank him for his dramatic late night vote to save the Affordable Care Act, according to an excerpt obtained by The Daily Beast.
"I appreciated his call, but, as I said, my purpose hadn't been to preserve his signature accomplishment but to insist on a better alternative, and to give the Senate an opportunity to work together to find one. He hadn't called to lobby me before the vote, which I had appreciated. He had last called me not long after the November election, during the transition to the Trump administration, to congratulate me on my re-election. He added that he was counting on me to be an outspoken and independent voice for the causes I believed in as I had been during his presidency. I thanked him, and said I would try to be."
2) McCain also discusses the Steele dossier in another tidbit first published by The Daily Beast, specifically his decision to give a copy of the controversial document to FBI Director James Comey after it came into his possession, stating he "did what any American who cares about our nation's security should have done."
"I went to see him at his earliest convenience, handed him the dossier, explained how it had come into my possession. I said I didn't know what to make of it, and I trusted the FBI would examine it carefully and investigate its claims. With that, I thanked the director and left. The entire meeting had probably not lasted longer than ten minutes. I did what duty demanded I do.
3) McCain expounds on United States' relationship with Russia in a lengthier excerpt given to the WSJ, stating his worry that the Trump administration "would not be so inclined" to "make Putin pay a steep price" for attempting to interfere in the 2016 election.
"Vladimir Putin is an evil man, and he is intent on evil deeds, which include the destruction of the liberal world order that the United States has led and that has brought more stability, prosperity and freedom to humankind than has ever existed in history. He is exploiting the openness of our society and the increasingly acrimonious political divisions consuming us. He wants to widen those divides and paralyze us from responding to his aggression. He meddled in one election, and he will do it again because it worked and because he has not been made to stop."
Go deeper