What the U.S. wants from China on trade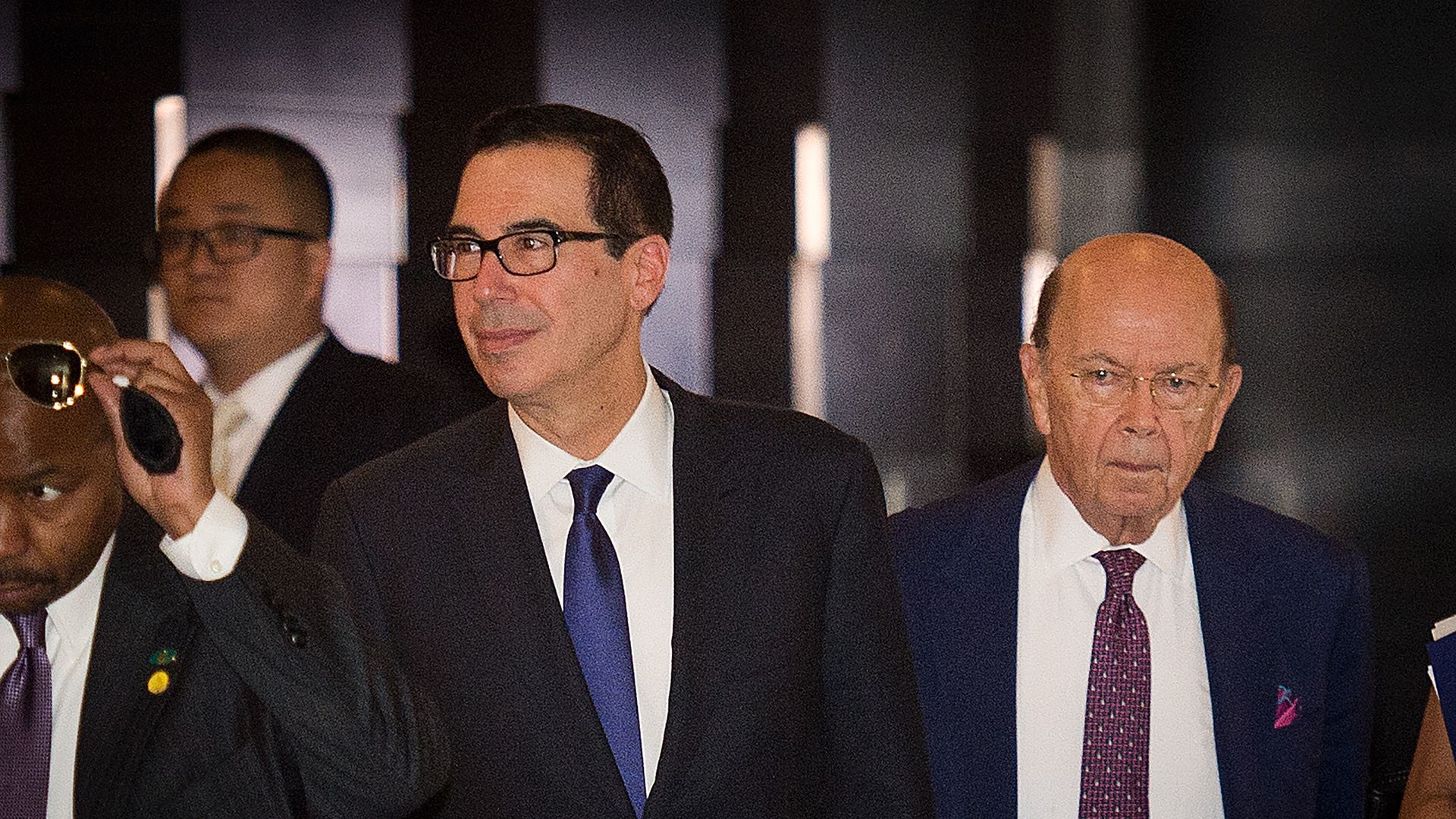 A high-level delegation of U.S. officials, led by Treasury Secretary Steven Mnuchin, is in Beijing for trade talks with the Chinese. And, per a document reviewed by multiple news outlets, Washington has laid out its demands.
One big ask: Cut the trade deficit by $200 billion by 2020. Last year, the deficit reached an all-time high of $375 billion.
The backdrop, via Axios' Jonathan Swan: The relentless focus on the trade deficit comes straight from President Trump. He wants what he wants; and what he wants is far closer to hard-liner Peter Navarro's version of the world than that of free-traders Mnuchin and Larry Kudlow. The real question is how far Trump is willing to bend.
The other demands, per the Wall Street Journal's Lingling Wei:
Cut Chinese tariffs on American imports to match American tariffs on Chinese goods.

Context: President Trump called out China for high tariffs on U.S. autos.

Cut government subsidies for high-tech industries under the "Made in China 2025" program.

Context: The program is a push to upgrade Chinese manufacturing so Beijing can compete in advanced industries including artificial intelligence.

Do not target American farmers and agricultural products.

Context: Tariffs against soybeans — included in China's retaliatory package — hit the heart of Trump country.

Do not oppose U.S. restriction on Chinese investment in American companies.

Context: Congress is working on a national security bill to expand its review of foreign investment, and it has both Chinese and American companies concerned.

Open borders to foreign investment from U.S. and other countries.

Context: China approves foreign investments after reviewing applications. "The U.S. wants investments to be generally open aside from certain restricted sectors such as defense," Wei writes.
The bottom line: There's no indication yet from Beijing that it'll agree to some or all of these demands. China's official news agency, Xinhua, put out a statement following talks saying, "Both sides realized that there are some relatively big differences on some issues. And more work needs to be done to achieve more progress."
What China wants, per the Financial Times:
Stop opposing China's push for market economy status in the World Trade Organization.

Context: The U.S. argues that the Chinese state's role in its economy means that domestic prices are not determined by the market. If China is recognized as a market economy, it will face lower anti-dumping duties.

Let American companies sell parts to Chinese telecom company ZTE.

Context: The U.S. government has banned sales to ZTE for seven years.

Ease scrutiny of Chinese investment in American firms.

Context: Congress is only ramping up its efforts to contain Chinese investment.
Be smart: China believes it is now big enough to take on the U.S. in a trade fight.
Go deeper