Sprint, T-Mobile's latest merger plan puts regulators on spot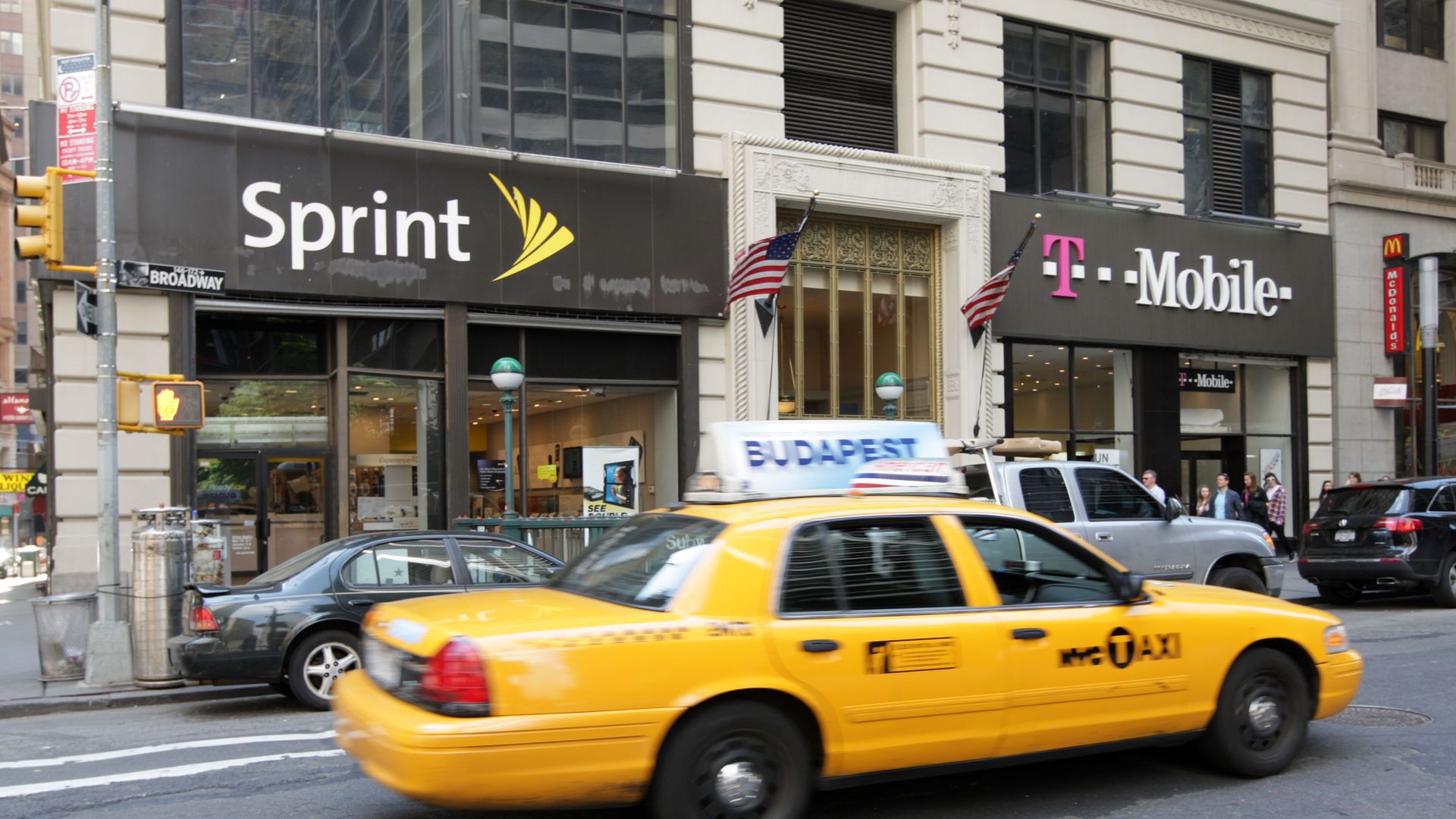 Reports that Sprint and T-Mobile are, once again, close to a merger raise key questions about regulatory approval and what the deal means for consumers.
Why it matters: Despite a few false starts, Wall Street sees the deal as inevitable, as the smaller wireless carriers struggle to compete against their larger rivals, AT&T and Verizon. The combination of Sprint and T-Mobile would would remove one of the four national carriers from the market, something Obama-era regulators opposed.
Key questions:
Will regulators allow a deal?
During the Obama administration, the Federal Communications Commission (FCC) and Justice Department made it clear they would object to any deal resulting in fewer than four national wireless competitors. The FCC also blocked an earlier effort by AT&T to acquire T-Mobile.
How the deal will fare under President Trump is less clear. In general, Republican administrations have been more deal-friendly. That said, the Trump administration's DOJ held up AT&T's effort to buy Time Warner.
But the deal structures are very different. Unlike AT&T's proposed "vertical" deal, a Sprint-T-Mobile "horizontal" combination would eliminate a competitor from the market. That means it has higher antitrust hurdles to clear.
Also, unlike with the AT&T-Time Warner deal, the FCC can't avoid reviewing this merger because of the airwave licenses involved. The FCC generally has a tougher public interest standard for transactions — but Chairman Ajit Pai hasn't shown interest in blocking this deal.
"It is really a jump ball," says wireless industry consultant Chetan Sharma. Unless regulators can be convinced Sprint can't survive on its own, they may see the benefits of four competitors, he said —"But if they think that it is too much to ask four operators to upgrade their networks to 5G [the costly next level of wireless infrastructure], maybe there is a compromise."
The FCC and DOJ declined to comment.
Will the combined company help or hurt consumers?
Cost savings could be significant, especially if the deal closes before the companies have to invest separately to upgrade to a 5G network.
"I think it is still early days for 5G deployment so the earlier they do it, the better the synergies are," Sharma said. "As you get into 2019-2020, given the U.S. market dynamics, synergies start to melt away."
In theory, a combined entity will be able to reduce costs, which could translate to savings for customers. On the other hand, removing a national carrier could end up raising prices if there's less competition. Sprint and T-Mobile have fought aggressively for customers, forcing the bigger carriers to respond with lower prices and unlimited plans.
Who will be in charge? T-Mobile US is controlled by Deutsche Telekom, while Sprint is majority owned by SoftBank.
One of the stickiest points is who will control a merged entity and what say the minority player will have. Reports suggest the combined company will reside on Deutsche Telekom's books from an accounting perspective, even if that firm doesn't own a majority of shares.
Disputes over who would control the combined company derailed the last Sprint/T-Mobile merger attempt in 2017. Sprint chairman Masayoshi Son has reportedly been reluctant to give up control.
Bottom line
The wireless industry is already shifting as the smartphone market becomes saturated and mobile operators around the world spend billions to upgrade to 5G networks.
The verdict in the DOJ's lawsuit to block AT&T's acquisition of Time Warner (which is expected in the coming weeks) may provide more clues about the government's willingness to try to block another telecom merger.
Go deeper