Updated Apr 27, 2018 -

World
Summit of giants: Modi goes to China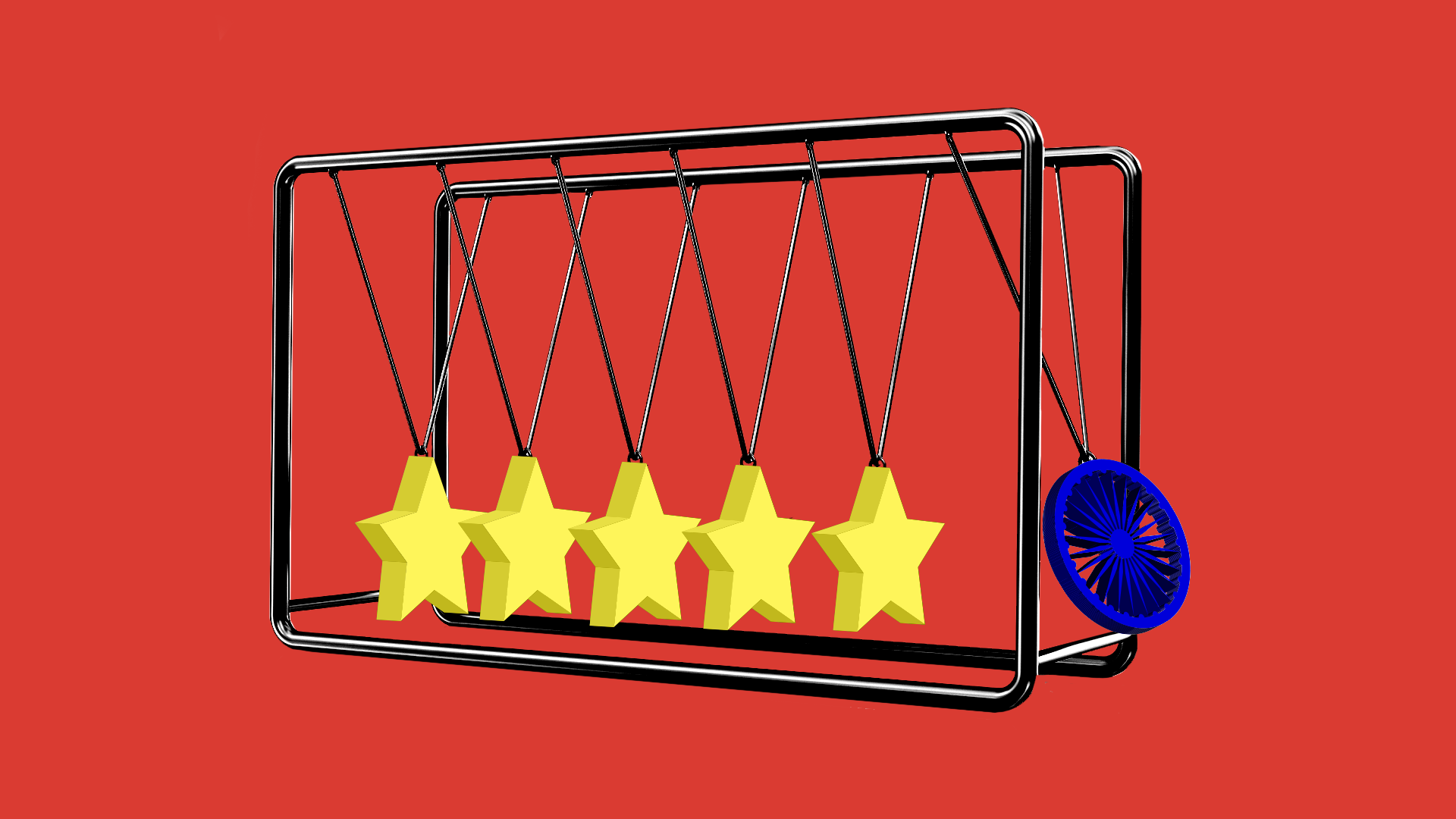 Chinese President Xi Jinping and Indian Prime Minister Narendra Modi will have one big goal for their summit today: dial down the tensions in a relationship that's full of them.
The big picture: As China ramps up its investments in South Asia through its trillion-dollar Belt and Road Initiative, India feels increasingly encircled — and threatened. India sees itself as China's equal, but Beijing doesn't see it that way at all. That makes cooperation difficult.
The points of tension
1) Beijing's growing investment in Pakistan — India's rival.
China has had a long relationship with Pakistan, selling arms and engaging in technology knowledge transfers. But with its Belt and Road infrastructure initiative, China is making unprecedented economic investments in the country, says Sameer Lalwani, co-director of the Stimson Center's South Asia program.
India and Pakistan have been at odds since 1947, when the two split into separate countries. One flashpoint in their fraught relationship is Kashmir, a disputed region where India, Pakistan and China each claim a piece of land.
As part of its investment in Pakistan, China has built a railroad that passes through Pakistani-administered Kashmir. India has questioned the decision to develop infrastructure in territory that is actively disputed.
2) Border disputes that could flare up again.
In the summer of 2017, Indian and Chinese troops engaged in a 73-day standoff in Doklam, a part of Tibet where both China and India-backed Bhutan have territory. The conflict was over China's intention to build a road through Bhutan's piece of Doklam.
China and India sent troops home for the winter, but now they're returning to their stations — so the summer months are when border disputes could start again, says Shailesh Kumar, Asia director at the Eurasia Group.
Ahead of the summit, Chinese vice foreign minister Kong Xuanyou told reporters that the face-off "reflected the somewhat lack of mutual trust between the two countries."
3) China's increased presence in the Indian Ocean — India's sphere of influence.
Beijing is investing in South Asian countries like Nepal, Sri Lanka and Bangladesh. India can't keep up with the scale and speed of Chinese investment, and New Delhi worries that it could lose influence in its own neighborhood.
What Xi wants
The biggest get for Xi would be if India agreed to sign onto the Belt and Road Initiative, Axios contributor Bill Bishop says. While all of India's neighbors have accepted Xi's vision, New Delhi remains a giant holdout.
Yes, but: "Both countries see themselves as global players, and both countries want to have a role in Asia's future," says Aparna Pande, an expert on South Asia at the Hudson Institute. Modi is unlikely to join the Initiative, which he sees as a Chinese effort to undermine India's influence in Asia, she says.
What Modi wants
The prime minister needs to demonstrate to the Indian people that he's capable of managing India's relationship with the other Asian giant. He's entering a period of tense regional elections and putting out domestic fires at the same time.
"The last thing Modi wants is a huge issue with China lingering over him because it gives the opposition one more thing to hit him on."
— Shailesh Kumar, Eurasia Group
The bottom line: India will eventually accept China's presence in the South Asian subcontinent. But the problem India has with China, according to Evan Feigenbaum, deputy assistant secretary of state for South Asia under President George W. Bush, is "to sort through what's just economic gravity and what's nefarious and directed at India."
Go deeper