GOP will tout individual mandate repeal, but it could backfire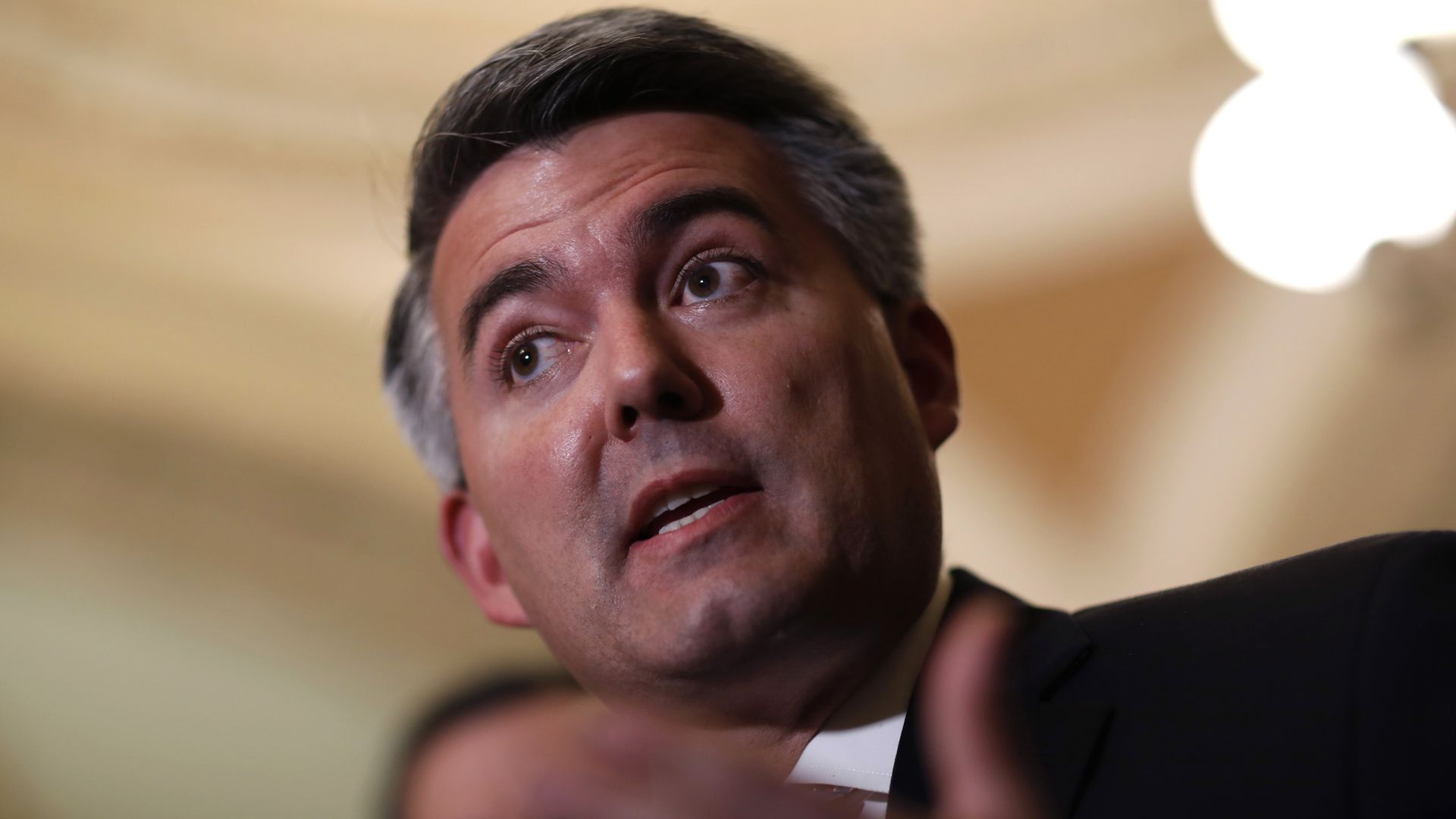 Republicans are planning to campaign aggressively on their repeal of the Affordable Care Act's individual mandate, despite the high likelihood that insurers will announce a big round of premium increases just weeks before Election Day. They're counting on the mandate's unpopularity to shield them from Democrats' claims of "sabotage."
Between the lines: Both parties are right: The individual mandate was the most unpopular feature of the ACA, and its repeal will surely contribute to significant premium hikes.
Republicans around the country are talking about the fact that we made Obamacare voluntary.
— Sen. Cory Gardner, chairman of the National Republican Senate Committee
Despite campaigning for almost a decade on repealing the ACA, Republicans failed to do so — but were able to repeal its individual mandate through their tax law.
"That's the only fundamental change we've been able to make to Obamacare, legislatively, and rates were a disaster before," said Rep. Patrick McHenry, deputy whip for House Republicans. He added that whether members will choose to highlight their votes "depends on the district, depends on the member."
The strategy, per a senior House GOP aide: "Every time it is brought up, use that as an opportunity to remind voters who paid the mandate tax. It was people who already couldn't afford [health care]. Not people choosing not to purchase. Most immoral tax we had."
Although the October premium hikes will be a "big problem," they can be spun: "Premiums going up is a 'hey let's chat about tax reform' moment. But if mandate [repeal] contributes to higher premiums, it means that they were artificially made lower on the backs of low income individuals," the aide said.
What they're saying: Republicans plan to make two major points in defense of the repeal: The government should never have been forcing people to buy health insurance in the first place, and poor people were the ones paying the mandate penalty.
"[If] anybody's going to get premium hikes, it's because Obamacare isn't working," Rep. Tom Cole said.
Reality check: The mandate included a hardship exemption. If the cheapest ACA policy available to you would have cost more than about 8% of your income, you were exempt from the mandate. But lower-income households did make up a large share of the people who paid the penalty.
The other side: Some Republican aides and strategists acknowledge this strategy could backfire, by either reminding voters of the unpopular ACA repeal effort or by linking vulnerable members to premium hikes — which Democrats will already be trying to do.
"If Obamacare is popular in your district, taking credit for repealing the mandate makes you vulnerable to Democrats' message that you screwed up Obamacare," a former GOP aide said.
"Apparently Republicans think it's a good idea to tell voters that they really wanted to fully repeal health care but only got the first chunk, which will raise premiums 10%. Good luck with that," said Jesse Ferguson, a Democratic consultant. "The only thing worse than voting for rate hikes is trying to convince voters it was a good thing."
The bottom line: "I think you just confront it head-on and say, just ask them, 'Was your health care situation better before Obamacare or not?' ... You do have to go make the argument," Cole said. "If you let the Democratic argument stand in a vacuum, that's when you get in trouble."
Go deeper