Exclusive James Comey book excerpt: Inside the "loyalty dinner"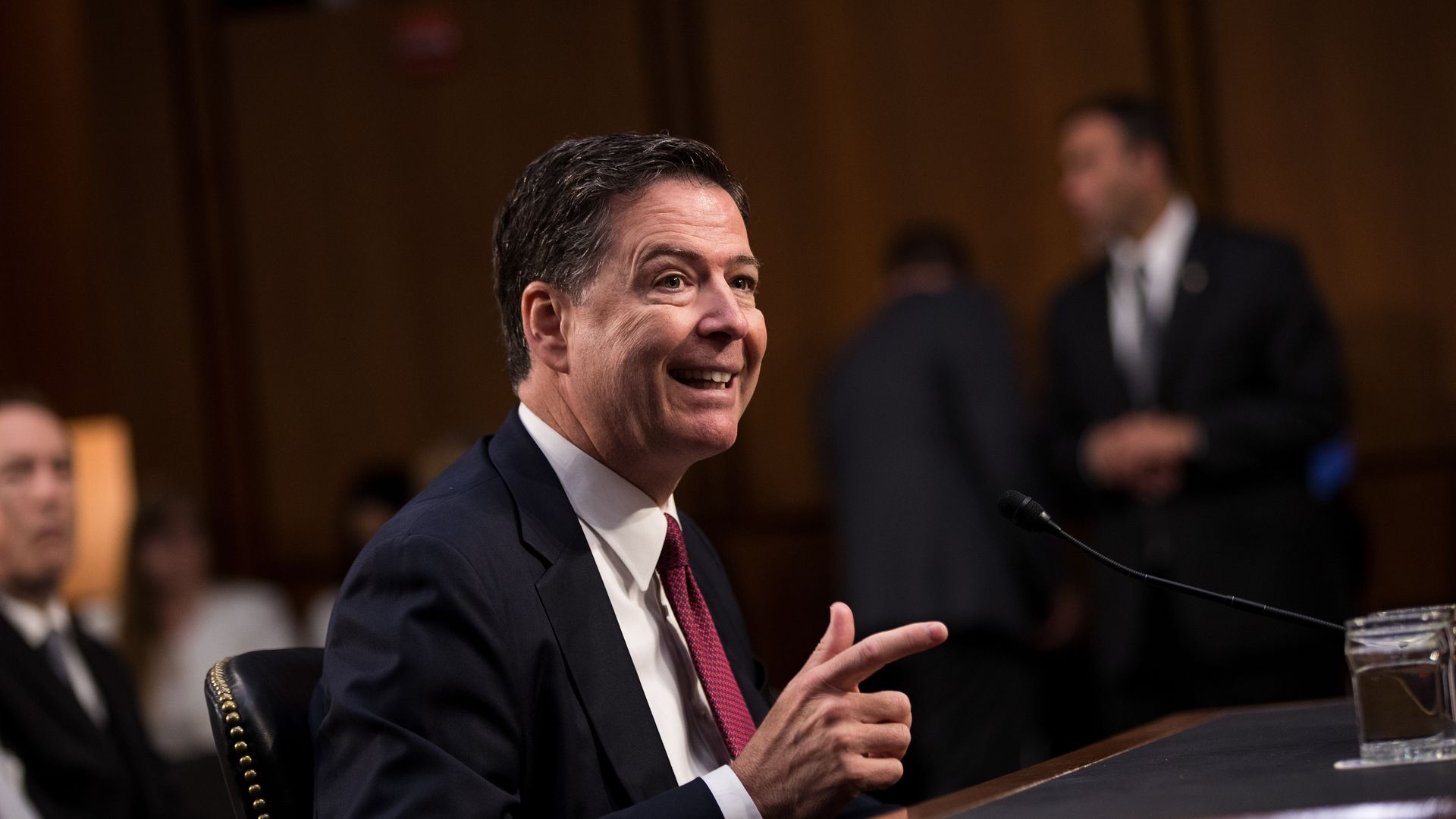 Fired FBI director James Comey comes across in "A Higher Loyalty," out Tuesday, as aghast that, in his view, so many people who should know better allowed President Trump to attack basic norms of behavior and ethics.
The intrigue: In one of the juicier scenes, Comey takes readers inside his "loyalty dinner" with Trump, in the White House residence on Jan. 27, 2017, a week after the inauguration:
"He said lots of people wanted to be director of the FBI, but that he thought very highly of me. He said he had heard great things about me and knew the people of the FBI thought very highly of me as well."
"He said despite that, he would understand if I wanted to 'walk away' given all I had been through, although then he noted that that would be bad for me personally because it would look like I had done something wrong."
"He finished by saying that he knew he could 'make a change at FBI' if he wanted to, but that he wanted to know what I thought."
"Now it was pretty clear to me what was happening. The setup of the dinner, both the physical layout of a private meal and Trump's pretense that he had not already asked me to stay on multiple occasions, convinced me this was an effort to establish a patronage relationship."
"Somebody probably had told him, or maybe it just occurred to him at random, that he'd 'given' me the job for 'free' and that he needed to get something in return."
"This only added to the strangeness of the experience. The president of the United States had invited me to dinner and decided my job security was on the menu."
Comey writes that Trump's loyalty demand at the dinner was like "Sammy the Bull's Cosa Nostra induction ceremony." (ABC)
The big picture: We're told Comey "feels a sense of mission" ahead of a coast-to-coast tour, launching Sunday at 10 p.m. with an interview with ABC News chief anchor George Stephanopoulos.
As leaks from the book began pouring out yesterday, Comey was said to be "bemused" by Twitter attacks from Trump — and preemptive pushback from the RNC, which set up a "Lyin' Comey" site.
Go deeper ... The N.Y. Times book review, "James Comey Has a Story to Tell. It's Very Persuasive," is written by one of the tougher critics out there — Michiko Kakutani, former chief book critic for The Times, and author of "The Death of Truth: Notes on Falsehood in the Age of Trump," out July 17.
How it's playing: N.Y. Times A1, "Visceral Details, and Grim View Of President, in Comey Memoir" ... WashPost A1, "Comey's memoir: Trump fixates on proving lewd dossier allegations false."
Go deeper: Comey felt Trump was sitting "on a throne"
Get more stories like this by signing up for our daily morning newsletter, Axios AM. 
Go deeper