Where Trump and Congress stand on guns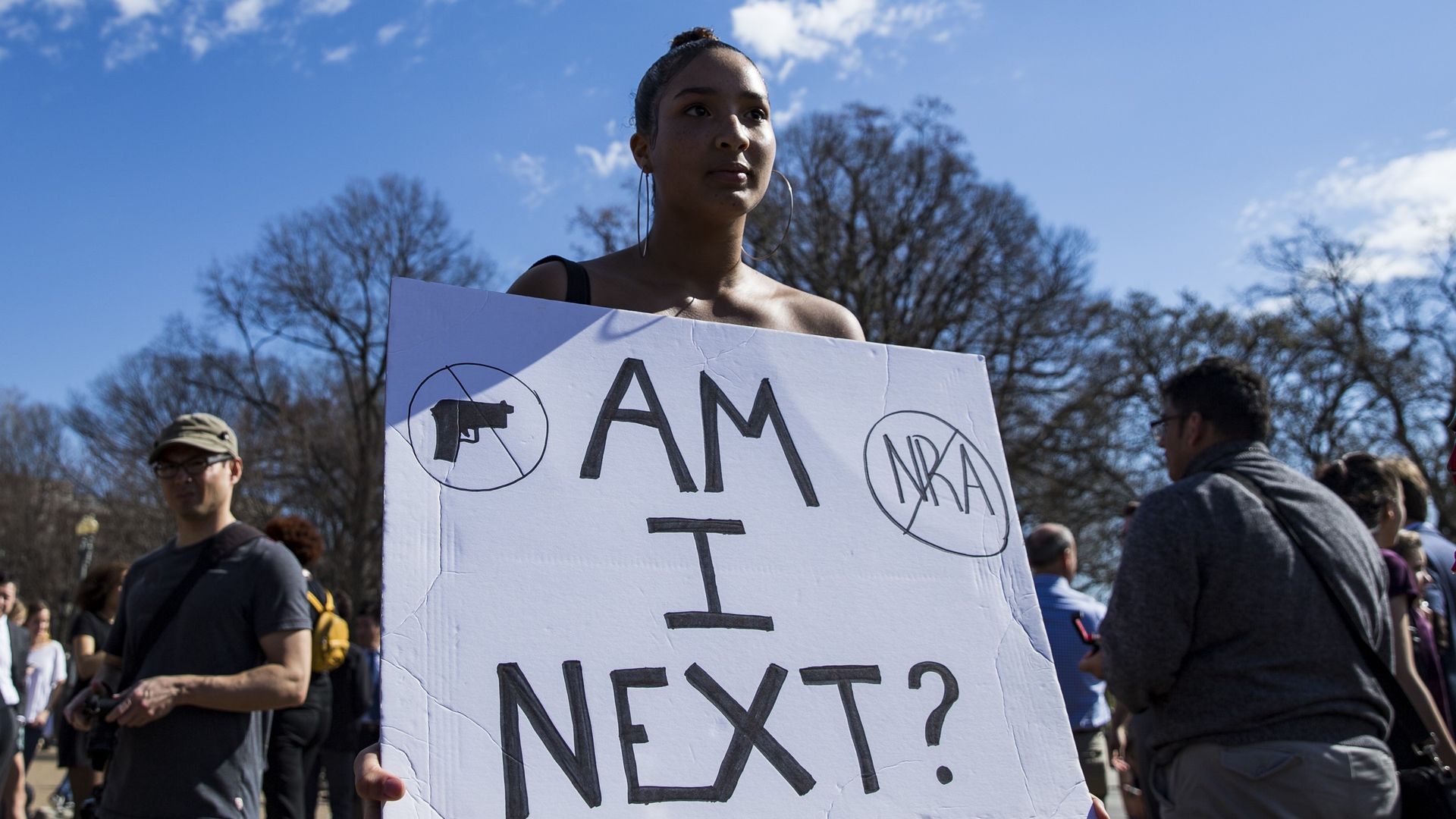 After a long day of meetings and tweets, a rough sketch of a gun agenda has emerged from President Trump. And in Congress the tragically-predictable storyline that plays out after a mass shooting may about to be shaken up.
What we're watching: Senate staff and observers say next week's caucus lunches, where leadership takes the temperature of members, are going to be key. And if there is action on a gun bill, it's going to be a political shift largely thanks to the high school kids who have spoken up about gun violence.
"It's hard to imagine this doesn't move some votes.
— A well-wired former Senate aide
Trump's pitches:
Tightening background checks "with an emphasis on Mental Health."
Banning bump stocks, which were used in Las Vegas and dramatically speed up the rate of fire for semi-automatic rifles.
Raising the age to buy some guns from 18 to 21. The law is currently 18 for long rifles, and 21 for handguns.
Allowing concealed carry permits for some teachers, which he described as those who are "highly adept people people that understand weaponry..." Trump said such teachers should get a "little bit of a bonus" for this, and proposed training them with federal funds. [Go deeper]
Trump does not favor active shooter drills, saying he wouldn't want to subject his son Baron to such drills. He instead wants to harden schools from attack.
The leading legislative contender in the Senate is a bipartisan bill sponsored by Majority Whip John Cornyn and Sen. Chris Murphy, which would improve reporting under the existing background check system and reporting of domestic violence records.
"Cornyn bill should pass," a senior GOP aide told me. "No idea on whether McConnell will give us floor time or not. May be a [unanimous consent] exercise."
McConnell himself is a cosponsor of the bill.
"One of the factors for consideration will be where POTUS stands on various ideas. The Senate Majority Leader will need that input, too," a second senior GOP Senate aide said.
Yes, but: It's really hard to see a path forward for the bill to become law, even if it passes the Senate. The House has already passed it, but paired with a concealed carry provision that Democrats would never vote for. Separating the two endangers conservative House support.
The bottom line on the challenges from former Senate aide: "The pressure is not getting less, [but] this issue and immigration are the two really hardest things to get done, because they get everybody fired up and dug into their corners. We haven't shown the ability to get those kinds of things done recently."
Go deeper