Pharma's week of whiplash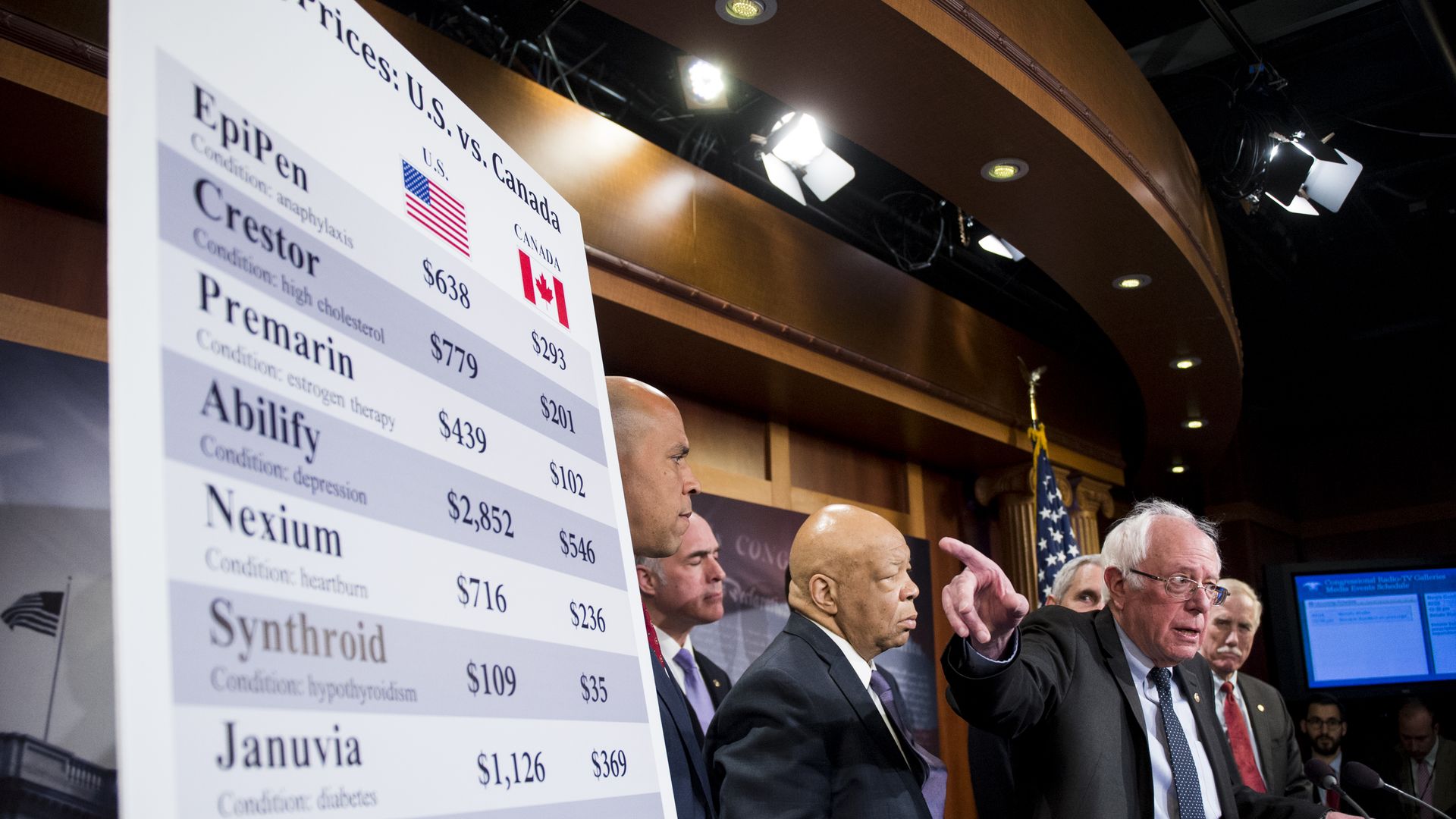 The pharmaceutical industry was busy last week, winning a key exclusion in the budget bill while getting handed a separate loss. And now as the White House releases its budget promoting drug pricing reforms — and as Alex Azar heads to the Hill to discuss them — pharma is still going to find itself on defense.
Why this matters: Pharma is one of the most powerful industries in the country, and generally gets what it wants. But drug prices are an extremely political topic pitting the vast majority of the public against the drug industry, and this week may reveal how that's going to play out in an election year.
What happened last week: Congress included a change to the Medicare Part D "donut hole" in its budget deal, increasing drug companies' share of the bill to close that coverage gap.
The budget deal also repealed the Affordable Care Act's Independent Payment Advisory Board. Although hospitals and doctors were the loudest voices advocating for Congress to get rid of it, pharma also wanted it vanquished.
"IPAB was probably more terrifying to them than any provider group," said Rodney Whitlock, a former GOP Finance Committee aide who now lobbies for the Campaign for Sustainable Rx Pricing. "They are terrified of bureaucracy having the authority to do things to them that they can't win legislatively."
Then on Friday, the Trump administration previewed drug pricing reforms that'll be included in today's budget and released a white paper detailing similar policy suggestions from the Council of Economic Advisors.
What didn't happen last week: The CREATES Act — a measure to give generics easier access to the brand-name drugs they wish to copy — wasn't included in the budget deal, thanks to key Republicans including Sen. Lamar Alexander and Majority Leader Mitch McConnell and, by most accounts, lobbying by the drug industry.
"Republicans wouldn't include it" in the budget deal, a senior Senate Democratic aide said. "Dems made a big push so it was fairly serious."
Republicans say they offered an unspecified different solution to the underlying issue — generic companies' ability to obtain samples of brand-name drugs — but Democrats rejected it. The changes would have "gutted the bill," the Democratic aide said.
"The underlying issue is a problem that needs to be resolved. But not by giving away the store to trial lawyers," a senior GOP aide said. CREATES would open a pathway to generics to sue brand-name manufacturers to obtain product samples.
Some lobbyists said pharma was so busy lobbying against the inclusion of CREATES that they overlooked the donut hole provision's inclusion.
Be smart: Nothing that happened last week includes major structural reform, and drug companies are still reaping gigantic windfalls from tax reform. The administration's proposals are only conceptual, and don't include big policy changes like Medicare price negotiations. Drug companies also can offset the new donut hole policy's impact by simply raising prices.
Forcing drug companies to shoulder more of the coverage gap costs will encourage them to jack up list prices so patients quickly enter catastrophic coverage — where taxpayers pick up a vast majority of the costs.
"This will impact the decisions about list prices, and it won't be downward," a drug lobbyist said.
The $10 billion in savings the donut hole provision is expected to save taxpayers pales in comparison to the tax breaks drug companies are boasting about. Gilead Sciences expects to repatriate $28 billion this year. AbbVie is forecasting an effective tax rate of just 9% this year, well below the new 21% corporate rate.
The bottom line: "This was not a disastrous week for pharma, no matter how much they want to convince people it was," Whitlock said. "Next week they need to be concerned…because they will have to, once again, engage in the process of convincing people it's not their fault."
Go deeper