How a court injunction could buy time on DACA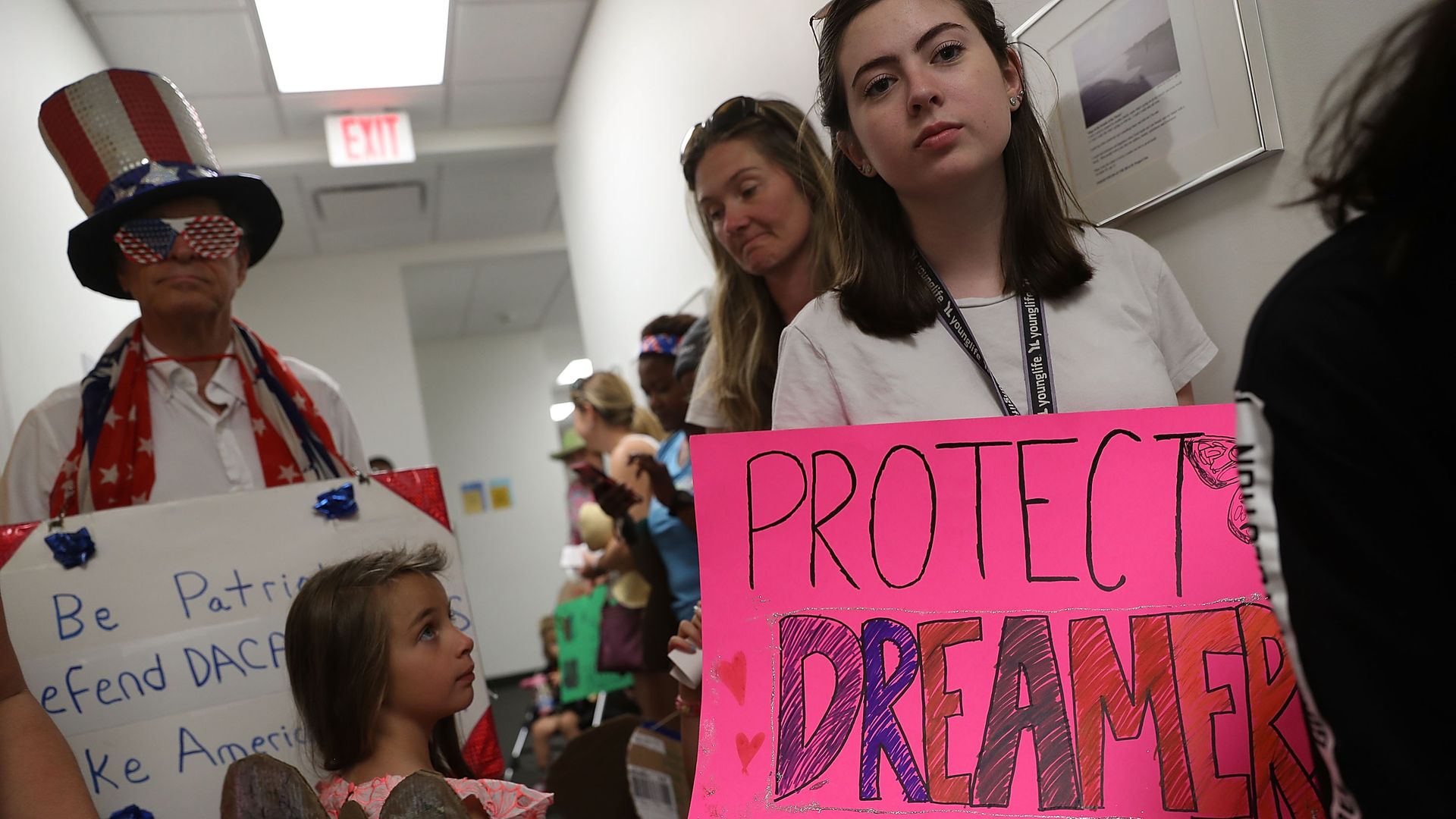 A California federal judge's injunction on the termination of DACA initially seemed a victory for the left, but it has complicated DACA negotiations on the Hill. Some Republicans are taking advantage of the decision to soften the March 5 deadline.
The bottom line: The injunction, won last month by California Attorney General Xavier Becerra, allows DACA renewals to continue — so that's what will happen if no deal is reached by March 5. U.S. Attorney General Jeff Sessions has appealed the order, but until the Supreme Court's decision, DHS will continue to renew DACA visas.
The catch: Democratic senators, including Minority Whip Dick Durbin, say the injunction doesn't offer a permanent solution, but only creates more uncertainty over the DACA deadline.
The issue:
What about the dreamers?
As of Jan. 15, DACA recipients whose visas are about to expire can apply for renewal. People who have never filed for DACA before, but could be eligible, can't apply.
The renewal process takes months, and some recipients whose DACA was set to expire no later than March 5 were unable to renew their DACA protection before Oct. 5 — the deadline set by Sessions.
Even if they apply now, these DACA recipients are at risk of not receiving their new cards before their current cards expire.
Employers will be forced by law to terminate any DACA recipients whose visas expire. Those dreamers would then be subject to deportation just like any other undocumented immigrant.
If they choose to stay in the U.S. undocumented, immigrants previously protected by DACA could have a harder time attaining legal status in the future.
The politics:
Democrats: Multiple Democratic Senate aides told Axios that they want a solution as soon as possible, and are acting as if March 5 were the final deadline.
"The Administration has already declared DACA unconstitutional, and is currently using every legal option to defend its repeal of the program in court. It's just not credible for the Administration or others to try to argue it the other way now—Dreamers need permanent protection now," Durbin spokesman Ben Marter told Axios.
Sen. Chris Coons said on a media call that it's possible that the March 5 deadline could be pushed back through court maneuvering, but he added, "I think our best course is to act as if the March 5th deadline is the real deadline and stop playing with the lives of hundreds of thousands of young people."
Republicans: One GOP Senate aide told Axios that the injunction was a convenient excuse for Republicans to put off a DACA deal. Other Republican aides said there was still an appetite for resolving the issue by March 5.
McConnell's promise: Whether or not March 5 really means anything, Senate Majority Leader Mitch McConnell promised an open floor debate on DACA, and a vote is expected.
One senior GOP aide told Axios that "there is no indication that the Leader is changing his commitment to floor access to a border security and immigration package."
The Coons-McCain bipartisan bill will likely be a starting point for the debate. Even if the Senate is able to reach an agreement on protecting DACA, House Speaker Paul Ryan could decide not to bring it to the floor for a vote.
Go deeper