Here's why the government could shut down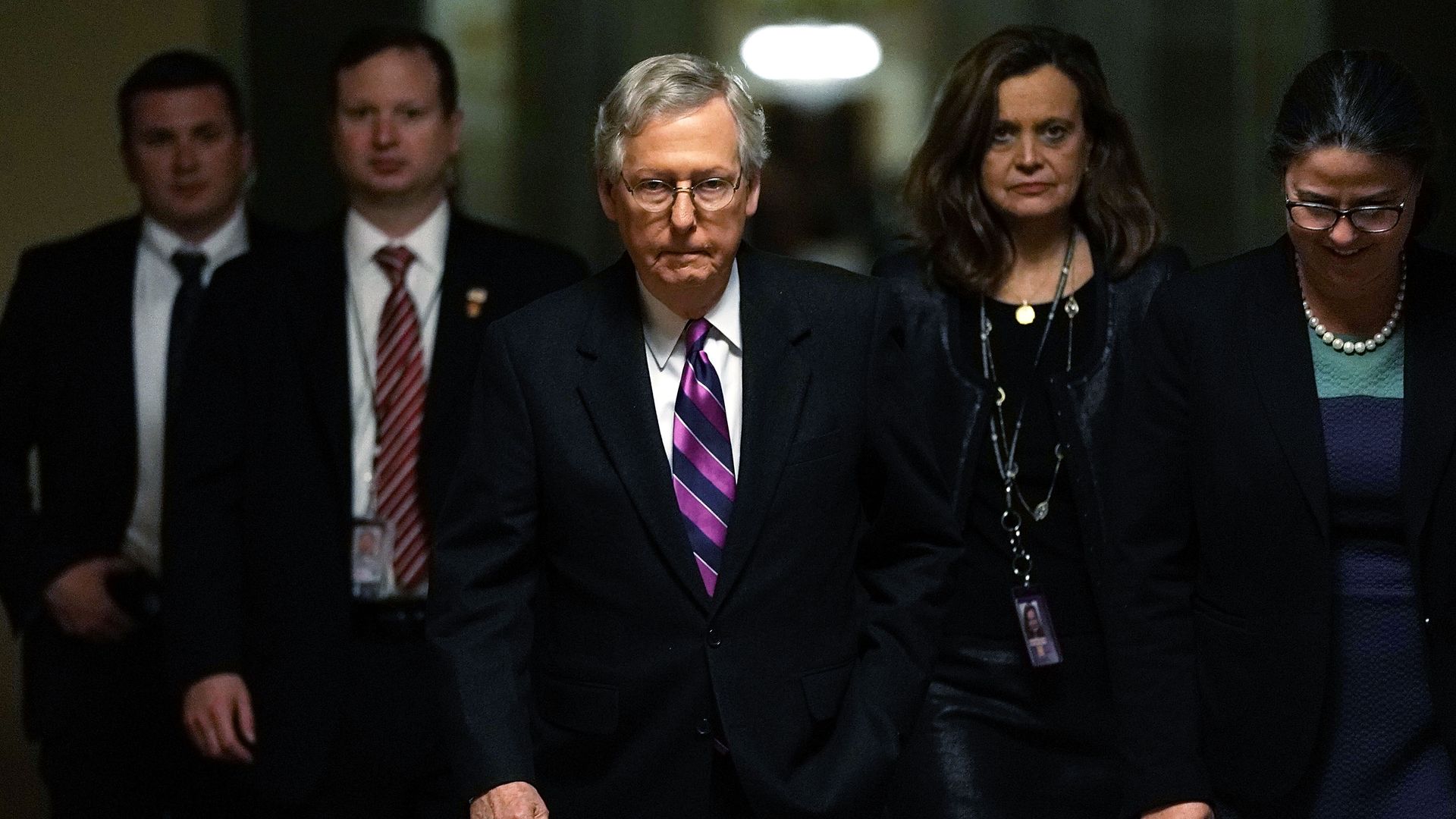 How can you have a government shutdown when one party controls both Congress and the White House? If it happens, it will be because Republicans couldn't keep key factions of their party happy or curry favor with Democrats over immigration — not to mention tweets undermining the negotiations from President Trump himself.
The bottom line: In order to pass the continuing resolution (CR) that will fund the government past its Friday deadline, GOP leadership must win over two key contingents: Senate Democrats and members of the House Freedom Caucus. Right now, it's hard to see the path that would allow them to satisfy both.
The Senate
Without John McCain, who is still recovering from cancer treatment, the Senate needs every Republican and at least 10 Democrats/Independents to pass the CR. At the moment, there's no sign that they have either.
Republicans to watch:
Lindsey Graham, who has already declared he's a no without an immigration overhaul and military funding.
Mike Rounds, who voiced his opposition both for defense reasons and his desire for the government to stop operating on short-term CRs.
Mike Lee and Rand Paul, who opposed the last stopgap bill in December.
What Democrats are saying:
Chuck Schumer told reporters an "overwhelming number" of Democrats would oppose a bill without a DACA fix.
It appears that zero Dems who voted "no" in December are going to vote "yes," but there are Dems who previously voted "yes" that will flip to "no," an aide told Axios.
The House
Speaker Paul Ryan is expecting to pass the bill without little to no support from House Dems, who likely won't vote yes without a DACA fix.
Republicans to watch:
The Freedom Caucus, chaired by Mark Meadows, who said he wants tighter caps on non-defense spending, more funding for military pay raises and clarity on immigration.
If all three dozen members of the Freedom Caucus vote "no," the bill will not have the Republican support to pass.
Democrats to watch:
Virginia Rep. Gerry Connolly, who represents a large number of federal workers and has voiced his support for the bill.
Representatives from the 16 states that are running out of CHIP funding.
Where Trump stands: The White House says he supports the House CR.
What's next: Facing a tough vote count that's currently well short, Bloomberg reports that several Senate Republicans said a stopgap bill to fund the government for just a few days is now under discussion. This is not coming from Senate Majority Leader Mitch McConnell, however, who is talking about keeping the Senate in session and taking repeated votes to put pressure on the Democrats, per Politico.
Go deeper