Qualcomm, PC industry team up on "always-connected" computers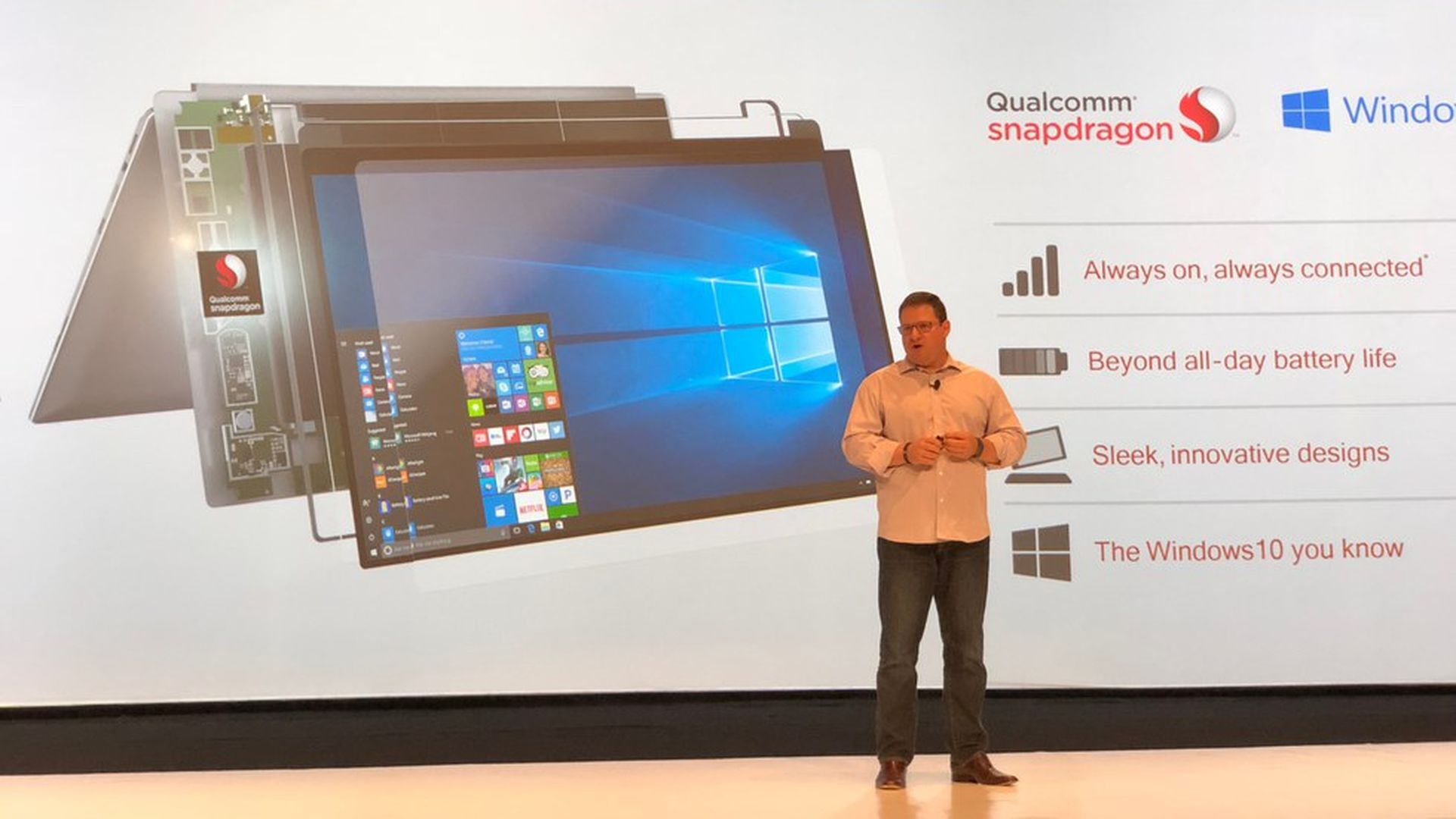 After several years of planning, Qualcomm, Microsoft and several PC makers are showing off a new crop of "always-connected" computers Tuesday that run Windows on top the kinds of chips used in smartphones rather than traditional Intel processors.
The result, the companies say, are thin, light machines that have built-in cellular connections along with enough battery life to run for 20 hours between charges. The first such PCs could show up by the end of the year, with broader availability and more options expected in the spring.
Why it matters: For consumers, the new type of PC could be a good option for road warriors. For Qualcomm, it offers the potential to gain a share of the PC market as its core smartphone business comes under increasing pressure from a range of rivals.
First fruits: One of the first such PCs will be the Nova Go from Asus, a 2-in-1 laptop that starts at $599,. HP showed off another model, the Envy X2, though it isn't due out until spring. The Envy is a detachable design, so it can operate like a tablet and have a keyboard when needed (not unlike Microsoft's Surface). Both were shown off at a Qualcomm event in Maui on Tuesday. China's Lenovo, meanwhile, will unveil its model at CES in January, Qualcomm said.
The backstory: If this sounds a bit familiar, it is. Microsoft and Qualcomm previously worked together on Windows RT, an ill-fated offshoot of Windows 8. With limited app support, customers eschewed the machines in favor of Intel-based devices running full Windows. Microsoft and Qualcomm insist they have learned their lesson and this new crop of machines is capable of running full Windows as well as most existing programs.
Busy time: The move comes at an unbelievably busy time for Qualcomm, which is in the midst of a massive legal battle with Apple and is the subject of a hostile takeover bid from rival Broadcom.
Nerdy details: The machines will ship with Windows 10 S, a slimmed-down version of the operating system, but customers will have the option to switch to Windows 10 Pro free of charge. Using Windows 10 Pro lets customers run older Windows apps, which will run in an emulation layer.
The fine print:: The new machines will be able to run most Windows Windows applications and no need for emulation.programs either natively or through emulation but there are a couple exceptions. For now, apps that are only 64-bit (think high-end games) or those that use what are known as kernel mode drivers (think third-party antivirus software) won't run on the Qualcomm-powered machines.
Intel's response: The incumbent says its chips can also support cellular connections while delivering full com potability with Windows applications and no need for emulation. Even there, though, Intel has new competition as Qualcomm is working with Intel rival AMD on always-connected machines that use Qualcomm modems and AMD's processors.
Separately: Qualcomm also used the event in Maui to show off its next-generation chip for high-end smartphones, the Snapdragon 845, though it was short on details. Samsung will manufacture the chip, as it did with the 835. Xiaomi CEO Lei Jun was a surprise guest at the Qualcomm event to say it will use the 845 in its next flagship phone. (Spoiler alert: So will lots of other companies' flagship phones.)
Go deeper