Using AI to navigate a drowning sea of data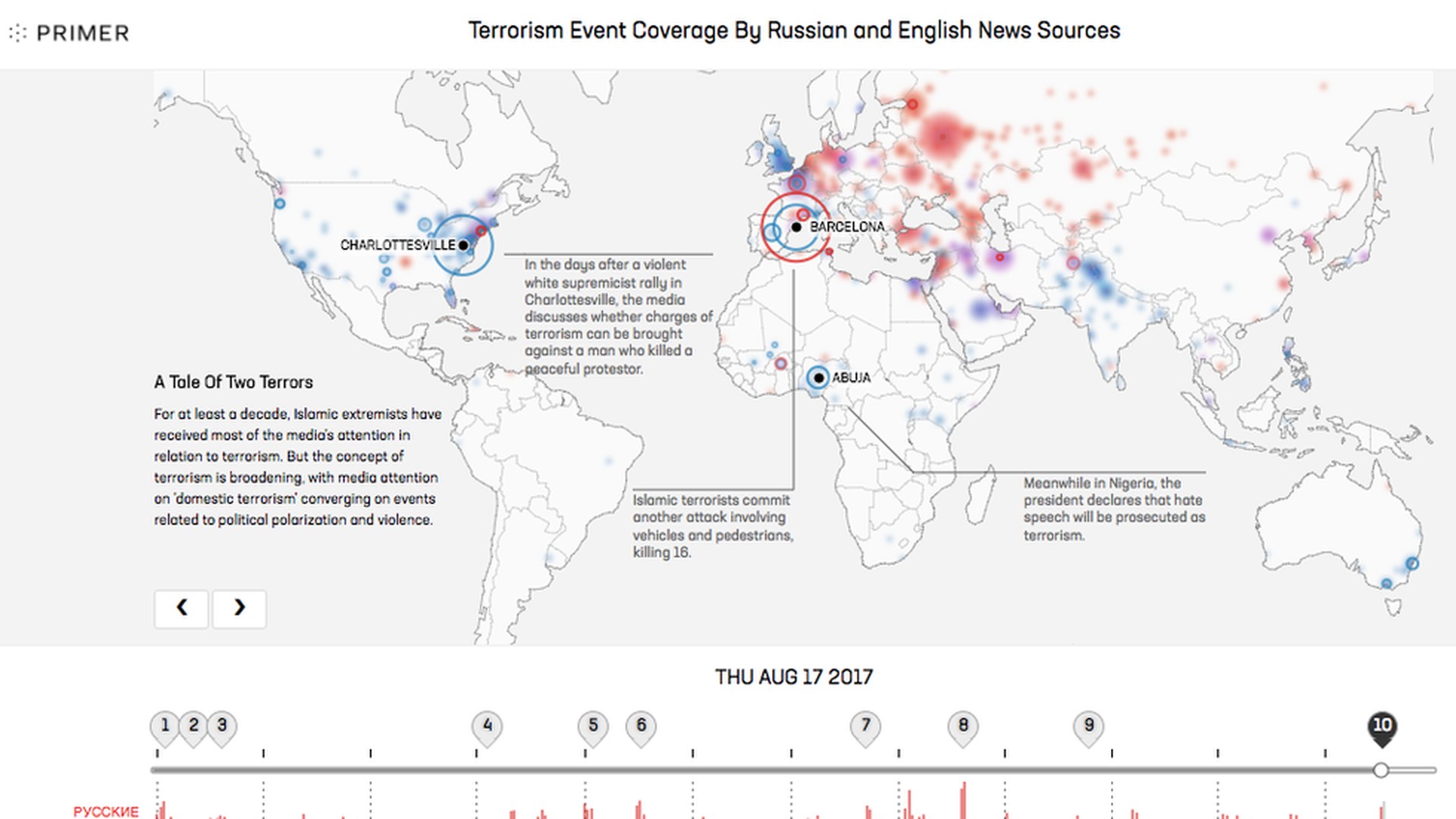 For the CIA, hedge funds and the largest retail enterprises, the confounding problem is the same: too much data. The world and its actors have never seemed more complex, and with no way to absorb a meaningful part of the information out there, events appear harder than ever to understand.
A business opportunity: We are seeing a slew of startups promoting artificial intelligence as a solution. The latest is Primer, which, backed by $14.7 million in venture funding, says it sorts millions of news sources and any other data thrown at it, and then crystallizes what's important in concise, natural language.
Why it matters: It will take time to gauge the accuracy of tools like Primer's, and its founder says it does not supplant human intelligence. But it — and rival products — appears to be a solid first crack at breaking through the mountain of data weighing down our best analysts, and shaping it into useable bites and form.
How it started: Back in 2009, a New Zealand-born physicist named Sean Gourley went public with a mathematical formula that he and a team at Oxford University had discovered to explain war (watch his Ted talk here). Kooky or spooky, Gourley's work was sufficiently compelling to attract the $14.7 million from In-Q-Tel, the CIA's venture capital arm; Zachary Bogue, husband of former Yahoo CEO Marissa Mayer; and two other VC firms. The money is to fund Primer, his new company. Gourley's initial clients include Walmart, the Singaporean sovereign wealth fund and one or more of the U.S. intelligence agencies (under the rules of the game, he cannot be told who his precise intel clients are).
Primer seems much more machine-driven than rivals like GovBrain and Predata. In a forecast this week, New York-based Geoquant, relying on AI plus human analysts with Ph.D.s, cast doubt on the Trump administration's ability to push its top-priority tax cut through Congress this year (we have written about Geoquant in past months).
Gourley tells Axios that his objective is to do the job of a junior analyst, not top-level experts.
That means cutting through the first three or so hours of an analyst's day by sorting through news sources and providing, in plain English, a few takeaway thoughts for the human to then apply imagination and judgement to.
"You can sound pretty smart and bring up things that others didn't think about," Gourley said. He said a frequent comment he hears from potential clients seeing a demonstration is, "How did I miss that?"
"Its a humbling experience," he said. "You start to understand where human limitations and strengths are."
Go deeper