U.K. leapfrogs U.S. on regulating bad content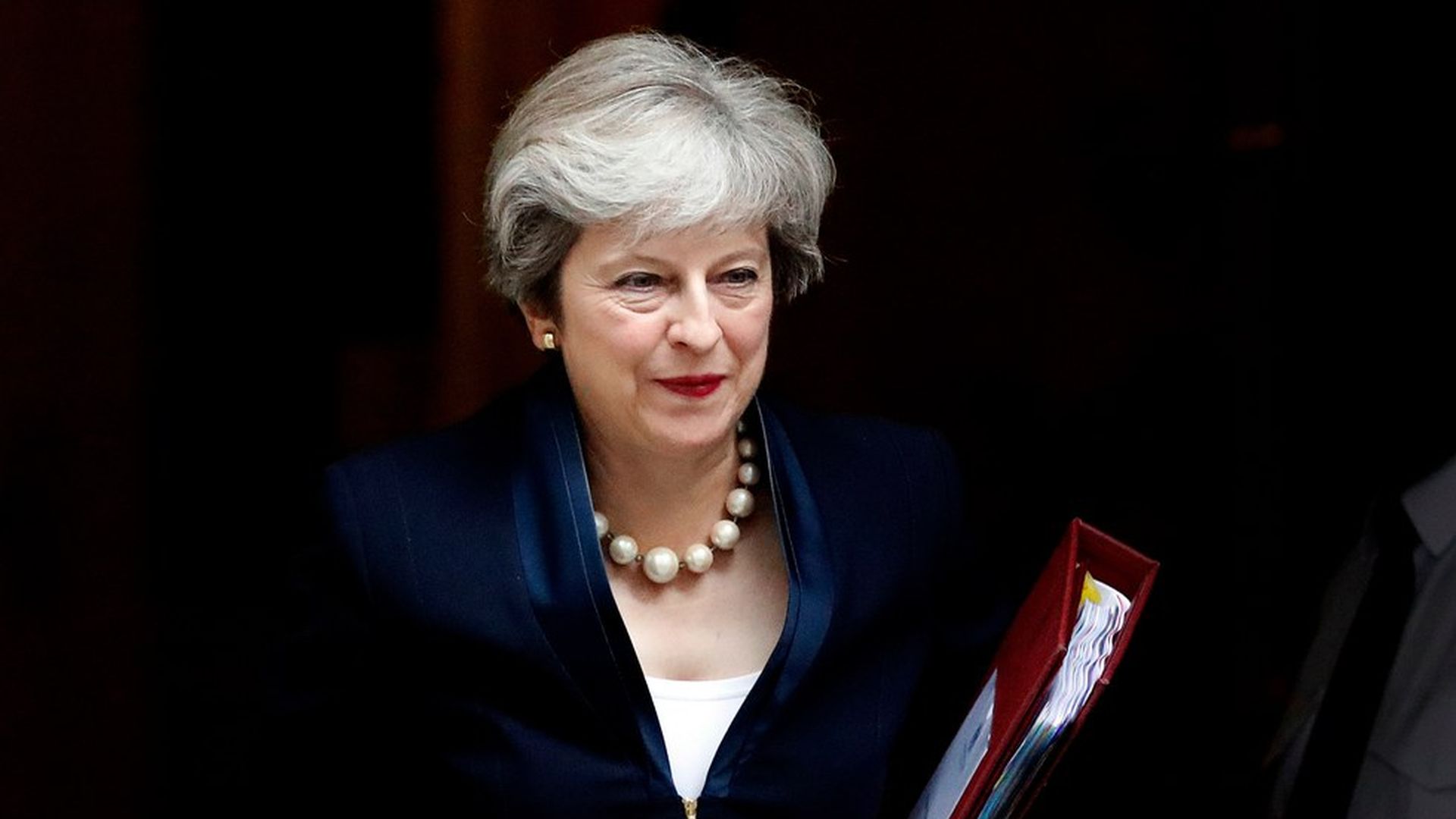 U.K. Prime Minister Teresa May's administration said Tuesday that her cabinet is considering regulating Google and Facebook as news organizations, rather than being treated like pure tech companies. May's repeated pushes to hold Facebook, Twitter and Google's feet to the fire contrasts with American officials, who have acted slowly on concerns of misuse of Silicon Valley's platforms.
Why it matters: The speed of the U.K.'s actions means that the United States is falling behind, even though it was the U.S. election nearly a year ago that drew the most attention to the issue. While May and her Cabinet rush to stop fake news and terrorism from spreading — threatening steep fines — in the United States, Congress has yet to hold its first hearing with the companies. Silicon Valley has also responded more slowly stateside than in Europe.
What it means: Regulating a company like Google or Facebook like a news company instead of a tech company means that they would be responsible for the content that appears on their sites — so if there is anything that the British government deems illegal, like terrorist content, pornography, or perhaps one day fake news — these big companies could be fined. Currently, these companies are not regulated like news providers, but rather large technology companies that are not legally responsible for what is distributed on their platforms.
Sound smart: There's been a quiet drumbeat of skepticism of large tech companies all year in Washington, but It initially didn't gain a lot of traction on Capitol Hill or support from President Trump — who has yet to acknowledge Russian interference in the election. It took Facebook's announcement last month that it had found Russian ads purchased during the election, and focused on divisive topics, to really move the needle.
Key moments at home:
November 2016: Then-President Obama warns Facebook CEO Mark Zuckerberg about fake news.
January 2017: Trump brushes off concerns about the size and influence of Facebook.
March 2017: Former FBI agent Clint Watts testifies before the Senate Intelligence Committee and mentions Facebook and Twitter as vectors for pro-Russian propaganda.
April 2017: Facebook issues a white paper on the misinformation issue around the election.
May 2017: Mark Warner, the top Democrat on the Senate Intelligence Committee, visits Facebook's Menlo Park, Calif., headquarters.
Sept. 6, 2017: Facebook reverses its previous position and announces it had told congressional investigators about 3,000 ads bought by a Russian troll farm before and after the election.
Sept. 12, 2017: Intelligence Committee Chairman Richard Burr says a hearing with the tech giants is likely.
Sept. 21, 2017: Facebook says it will give investigators on Capitol Hill the actual advertisements and announces plans to institute new transparency for political advertisers.
Oct. 4, 2017: Facebook and Twitter say they will testify Senate intelligence committee hearings on the topic. Google has reportedly followed suit.
Key moments abroad:
March 2017: Extremism concerns prompt May's government to suspend ads on YouTube.
June 4, 2017: "We cannot allow this ideology the safe space it needs to breed," May said of platforms after the London Bridge attack.
June 8, 2017: The United Kingdom's general election.
September 2017: Google, Facebook and Twitter were given a month to take down terrorist websites within two hours or face heavy fines. May urged platforms to go "further and faster" to stop the spread of terrorist material — including the development of new technology to stop it from ever appearing on the web in the first place.
Oct. 10, 2017: May's government floats treating Google and Facebook like news organizations.
Overall, the UK has been far more aggressive in imposing regulations and fines on US tech companies:
Privacy: EU regulators passed the General Data Protection Regulation (or GDPR) last year, which will impact a huge number of businesses from advertisers to e-commerce platforms whose data flows through EU countries. It's a law that is intended to give users more control of how their personal data is used and streamline data processes across the EU. Companies that fail to comply with the complex law will face steep fines of up to 4% of their global annual revenue.
Taxes: The European Union wants to raise taxes for some of the biggest U.S. tech companies, like Amazon, Google and Facebook, in an effort to open up competition to other businesses that service over 500 million EU customers. In a proposal laid out earlier this month, EU regulators said international tax laws are outdated and suggested they would put forward new mandates if a rewrite of the international tax code didn't happen by next spring.
Antitrust: The EU has pursued US tech companies for violating antitrust laws. The biggest fineso far has been against Google this year. European antitrust officials slapped Google with a massive $2.7 billion fine in June for abusing its search practices,
Go deeper