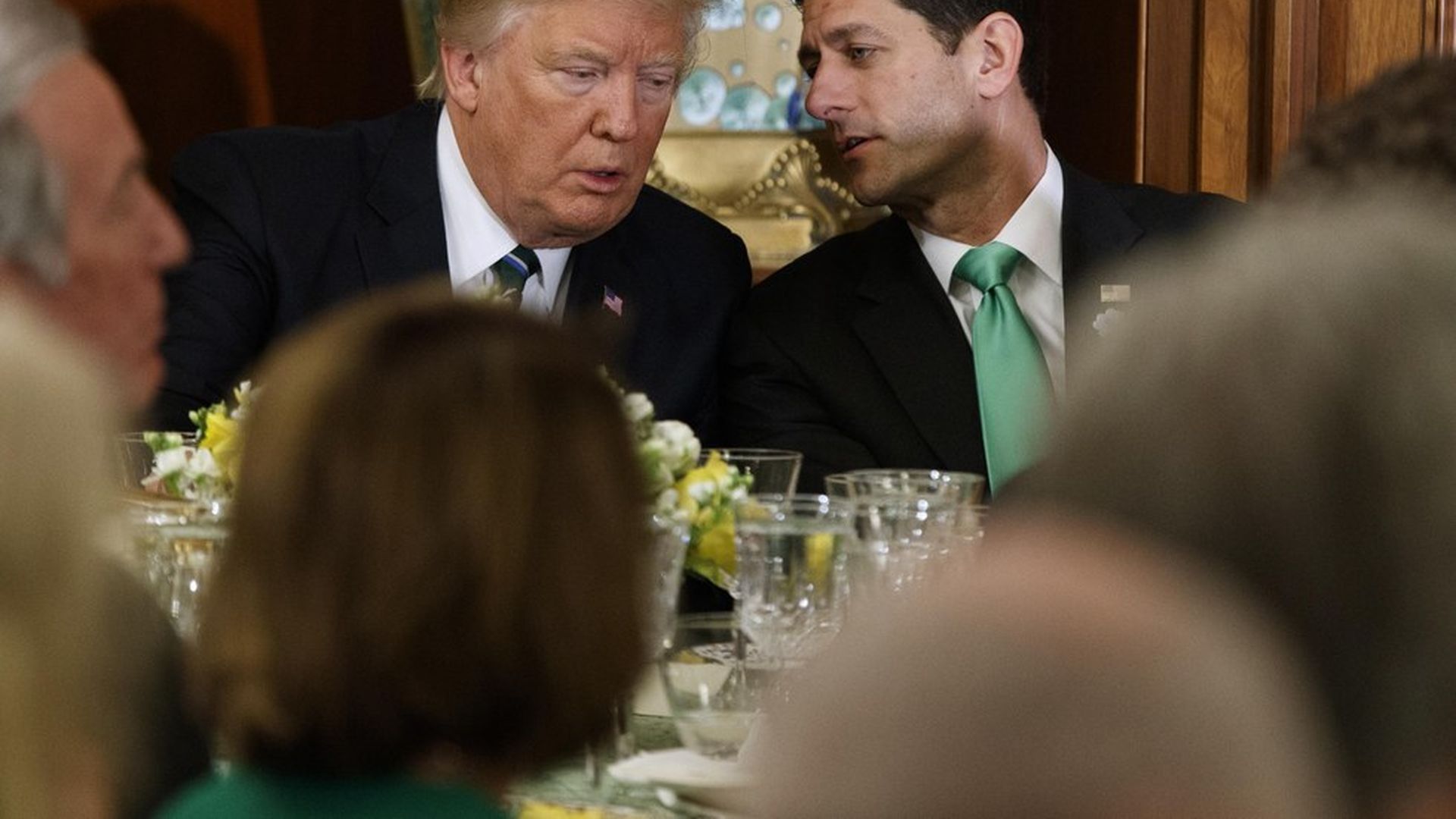 As Republicans frantically look for a roadmap after Friday's collapse, the White House is talking about moving to a novel, risky strategy: tackling tax reform and infrastructure at the same time (not necessarily in the same bill). Axios' Jonathan Swan broke the story last night:
It's a major strategic shift — infrastructure was likely to be parked until next year.
Trump needs fast victories. Infrastructure is big, flashy, and potentially bipartisan.
Trump feels burned by the conservative House Freedom Caucus and is ready to deal with Dems. Dangling infrastructure spending is an obvious way to buy support of potentially dozens of Dems, meaning he wouldn't be hostage to hardliners.
House Transportation and Infrastructure Chairman Bill Shuster (R-Pa.), who would steer Trump's construction package through the House, tells Swan he's optimistic Trump could get it done this year.
Shuster was an early Trump supporter and has been chatting with the billionaire about roads and airports long before he ran for President.
What we're hearing: A well-wired Republican tells me the party can't risk "looking like a clown car." So leaders are desperate to head off a government shutdown at the end of April, and to put together a plausible path to victory on tax reform.
Top officials at both ends of Pennsylvania Avenue tell me they don't see how they can change the House Republican math that killed health reform. The new sequencing being debated is an effort to disrupt a losing calculus — to avoid, as one official told me, "the definition of insanity."
Chaser: David Brooks column, "Can Elephants Learn From Failure?": "Republicans ... are massively underestimating how hard tax reform is going to be. ... Tax reform will probably only pass with bipartisan buy-in, if there are enough potential yes votes that you can afford to lose some off on the extremes."
Go deeper