Trump's foreign trip, day 4: Highlights and schedule
It's day four of President Trump's first foreign trip. He kicked it off with a short trip to Bethlehem, where he met with Palestinian Authority President Mahmoud Abbas to discuss the Israeli-Palestinian peace process, a key foreign policy objective of his administration. He then returned to Jerusalem, and will end his day in Rome, where he's set to visit the Vatican and meet with Pope Francis tomorrow.
The latest: Donald Trump touched down in Rome 6:25pm GMT+2 with no further events on his public schedule for the evening.
2:40am ET/ 9:40am GMT+3: President Trump and Melania departed King David hotel in Israel en route to Bethlehem. Several signs dotted the streets just past the border into Palestine with Trump and Abbas' faces that read "The City of Peace Welcomes the Man of Peace."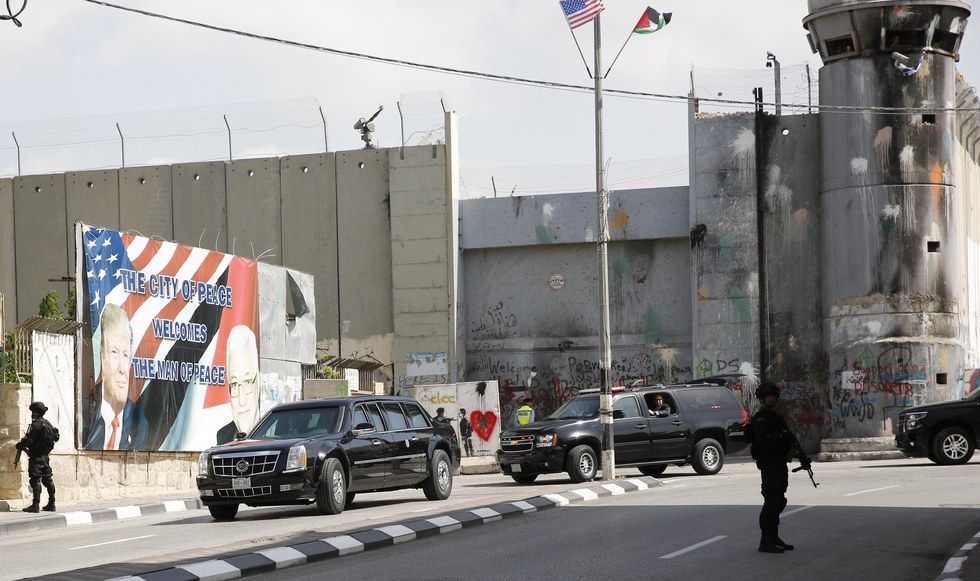 2:58am ET/ 9:58am GMT+3: Trump's motorcade arrived at the Palestinian Presidential Palace, where he met with Abbas for an hour of talks before the two made their way to a set of two podiums to deliver a joint statement.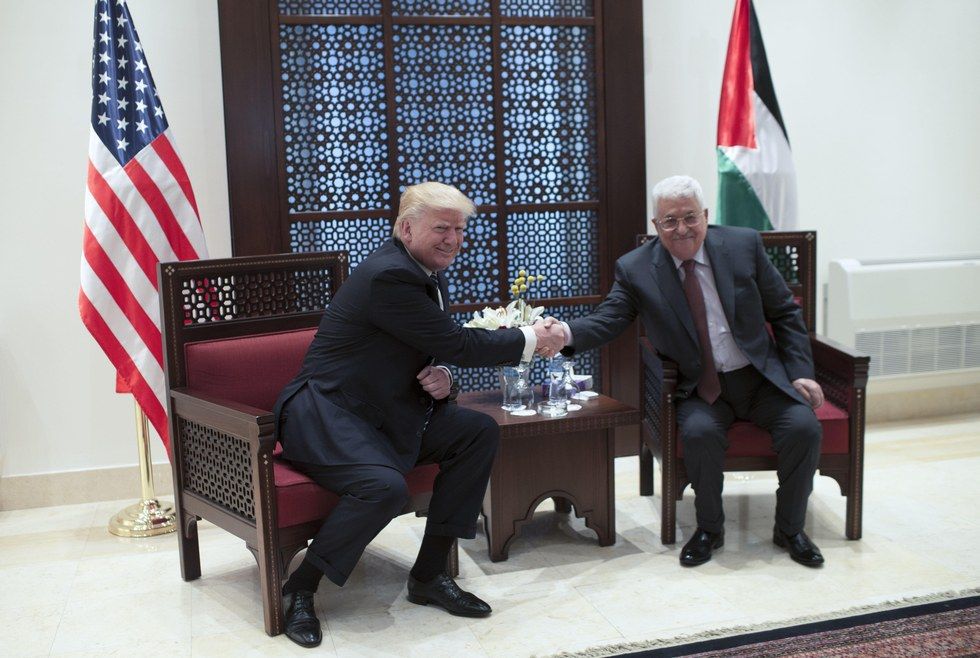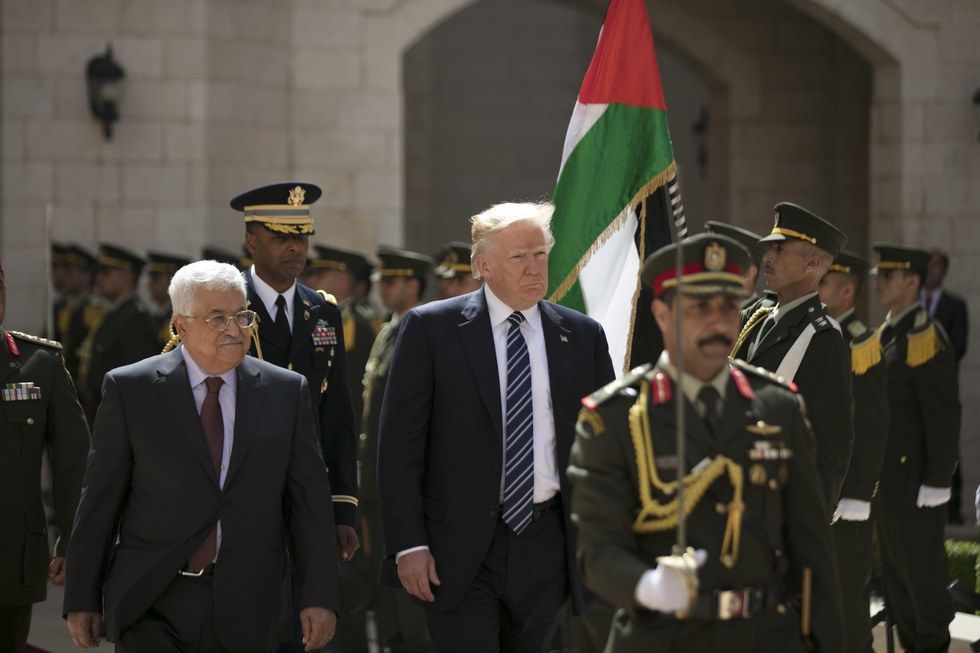 3:40am ET/ 10:40am GMT+3: Trump delivered remarks on the Manchester, U.K. terrorist attack that killed 22 people place last night. He condemned the terrorists as "evil losers," and stated that "This wicked ideology must be obliterated, and I mean completely obliterated. Life must be protected."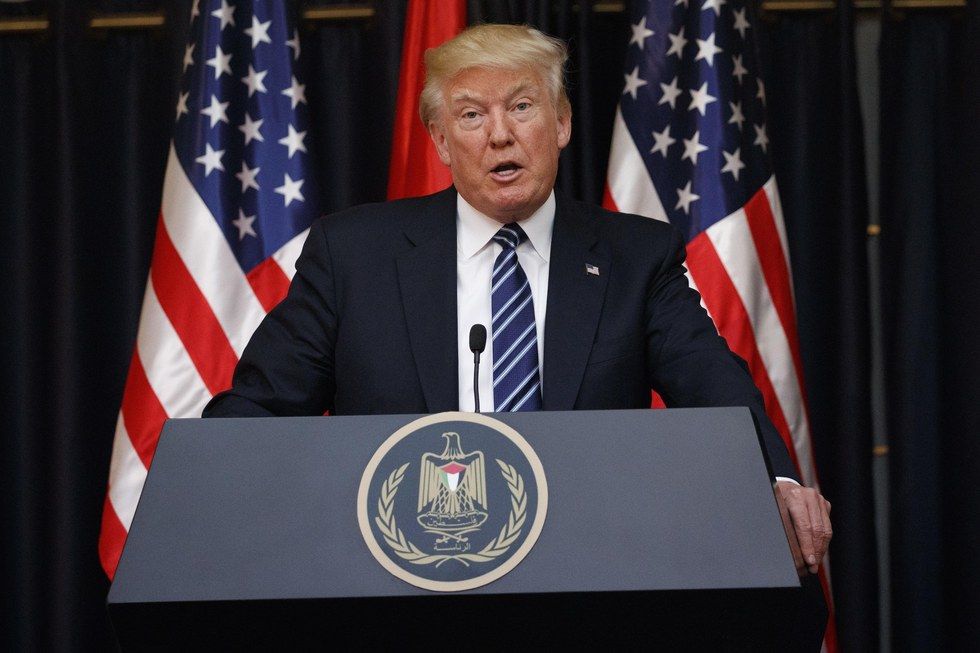 3:50am ET / 10:50am GMT+3: Trump and Abbas gave a joint statement addressing peace in the Middle East. They did not take any questions. "President Abbas assures me he is ready to work towards that goal in good faith, and Prime Minister Netanyahu has promised the same. I look forward to working with these leaders towards a lasting peace," said Trump.
Abbas stated, "I would like to reiterate our commitment to cooperate with you in order to make peace and forge an historic peace deal with the Israelis."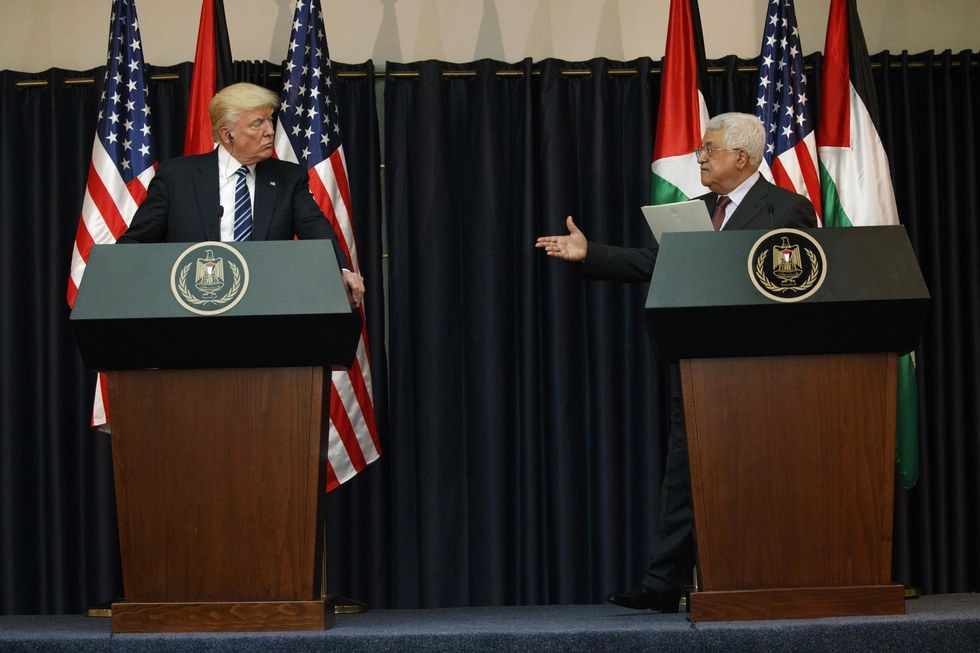 4:22am ET / 11:22am GMT+3: The presidential motorcade departed the West Bank en route back to Jerusalem.
4:41am ET / 11:41am GMT +3: The president is back in Jerusalem before his next events at Yad Vashem, Israel's official memorial to the victims of the Holocaust, and the Israel Museum, Israel's national museum.
6:00am ET / 1:00pm GMT+3: President Trump and the First Lady laid a wreath at Yad Vashem.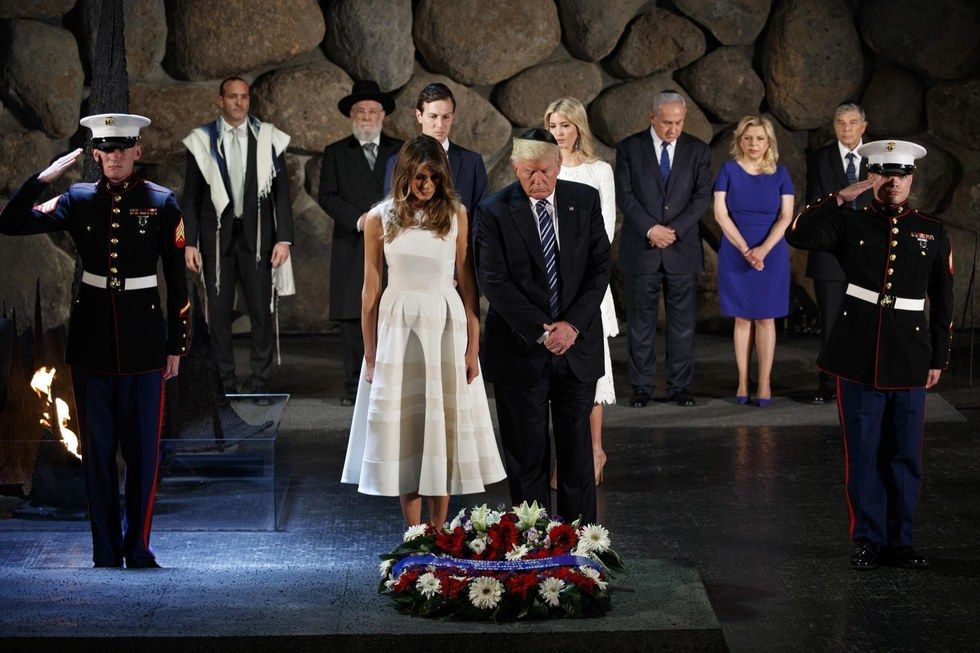 6:27am ET / 1:27pm GMT +3: Trump gave an address at Yad Vashem, saying, "The State of Israel is a strong and soaring monument to the solemn pledge we repeat and affirm: Never again." He and the First Lady also signed the guestbook: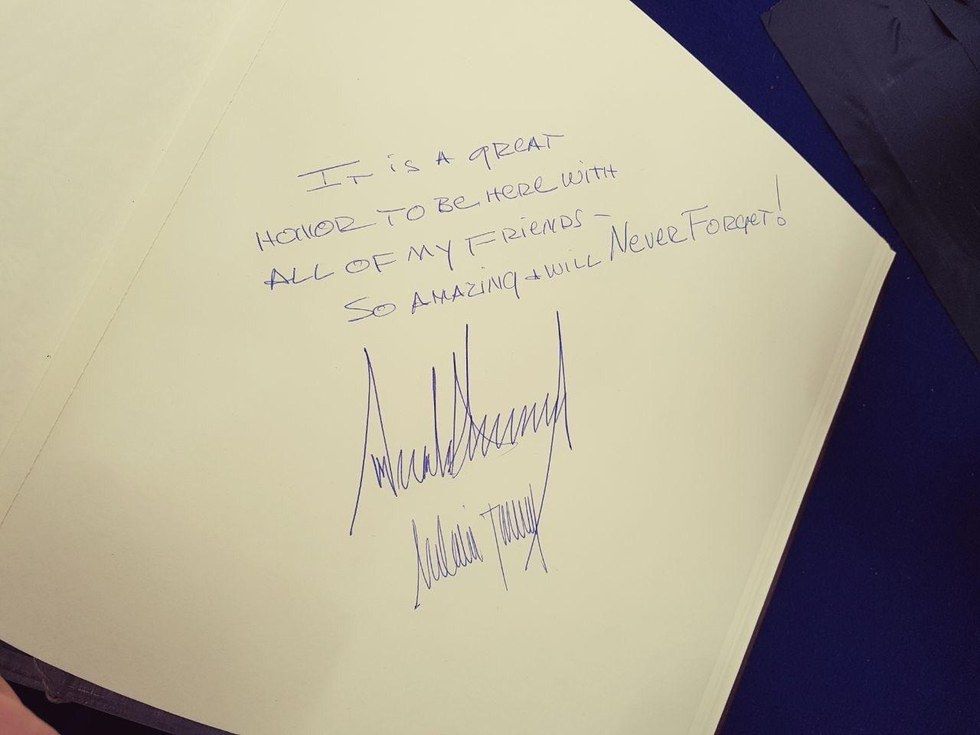 7:28am ET / 2:28pm GMT +3: Trump also gave an address at the Israel Museum, which focused on Jerusalem's unique position as a center for three major religions and called for a coalition between Israel and Arab nations to build lasting peace in the Middle East.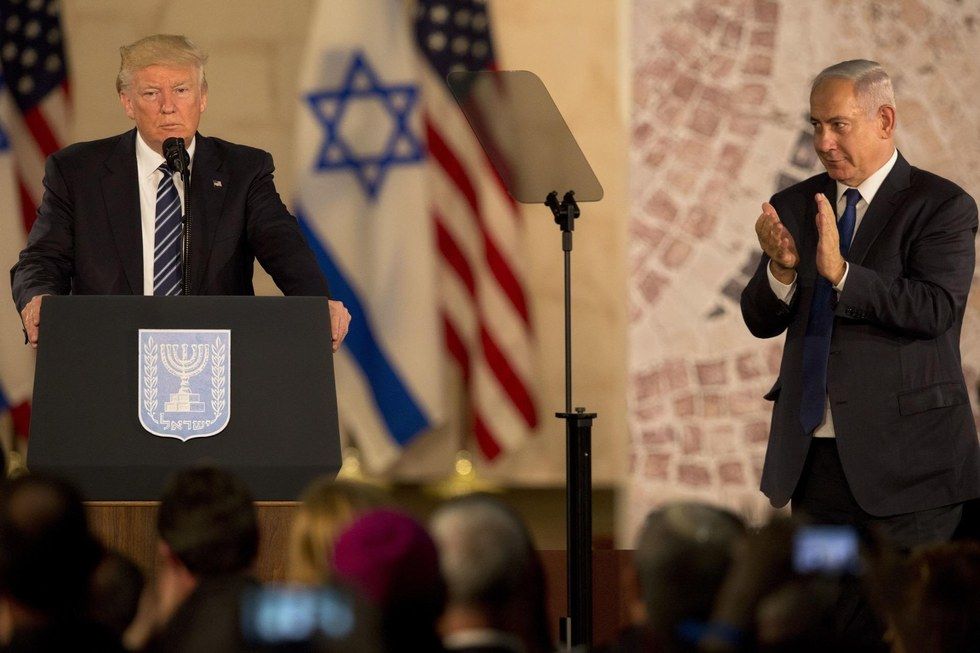 8:32am ET / 3:32pm GMT +3: Marine One is wheels up from Jerusalem for the flight back to Air Force One in Tel Aviv.
9:20am ET / 4:20pm GMT +3: After a departure ceremony and farewell from Netanyahu, POTUS and FLOTUS boarded Air Force One en route to Rome. While on board, Trump sent a series of tweets, reflecting back on his first few days abroad:
"Thank you for such a wonderful and unforgettable visit, Prime Minister @Netanyahu and @PresidentRuvi. Israel, Saudi Arabia and the Middle East were great. Trying hard for PEACE. Doing well. Heading to Vatican & Pope, then #G7 and #NATO. All civilized nations must join together to protect human life and the sacred right of our citizens to live in safety and in peace."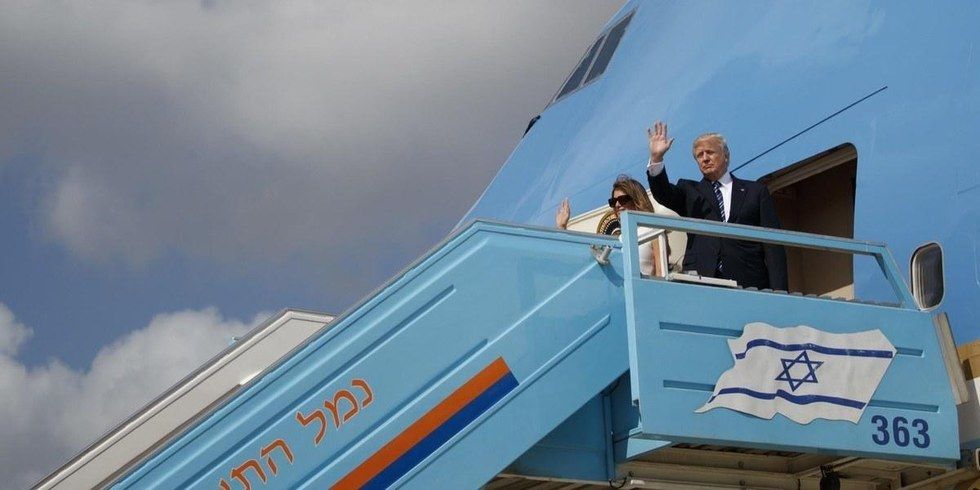 12:25pm ET / 6:25pm GMT +2: Air Force One touched down in Rome — there are no further events on Trump's public schedule for the evening.
Go deeper