Trump turns Cabinet announcement into fiery campaign speech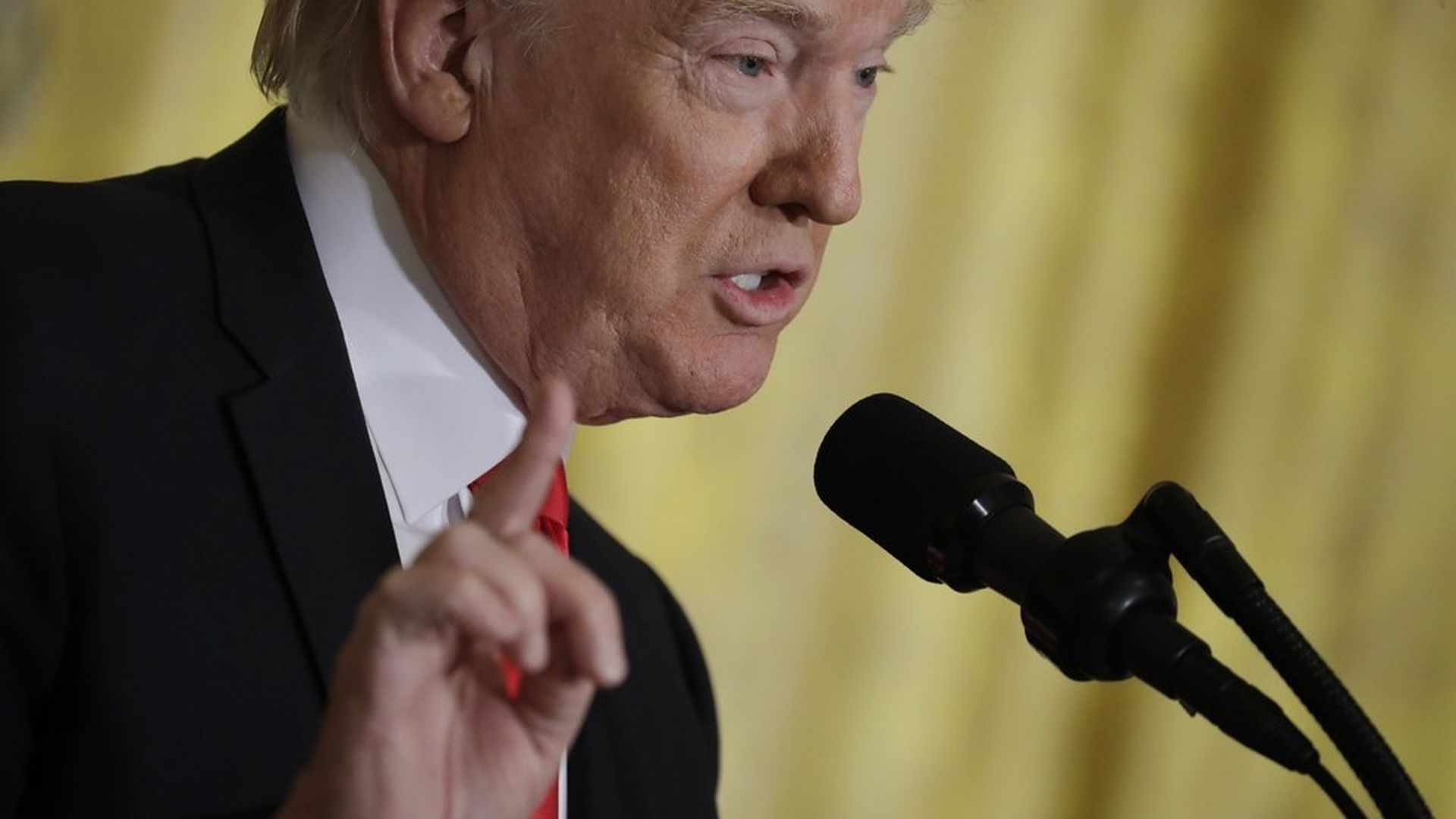 Surprise! President Trump announced an impromptu press conference during a meeting with some of his biggest congressional supporters this morning. It was expected that he'd introduce his new pick for Secretary of Labor, Alexander Acosta, but it turned into a stream of consciousness speech: tearing into the "dishonest media" and "the mess" he inherited as president, denying his campaign had contacts with Russia, and announcing he'll issue a new executive order on the travel ban next week.
Russia: "This is fake news put out by the media." He said that nobody that he knew of during the campaign had any contacts with Russia. And when pressed on how he'd respond to Russian aggression: "I don't have to tell you anything!"
The firing of Michael Flynn: Trump stated that he did not direct Flynn to discuss sanctions with the Russian ambassador, but said he would have "because that's his job." He added that he doesn't think Flynn did anything wrong, "If anything he did something right...He was just doing his job," and reiterated that misleading VP Mike Pence was the main reason for his firing.
On leaks: "The leaks are absolutely real. The news is fake." When asked about encouraging Russian hacks of Hillary Clinton during the campaign: "In one case you're talking about highly classified information. On the other, you're talking about John Podesta's emails... who by the way I would have fired."
The media: "The press is honestly out of control. The level of dishonesty is out of control." He also had an extended riff on his favorite cable news shows. On CNN, "the tone is such hatred." But he does really like "honorable" Fox & Friends.
Travel ban: "We had a very smooth rollout. We had a bad court." Trump stated that a revamped executive order is coming sometime next week that will be tailored to the decision from the Ninth Circuit.
Change of heart on immigration? "It's a very difficult subject for me." Trump said about DACA. He'll address it "with heart" because he "find[s] it hard to do what the law says."
Outreach to minorities: Trump told a Jewish reporter that "I'm the least anti-Semitic person you've ever seen" in response to a question on rising anti-Semitic threats in the U.S. The reporter had made pains to say he and his group did not think Trump, who has Jewish grandchildren, is anti-Semitic. Trump also took a question from April Ryan, a black journalist, on how he'd help urban issues. Trump at first seemed unfamiliar when asked about the CBC (Congressional Black Caucus), then told Ryan he'd be happy to meet with them, asking her: "Are they friends of yours?"
Go deeper