Trump to Netanyahu: Hold back on settlements "for a little bit"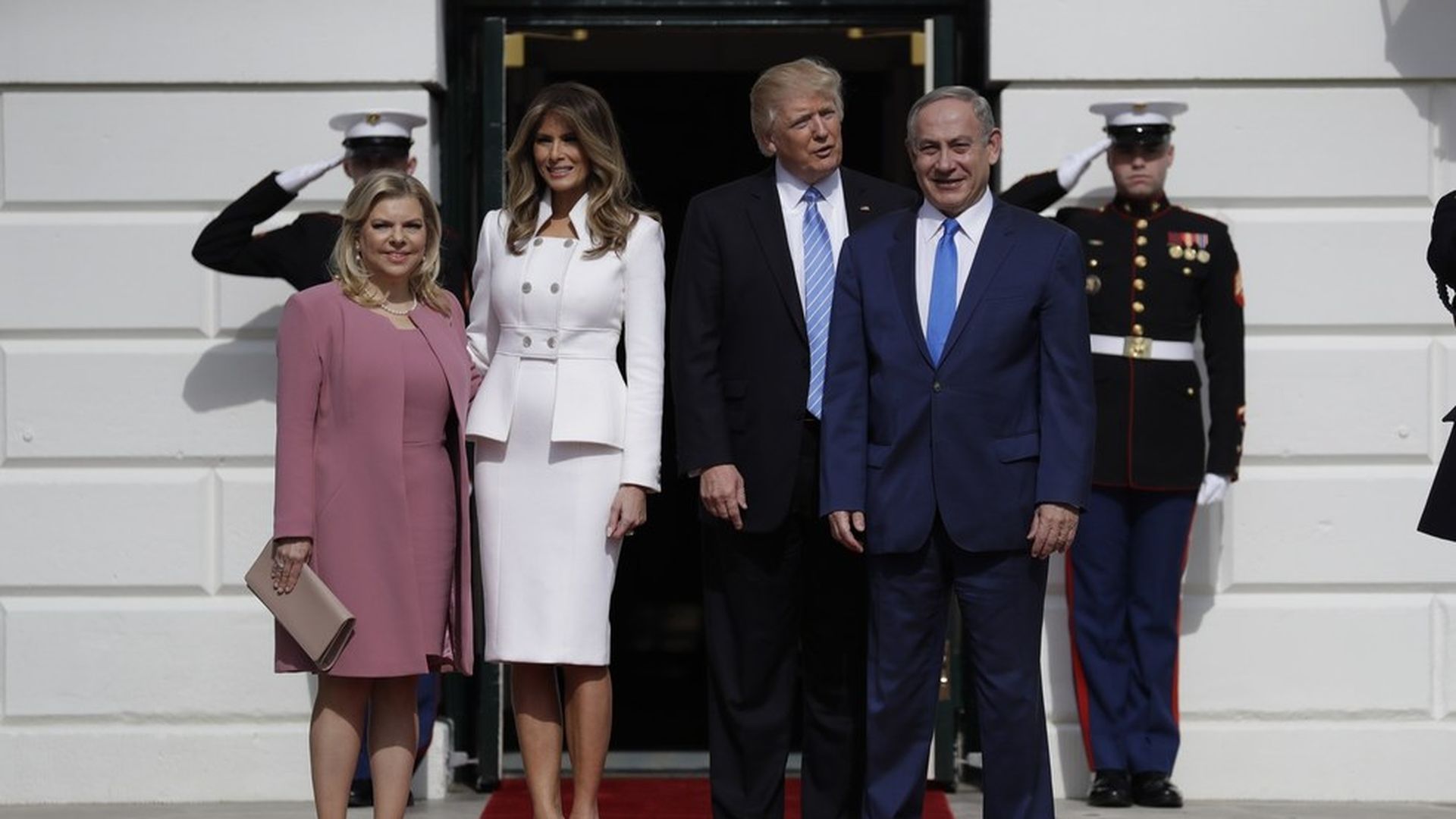 President Trump addressed some of the biggest questions hanging over his administration's Middle East policy during a joint press conference with Israeli PM Benjamin Netanyahu...
Trump to Bibi: "I'd like to see you hold back on settlements a little bit."
Trump's preferred peace plan: "I'm looking at one-state and two-state and I like the one that both parties like."
Embassy to Jerusalem? "I'd like to see that happen...we're looking at that with great care and we'll see what happens."
That other stuff: Trump only took questions from friendly outlets, like the Christian Broadcasting Network and Townhall, and avoided reporters — like CNN's Jim Acosta — who shouted questions about his campaign's contact with Russia as he left the room. But he did briefly touch on Flynn, saying: "It was very very unfair what happened to him." More highlights below:
TRUMP:
Trump kicks it off: With this visit "the U.S. reaffirms its unbreakable bond with our cherished ally Israel," adding that the U.S. will never forget what the Jewish people have endured.
Iran deal: Trump says he will do whatever he can "to prevent Iran from ever — and I mean EVER — developing nuclear weapons."
Israeli-Palestinian peace agreement: Trump wants an agreement, but says the parties must directly negotiate an agreement themselves. Israelis need to show "some flexibility" and the Palestinians need to get rid of "some of the hate they're taught from a young age."
NETANYAHU:
U.S. involvement: "Israel has no better ally than the U.S. ... and the U.S. has no better ally than Israel." Added that he's known Trump and his family for a long time and, "there is no greater supporter of the Jewish people and the Jewish state than president Donald Trump."
Defeating ISIS: Says under Trump's leadership, he believes they can defeat "the rising tide of radical Islam." Noted that "for the first time in my lifetime and the first time in the life of my country" Arab countries do not see Israel as an enemy but increasingly as an ally.
Israeli-Palestinian peace agreement: Netanyahu wants "a deal with substance." 2 prerequisites for peace: Palestinians must recognize the Jewish state, and Israel must retain overriding security control over the regions west of Jordan River. "Otherwise, we'll get another Islamic radical terrorist state."
Go deeper