The walls are closing in on tech giants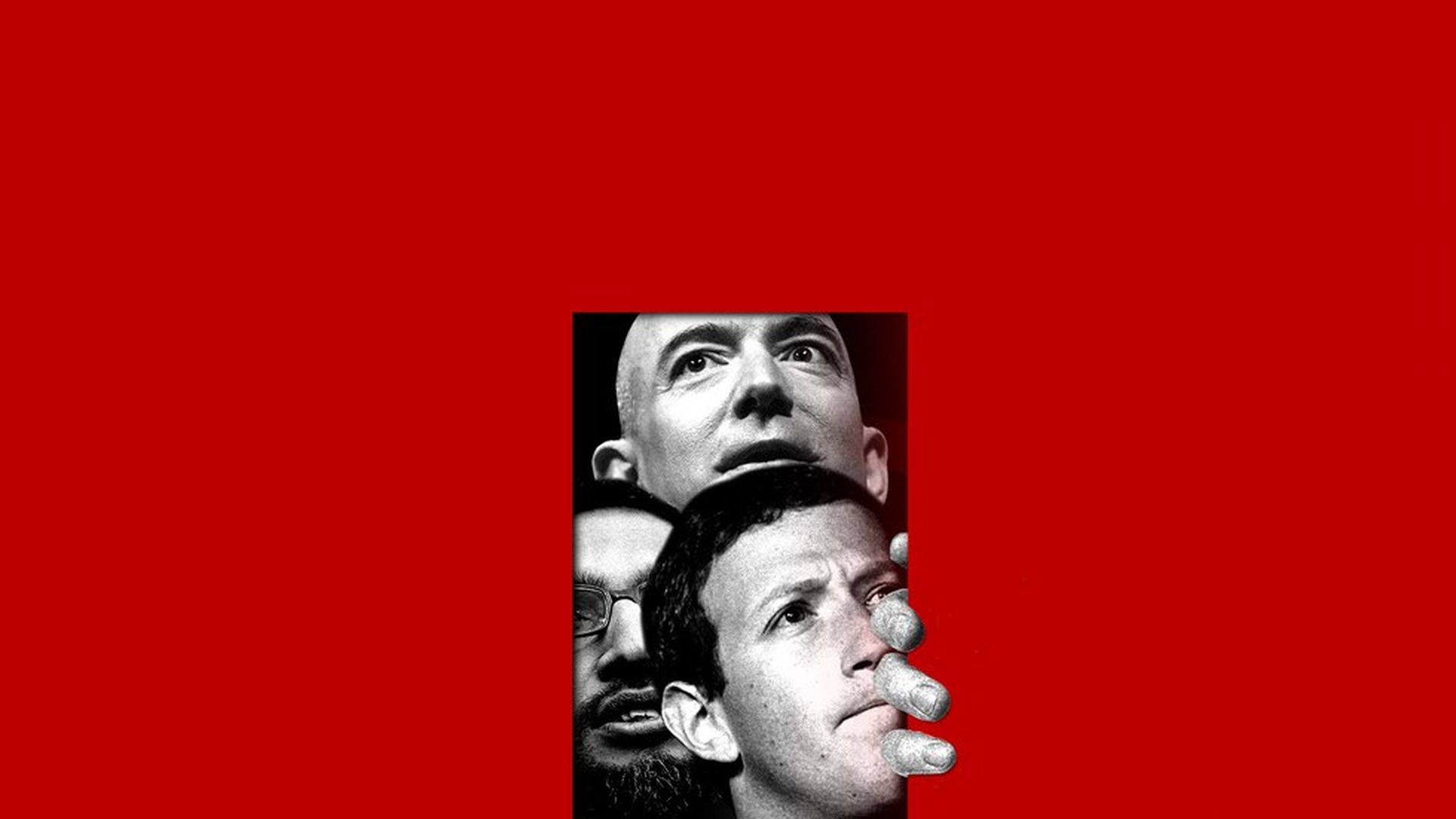 Tech behemoths Google, Facebook and Amazon are feeling the heat from the far-left and the far-right, and even the center is starting to fold.
Why it matters: Criticism over the companies' size, culture and overall influence in society is getting louder as they infiltrate every part of our lives. Though it's mostly rhetoric rather than action at the moment, that could change quickly in the current political environment.
Here's a breakdown of the three biggest fights they're facing.
Battle over content: Both sides are increasingly wary of the outsized role that Facebook and Google play as moderators of public discourse, as was seen following the violence in Charlottesville. In the White House, Steve Bannon has reportedly argued that Facebook and Google should be regulated like public utilities.
Right-wingers worry the progressive-leaning companies aren't going to give their views a fair shake. Recently they opposed Google's firing of an engineer whose internal memo questioned women's aptitude for engineering jobs. They've also criticized YouTube policies meant to combat offensive speech. They see a company with the ability — and, in their eyes, motive — to sideline their views.
A policy memo quietly circulated earlier this year by activist Phil Kerpen recommended rules to keep online platforms politically neutral, potentially subjecting platforms that violated that neutrality to government enforcement actions. In an email obtained by Axios, Kerpen said the general strategy would "get us on offense and scare the hell out of Google, Facebook, Twitter." (Kerpen told Axios that the "unpublished draft memo represents preliminary thoughts on complex issues.")
Sen. Ted Cruz told Axios that he's worried about "large tech companies putting their thumb on the scales and skewing political and public discourse." He asked during a June hearing whether "these global technology companies have a good record protecting free speech, and what can be done to protect the first amendment rights of American citizens."
On Monday, Fox News host Tucker Carlson said that since Google "has the power to censor the internet, Google should be regulated like the public utility it is to make sure it doesn't further distort the free flow of information."
The left's fixation on whether fake news impacted the election has ensnared Facebook and other platforms in investigations into Russia's influence during the campaign. Top Senate Intelligence Committee Democrat Sen. Mark Warner has spoken about fake news with Facebook staffers multiple times this year in both Silicon Valley and Washington, a source said.
There's also frustration that Facebook didn't remove the event page for the white supremacist rally in Charlottesville until right before it happened.
Battle over liability: Big tech firms are in a panic about a bi-partisan bill that would let sex trafficking victims sue web platforms that hosted content implicated in the crime.
For decades online platforms have been heavily shielded from liability for what users post. That's central to the business models of Google, Facebook, Airbnb and other internet companies and they fear this bill opens the door to new liability risks for other types of user-generated content.
There's been a flood of opposition to the bill from trade groups representing tech giants and outside groups that have received funding from the companies. Backers of the bill say the companies had the opportunity to step up. "We offered them a chance to provide constructive feedback and they chose not to, and instead decided to oppose a strongly bipartisan bill to help stop online sex trafficking," said Kevin Smith, a spokesman for bill sponsor Sen. Rob Portman.
Battle over size: Legal experts are crafting the antitrust case against tech giants.
The left-leaning team at the New America Foundation's Open Markets program has been pushing this issue hard for years, but has recently started to get traction. A law review note produced by a fellow for the program has brought new attention to Amazon's effect on competition. Amazon cares enough about the concerns to have met with members of the New America team in June.
"They deserve to be highly profitable and successful," Sen. Elizabeth Warren said of major tech companies in a speech last year. "But the opportunity to compete must remain open for new entrants and smaller competitors that want their chance to change the world again."
The other side: Big tech companies generally argue they compete aggressively with each other as well as upstarts, that they have no interest in injecting bias into how they moderate user content, and that their liability protections have enabled the the internet sector to thrive.
Across the pond: European regulators have taken action on their concerns about the companies' growing clout. Google faces a massive fine over allegedly anticompetitive behavior (and two other investigations) and Facebook has been docked for allegedly misleading regulators when it bought WhatsApp.
The political establishment is starting to buy in to these concerns, too: Democrats are urging tougher antitrust enforcement as part of their "Better Deal" platform. Republican leadership staffers told Google, Facebook and Amazon that aggressive pro-net neutrality advocacy would put their policy objectives at risk; sources say they invoked privacy as one issue where the companies could be vulnerable.
As history shows, it takes time for talk to turn to action:
AT&T's antitrust disputes with its skeptics festered over a decade, and Microsoft's opponents agitated for years before the government took them seriously. And fringe arguments have a way of becoming mainstream: Critics of Ma Bell and Microsoft looked like outliers before picking up steam.
Go deeper