The Obamacare repeal is a mess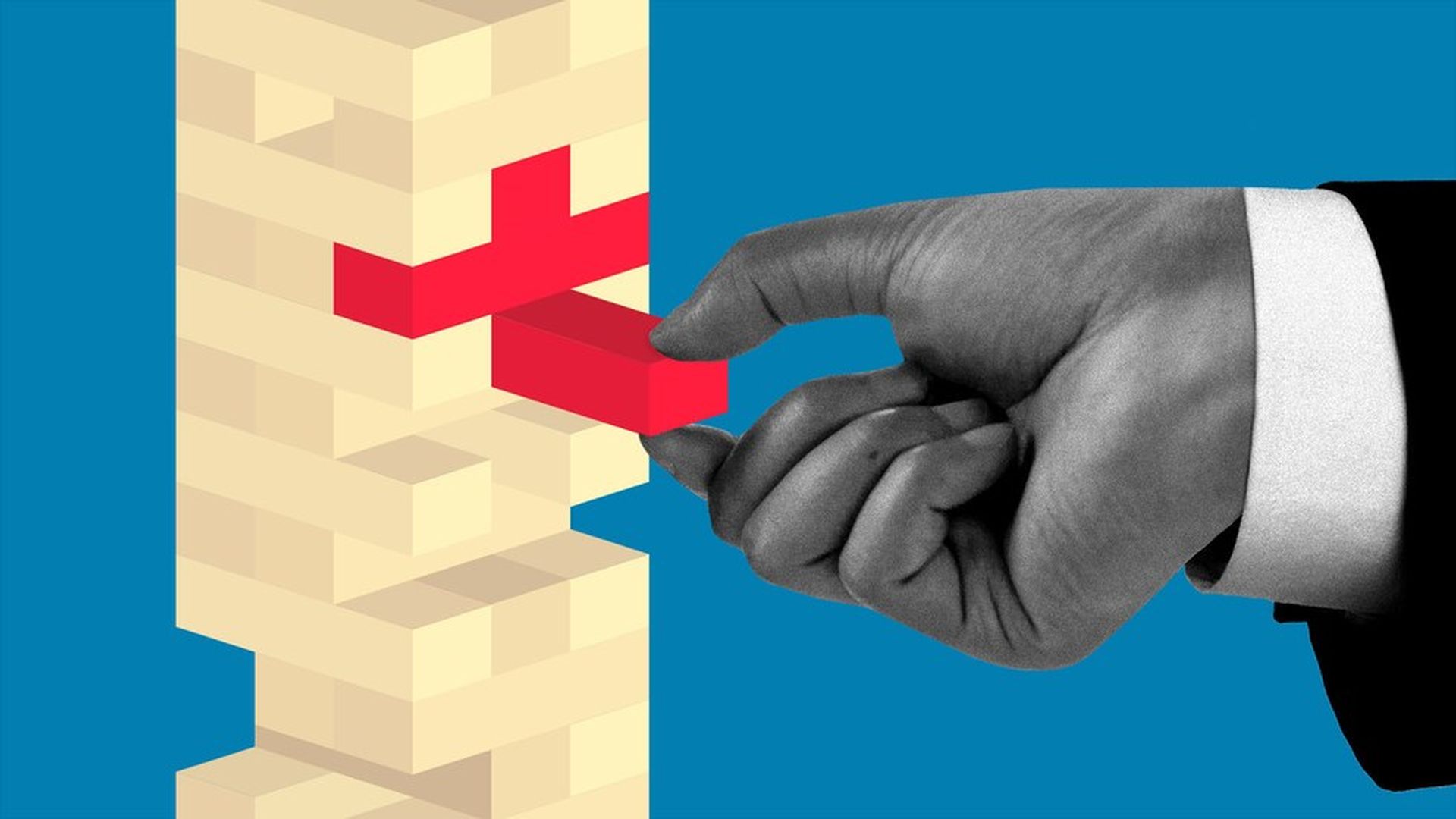 If you got dizzy from all of the Obamacare repeal news yesterday, here's the bottom line: Two House committees are about to take up the Republican repeal and replacement bills this morning with no path to the 218 votes needed to pass the House. That's because conservative Republicans are in full rebellion, even after President Trump's endorsement and an afternoon of sweet talking from their former colleague, Vice President Mike Pence.
Rep. Raul Labrador's warning last night after a meeting of the conservative Freedom Caucus: "I don't think there's any tinkering that will get us to 218."
Here's where things stand heading into today's committee markups:
A meeting of the Freedom Caucus last night that was supposed to get everyone behind the bill instead proved that conservatives are running away from it. Read Caitlin Owens' story here.
Before the meeting, House Republican leaders and conservative Republicans spent the day holding dueling press conferences about whether the plan is conservative enough — not exactly a sign of confidence.
First, Ways and Means Committee chairman Kevin Brady and Energy and Commerce Committee Greg Walden — with Brady warning, "We can act now, or we can keep fiddling around and squander this opportunity to repeal Obamacare."
Then, Sen. Rand Paul and Rep. Jim Jordan announced they're introducing the 2015 repeal bill and called for a vote on that — because, Jordan says, the House Republican replacement bill is "Obamacare in a different form."
Then, House Speaker Paul Ryan declared he takes a back seat to no Republican: "I've been doing conservative health care reform for 20 years."
At a White House meeting with the House Republican whip team, Trump said he was "proud to support" the House bill.
Later, Trump tweeted at Paul: "I feel sure that my friend @RandPaul will come along with the new and great health care program because he knows Obamacare is a disaster!"
Senate Majority Leader Mitch McConnell said he hopes to take up the bill in the Senate before the April recess, after the House passes it.
Jordan's main complaints: the GOP bill doesn't get rid of the Medicaid expansion (though it is phased out), and it doesn't repeal all of the tax increases (the Cadillac tax returns in 2025). He didn't get specific about what else is different from the 2015 repeal bill.
At the White House press briefing, Health and Human Services secretary Tom Price said there will be "three phases" of Obamacare repeal: passing the House bill, regulatory changes that he'll make, and then passing other health care reforms that can't be done through the budget "reconciliation" process.
Conservative groups are trying to build opposition to the bill, with the powerful Heritage Action calling it "bad politics and bad policy." (Shane Savitsky compiled a helpful list of the opponents here.) And conservative news sites are attacking it. Trump is supposed to meet with conservative leaders this afternoon.
The bottom line: Conservatives will get their chance to amend the bills in the House committees. But if they fail, and they're still complaining after that, Ryan has made his intentions clear: He's moving ahead anyway.
The root of the problem: There are good reasons for Republicans to be on the defensive about their bill. For a party that used to promise to wipe Obamacare off the map, it doesn't totally do that. Caitlin Owens has a good rundown of the pieces of the Obamacare regulatory system that would be left in place: pre-existing condition coverage, young adult coverage, no lifetime or annual limits, essential health benefits, and limits on out-of-pocket costs.
That said, no one should think there would be no changes. Here are a few of the ones Republican leaders like to talk about:
The taxes, individual and employer mandate penalties, and subsidies would be repealed (though the Cadillac tax would return in 2025).
The income-tested Obamacare tax credits would be replaced with age-based tax credits that phase out for higher-income people.
Medicaid would be turned into per-capita caps — what Energy and Commerce Committee chairman Greg Walden called "the biggest entitlement reform in the last 25 years."
Instead of using the individual mandate to bring healthy people into the mix, a "continuous coverage" provision would do it by penalizing anyone who doesn't keep themselves insured.
They'd expand health savings accounts.
And a few they don't like to talk about:
The tax credits aren't means-tested, so they wouldn't help low-income people as much — and might not cover as many of them.
Older people could pay as much as five times more for their health insurance as young adults — up from three times under Obamacare.
By ending Medicaid expansion and imposing per-capita caps, it could shift as much as $370 billion in costs to the states over 10 years, per the liberal Center on Budget and Policy Priorities.
Health savings accounts are usually tied to high-deductible plans — even though rising deductibles are one of the biggest criticisms they've made against Obamacare.
Go deeper