The latest on U.S. airstrikes in Syria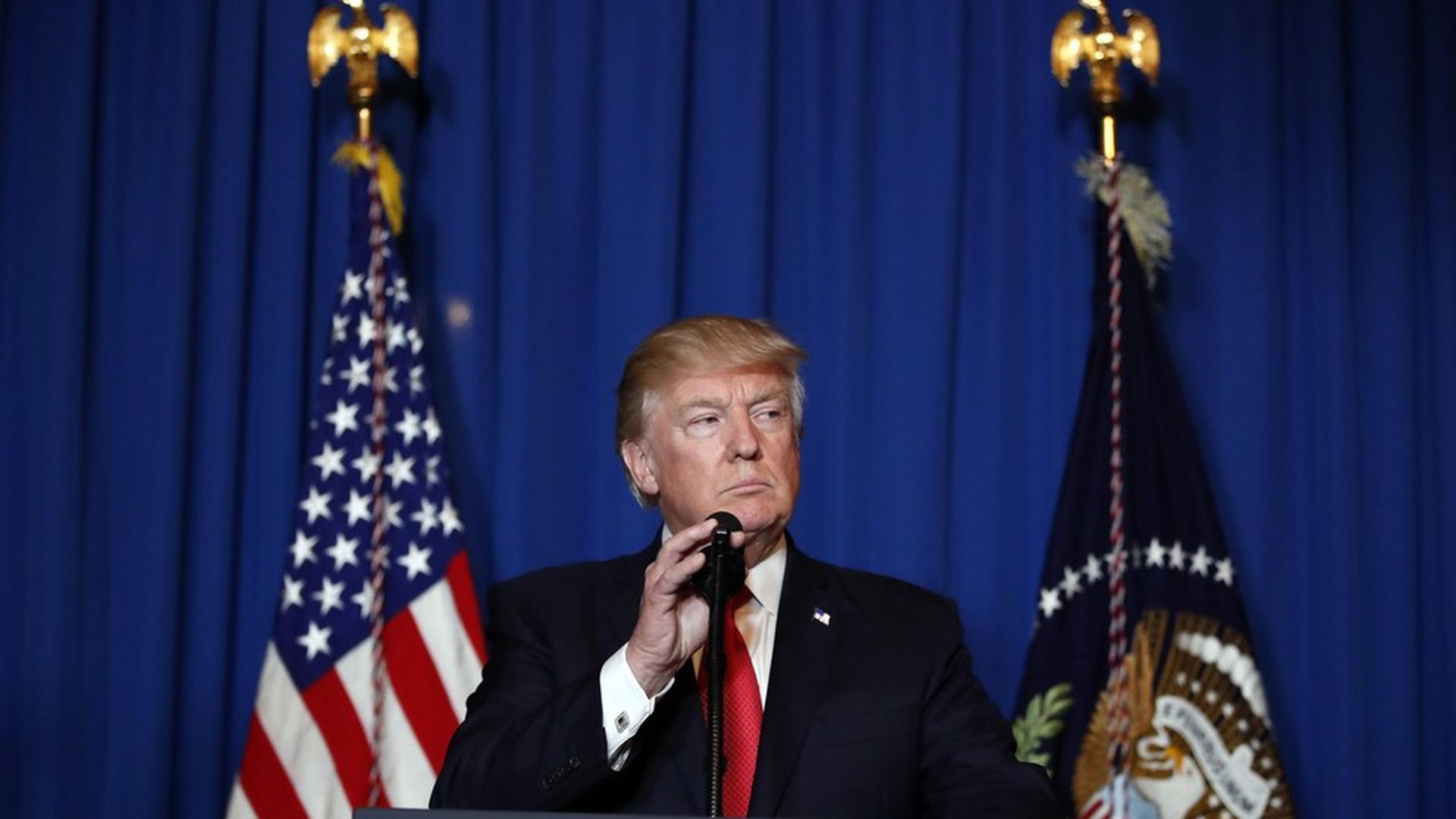 President Trump ordered a missile strike on a Syrian military airfield on Thursday night in response to the Syrian regime's deadly chemical weapons attack on Tuesday, which killed 70 and wounded hundreds more. Follow along for live updates:
Latest on the attack
The U.S. is investigating whether Russia was involved in the chemical weapons attack, military officials told AP.
A drone, belonging to either Russia or Syria, was seen flying around the site of the chemical weapons attack on Tuesday.
The U.S. notified both Russia and Syria about the airstrikes hours before they launched.
Syrian warplanes took off from the airbase that was struck in last night's missile strike, carrying out their own retaliation strikes in Homs, Reuters reported.
Number of casualties (as of 9:36 am ET): Syrian officials said at least 16 were killed on the Syrian air base. Another 9 people, all civilians, died when three missiles struck two towns near the air base
Number and type of missiles fired: 50 to 60 Tomahawk missiles were launched between 8:30 and 9 pm ET from two destroyers in the Mediterranean Sea.
Syrian response: President Bashar al-Assad's office denounced the strike, and described it as "reckless, irresponsible behavior." Russian Defense Ministry spokesman Maj. Gen. Igor Konashenkov said 6 Syrian jets were destroyed, but the air base's runway was intact. He also stated that "the combat efficiency of the U.S. strike was very low" and claimed that only 23 of the 59 missiles fired by the U.S. reached the base.
Russian response: Russia announced that they plan to stop communicating and cooperating with U.S. forces based in Syria. Kremlin spokesman Dmitry Peskov told Russian state-run news agency Sputnik that president Putin regards the attacks on Syria as "an aggression against a sovereign state in violation of the norms of international law, and under a trumped-up pretext at that." He added that the move "substantially damages Russian-U.S. relations, which are already in a deplorable state."
Russian PM Dmitry Medvedev also stated that the "U.S. missile strike violated not only international, but also U.S. laws," adding that the attack "was on the brink of military clashes with Russia." However former U.S. ambassador to Russia, Michael McFaul, tweeted that choosing the PM to make the statement shows that Russia isn't as furious about the strike as they may seem. "Let me know when Putin says something serious," he wrote.
(Most) Republican officials rally: Some Republicans who were skeptical of Obama taking action against Syria in 2013, like Jason Chafftez and Rep. Martha Roby, have openly supported Trump's decision to carry out an airstrike. Some of the more hawkish Republicans — like Sens. John McCain, Lindsay Graham and Marco Rubio — quickly praised Trump. "Unlike the previous administration, President Trump confronted a pivotal moment in Syria and took action. For that, he deserves the support of the American people," McCain and Graham said in a joint statement. More reactions here.
Some Republicans revolt: Ted Cruz didn't immediately praise Trump's attack, instead emphasizing that, "Any military action in Syria must be justified as protecting the vital national security interests of America." Similarly, Rand Paul tweeted that Trump needed "Congressional authorization for military action" and said the airstrikes against Syria will do "nothing to make us safer."
(Most) Democratic officials were supportive, but harped on the importance of congressional approving moving forward: Senate Minority Leader Chuck Schumer and House Minority Leader Nancy Pelosi were among those supportive of the strike, but insisted that any further action will require the approval of Congress. "Tonight's strike in Syria appears to be a proportional response to the regime's use of chemical weapons. If the President intends to escalate the U.S. military's involvement in Syria, he must to come to Congress..." said Nancy.
Other Dems retaliated: Senators Tim Kaine and Elizathbeth Warren, and Rep. Tulsi Gabbard were among those who condemned the strikes. "Congress will work with the President, but his failure to seek Congressional approval is unlawful," said Kaine. And Gabbard tweeted, "Trump's military strikes in Syria are reckless and short-sighted."
Why Obama refused this approach: "Our assessment that while we could inflict some damage on Assad, we could not, through a missile strike, eliminate the chemical weapons themselves, and what I would then face was the prospect of Assad having survived the strike and claiming he had successfully defied the United States, that the United States had acted unlawfully in the absence of a UN mandate, and that that would have potentially strengthened his hand rather than weakened it," Obama told the Atlantic's Jeffrey Goldberg last April.
Obama's bottom line: "The notion that we could have — in a clean way that didn't commit U.S. military forces — changed the equation on the ground there was never true."
Trump's bottom line: "Assad choked out the lives of helpless men, women, and children. It was a slow and brutal death for so many — even beautiful babies were cruelly murdered in this very barbaric attack. No child of God should ever suffer such horror," he said in a statement following the strike.
Here is a list of the countries for and against the U.S. strike.
Go deeper