Snap's stock plummets after missing earnings goals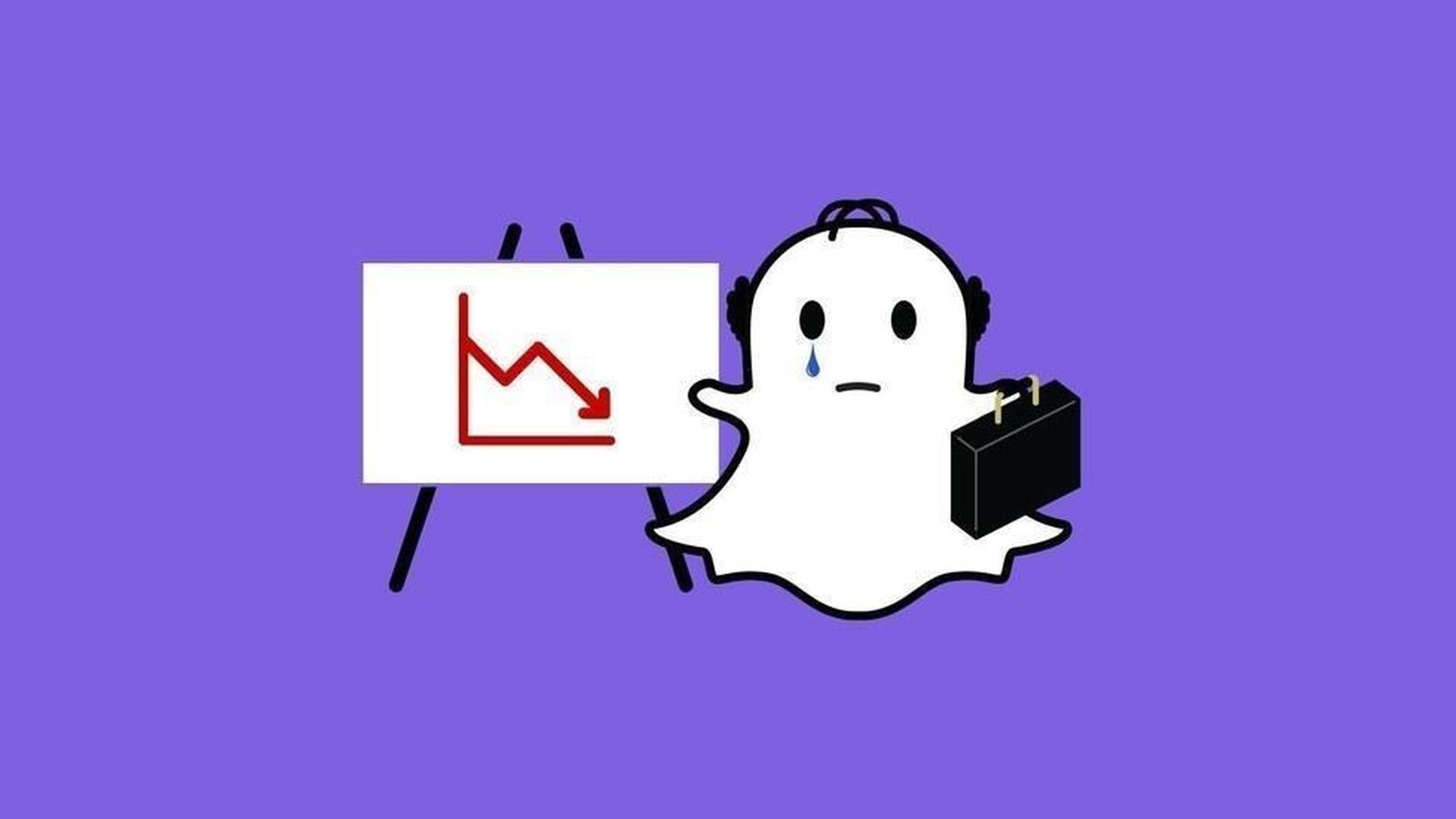 Snap revealed yesterday that it missed Wall Street estimates on revenue, earnings and user growth in its first earnings report to investors since going public in March. While the self-proclaimed camera company saw enormous (but expected) advertising growth, its burn rate nearly doubled from last year's first quarter, weakening its case for eventual profitability. Executives also faced numerous questions from investors concerned about ways Facebook's copycat features may have impacted its sluggish user growth.
Why it matters: Snap's pitch to investors when it went public was that, although it wouldn't be profitable this quarter, user growth and investments in ad technology would bring profitability in the foreseeable future. Based on reactions to its first earnings call, investors aren't confident. Shares were down nearly 25% after trading Wednesday to roughly $17.5 per share, negating any growth it experienced after going public at $17 per share in March.
The highlights:
Numbers du jour: 166 million Daily Active Users (up 5% from last quarter and 36% from this time last year, but still less than Instagram Stories' 200 million DAU's); 3 billion+ snaps sent per day; 30+ minutes spent daily on Snap by average user (up from 25-30 min. that was previously reported); 33,000 snaps sent per day on Spectacles; 30% of new Snapchat users during the quarter were on Android (up from 20% last quarter and beneficial to its expansion into emerging markets).
Spiegel threw shade at Facebook: Asked about Facebook copying Snap's "camera" ideas, Snapchat CEO and co-founder Evan Spiegel quipped, "Just because Yahoo has a search box doesn't mean they're Google."
Mobile tech blamed for slowed user growth, not FB: Axios' Kia Kokalitcheva writes: "Snap essentially admits that its service works best for people in countries where iOS phones are affordable and popular, and mobile plans are so cheap that everyone is online all the time on their phones. Here Facebook has an advantage over Snap as it's been investing for years into ways it can make its apps and service accessible for users in emerging markets."
Advertising success: The company saw a 286% growth in advertising revenue, which beat investor expectations. Notably, 20% of ad impressions served were sold programmatically, meaning the company has started to expand out of its brand advertisements and more into direct sales.
Fun fact: The company saw "a little bit of election upside" to revenue last quarter, said Snap's CFO.
Key players we're watching: Spiegel was joined on the call by Snap's CFO Drew Vollero and CSO Imran Khan. Vollero, formerly of Mattel, Yum Brands and Taco Bell, assured investors that the company's mega expenses this quarter were a result of still being in "investment mode." Khan, deemed the "secret weapon" behind Snap's IPO by CNBC, touted Snap's new ad tech that tracks ads to foot traffic in physical stores as the "holy grail of ad measurement."
Sound smart: A dip in shares isn't totally unusual, but Snap still didn't crush it. Facebook and Twitter both saw losses following their first earnings reports after going public in 2012 and 2014, respectively, but they both beat expectations and saw revenue increases.
Go deeper