Snapchat emphasizes human content moderation in app redesign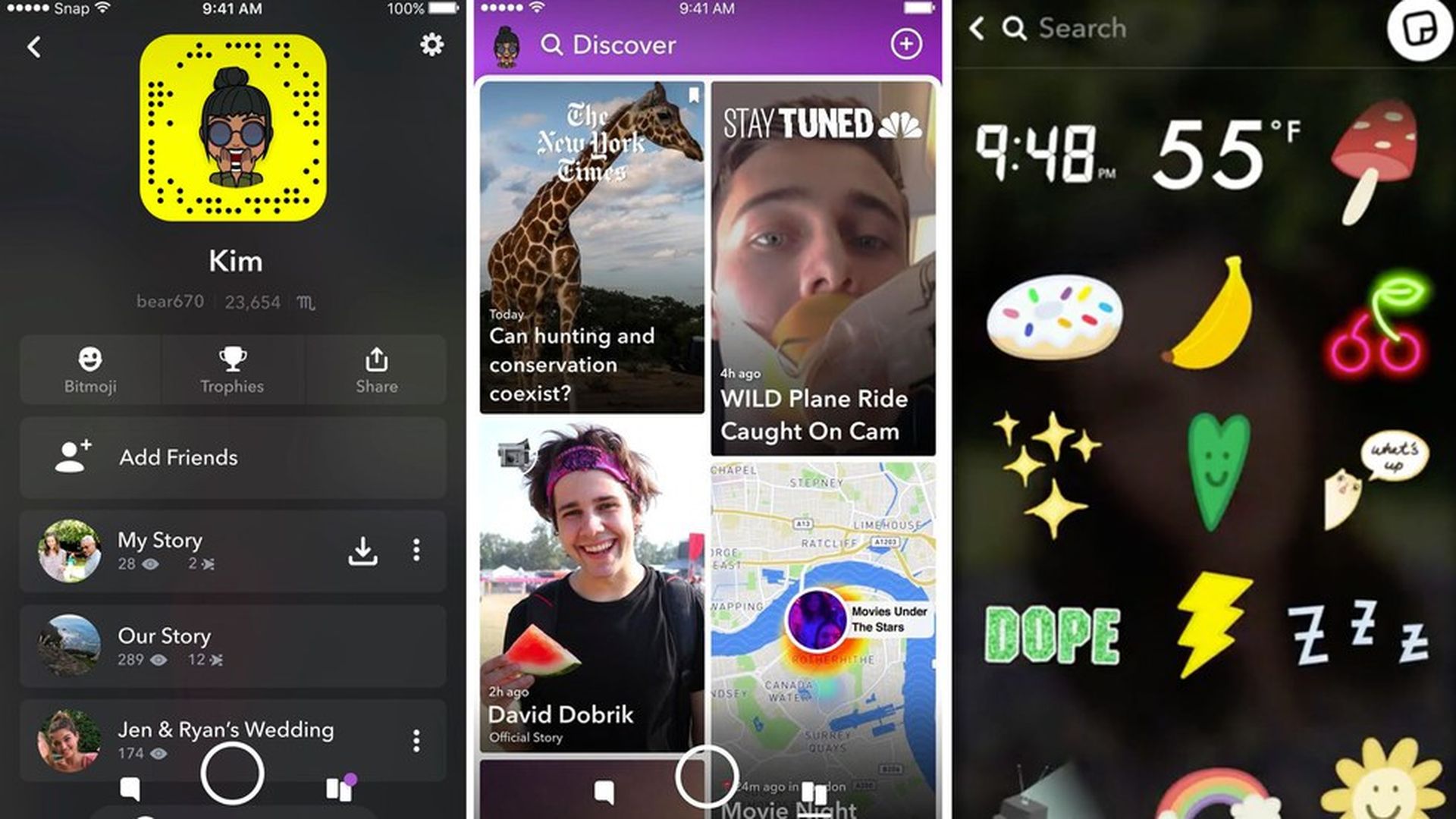 Snapchat is redesigning its app to separate media and social communications, making it easier to use and understand. CEO Evan Spiegel wrote an opinion piece for Axios Wednesday morning, saying that the separation takes "an important step forward towards strengthening our relationships with our friends and our relationships with the media."
Why it matters: Snapchat's last earnings showed slowed percentage of user growth for the fourth consecutive quarter. The company hopes a redesign will attract new users and engage current ones that may feel less inspired to post on Facebook and Instagram — rival platforms that rely on content recommendations from friends instead of algorithms and human curation tailored to individuals.
The redesign will begin to roll out to a small percentage of users later this week and will be available to all users on iOS and and Android globally in coming weeks. According to a Snap spokesperson, the entire redesign was done in-house.
The major design changes are centered around the separation of a "Discover" page on the right — which displays vetted publisher stories, stories from around the world, or stories from influencers or people you chose to follow that you don't know personally — and a "Friends" page on the left that features updates from your close friends and family. At the center is the "Send-to" homepage, or a navigation that starts with using its camera.
Newer features, like Maps and Bitmojis, will be more easily accessible within more places on the app.
Business and advertising products and operations will remain the same for the most part.
Snapchat will use algorithmic content recommendations, like Netflix, to help users discover new content, instead of relying on friends or large networks to elevate it to users through engagement (likes, comments, etc.) The content that users chose to follow will sit on top of the algorithmically-recommended content (curated stories, publisher stories and influencer stories/snaps).
You can expect dozens of signals to affect the recommendations to your Friends and Discover pages, most of which will be based on content or people you've already engaged with, according to a Snap spokesperson. Separating the signals by page means that the experience will be much more customizable.
Users will also now have a tool to easily hide anything they see in Discover that they don't like, which will help inform the tailored content.
Human curation and moderation of content is something the company is emphasizing heavily with this redesign. Unlike Facebook, which told Axios earlier this year that it's a technology company that doesn't hire journalists to moderate content, Snapchat says it will have a team of content programmers coming from editorial backgrounds to ensure "that each user sees a diverse mix of content formats, and be able to promote interesting or editorially important content to users."
Editor's Note: Get more stories like this by signing up for our daily tech newsletter, Login, and our weekly media newsletter, Axios Media Trends.
Go deeper