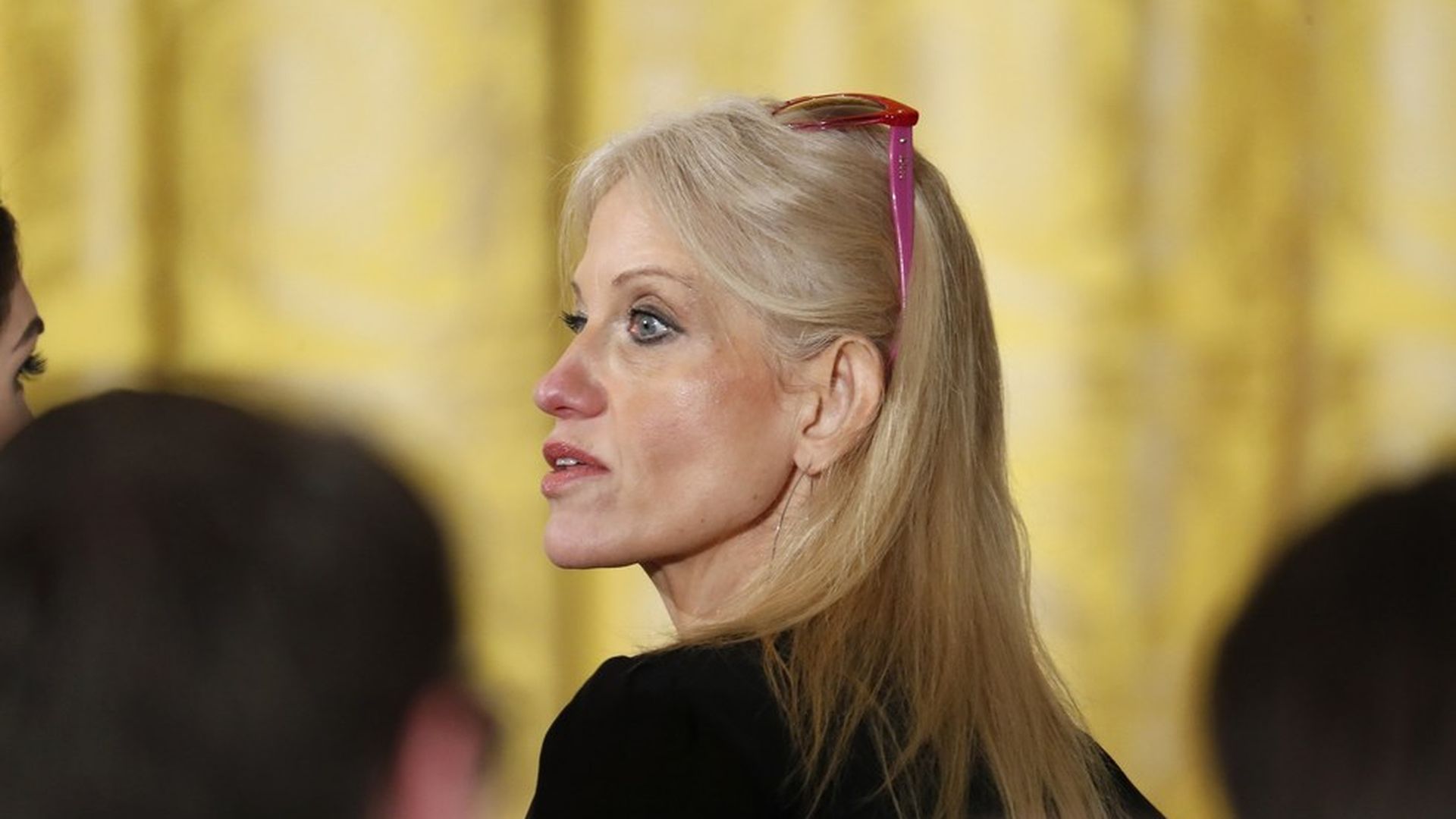 White House counselor Kellyanne Conway, after a hiatus following a rough bout of coverage, returned to TV last night to audience chants of "Kellyanne! Kellyanne!" She joined Sean Hannity on Fox News, before a live audience in suburban Maryland on the stage of CPAC, the Conservative Political Action Conference, where Trump will speak tomorrow morning. One man held a "Socialism Sucks" sign.
On Trump: Conway called her boss "President Action, President Impact, Donald J. Trump."
Last night, Kellyanne Conway wielded a double-epithet for Trump: pic.twitter.com/h0rZnnfnYl — Axios (@axios) February 23, 2017
Negative media: "I think there's something called 'presumptive negativity,'" she said on how only one of Trump's many executive orders has received most of the media coverage.
So what if she's not on TV?: Conway said she's not being sidelined from TV (as CNN's Dylan Byers reported). She said, "Somebody's trying to stir up trouble." She added that, "There are people, I think, trying to get in my way. I've also gobbled up a lot of other people's TV opportunities, so there's some resentment on the outside, I believe, and folks just trying trying to use me as clickbait and a headline."
Kellyanne: "(President Trump)'s his own best messenger. We don't need to be out there all the time." pic.twitter.com/mpcZQN8HSO — Axios (@axios) February 23, 2017
Trump's tweets: She said that by tweeting, Trump's "cutting out the middle man," adding that it's "too bad" if people in the media don't like Trump's tweets:
Kellyanne: "So many people in the mainstream media don't like the president using Twitter. Too bad. He's cutting out the middle man." pic.twitter.com/Q7dvPzxRCa— Axios (@axios) February 23, 2017
Go deeper