Flynn haunts Trump as Russia probe deepens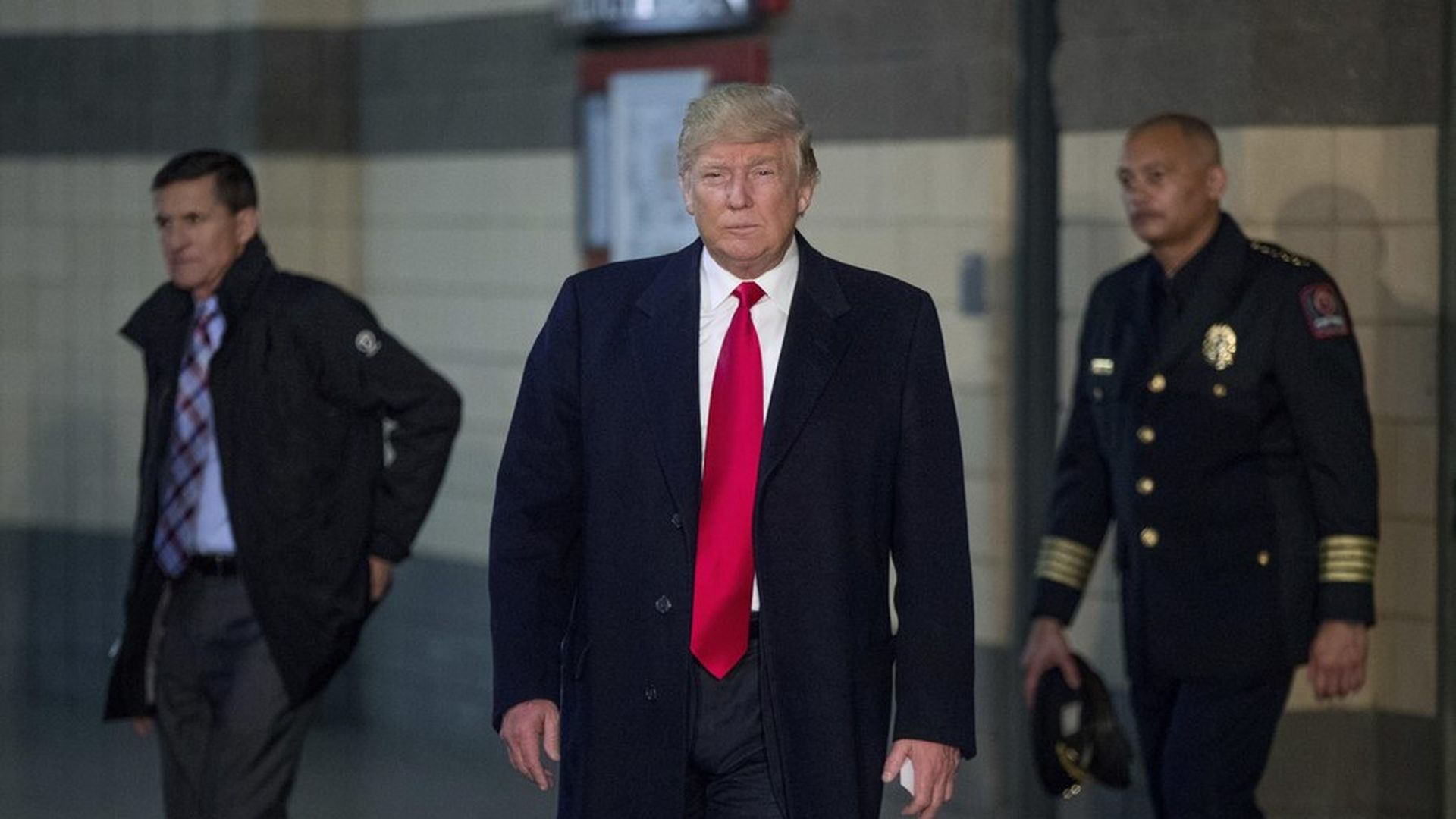 The two key threads to follow in the seemingly endless stream of breaking news that emerged Wednesday night:
Deputy Attorney General Rod Rosenstein appointed former FBI director Robert Mueller special prosecutor in the FBI's Russia probe. President Trump, who was given no advance warning, released a brief statement insisting there was no collusion between his campaign and Russia.
Hours later the NY Times reported that the Trump transition team was aware of a federal investigation into Michael Flynn over undeclared lobbying for Turkey before he became national security adviser, and McClatchy reported that Flynn had delayed a Pentagon plan that was opposed by Turkey.
Introducing the special prosecutor...
Mueller led the FBI from 2001-2013, under presidents from both parties, and is one of the most widely-respected figures in U.S. law enforcement. He will report directly to Rosenstein, as Attorney General Sessions has recused himself from the Russia probe. The tick tock on the announcement, via Bloomberg's Jennifer Jacobs:
Rosenstein signed the order without consulting the White House, subsequently informing WH Counsel Don McGahn.
Senior staff assembled in the Oval Office. Trump seemed "calm."
25 minutes later, at 6pm, the Justice Dept made a public announcement.
Rosenstein's revenge...
Last week, Rod Rosenstein was the toast of the White House. Tonight, he went against President Trump's wishes and took the Russia probe to a new level.
The initial party line on James Comey's firing was that Trump had accepted the recommendation of his deputy attorney general, a "universally respected" and apolitical figure. Rosenstein was reportedly infuriated that Trump's decision had been pinned on him.
Whether it was his intention or not, Rosenstein has exacted revenge over how the Comey firing played out. Read the full article.
The powers of a special counsel...
Read Axios' Shannon Vavra on what a special counsel is, and how it differs from what happened during Watergate.
Neal Katyal, former DOJ official: "Here's the deal on Trump firing Mueller: He can. We wrote the special counsel regs knowing that any Pres has constl power to do so, but we made it hard by regulation."
Nancy Pelosi and the Dems want an independent commission outside of DOJ's control.
The Flynn timeline, based on NYT report…
Nov 18: Trump offers Flynn NSA post
Jan 4: Flynn discloses he is under federal investigation
Jan 20: Trump takes office, Flynn becomes NSA
Jan 26: Sally Yates warns McGahn Flynn could be subject to Russian blackmail
Feb 13: Flynn dismissed as NSA
The delayed attack...
Ten days before President Trump took office, Michael Flynn helped delay a Pentagon plan to attempt to retake the ISIS stronghold of Raqqa, per McClatchy. The plan was opposed by Turkey, which had previously paid Flynn for lobbying work.
How it reportedly happened: Then-national security advisor Susan Rice approached Flynn about having Trump sign off on the plan, which utilized Syrian Kurdish forces and was to be executed under Trump's administration. Flynn told her to hold off, without consulting anyone else on the transition team and without any explanation. Read the full article from Axios' Stef Kight.
Back to that Trump, Russia meeting...
Per the Wall St Journal:
"The classified information that President Donald Trump shared with Russian officials last week came from an Israeli source described by multiple U.S. officials as the most valuable source of information on external plotting by Islamic State."
The mood in the West Wing…
Per the Washington Post's Ashley Parker and Abby Phillip:
"Some White House staffers have turned to impeachment gallows humor. Other mid-level aides have started reaching out to consultants, shopping their resumes. And at least one senior staffer has begun privately talking to friends about what a post-White House job would look like, according to two people close the staffer."
And on Capitol Hill…
Per Axios' Jonathan Swan:
"In the House Republicans' conference meeting on Capitol Hill this morning, the mood among members was subdued and somewhat anxious. One source described members as 'shellshocked.'"
Per Politico's Burgess Everett and Josh Dawsey:
"The Trump White House has done essentially no damage control.... No talking points have been distributed, and few reassurances have been given to Republicans…. 'I've not heard that from them. I've heard nothing. I should, shouldn't I? I'm not sure that there's that level of organization,' Sen. Thune said. 'For most people this is kind of: Formulate and express your own point of view if you want to.'"
Just to recap...
Mon, 5pm: Washington Post reports that Trump disclosed classified intel to Russia
Tues, 1:30pm: NY Times reports that the intel came from Israel
Tues, 5:15pm: NY Times reports on Comey memo stating Trump asked him to end Flynn probe
Weds, 6pm: DOJ announces special prosecutor
Weds, 9:15pm: NY Times reports that Trump transition knew of Flynn investigation.
Thurs: A nice, quiet evening.... a reporter can dream, right?
Go deeper