Facebook launches Instant Articles analytics tool for publishers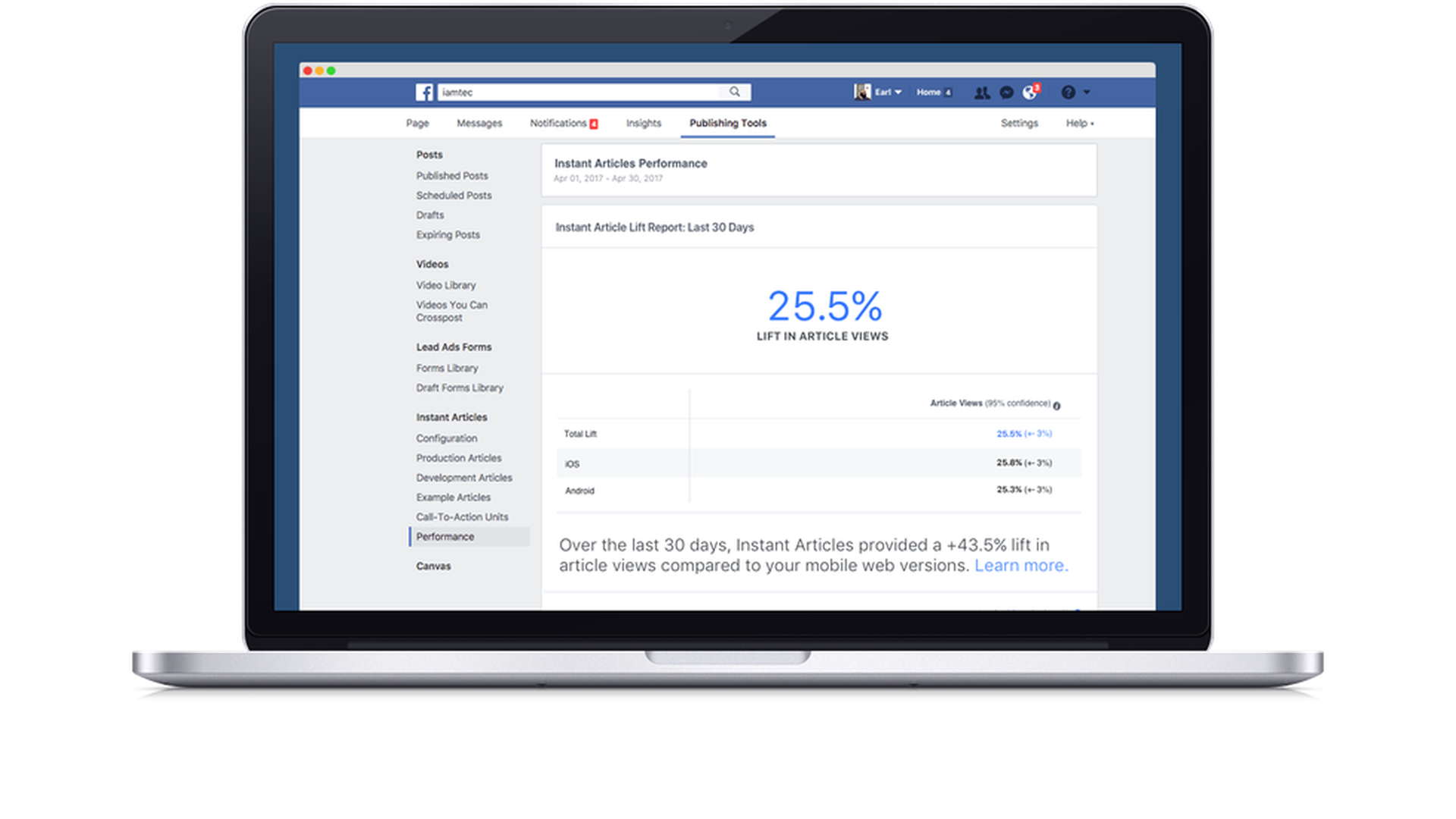 Facebook is rolling out a new tool for publishers using Instant Articles to measure how their articles perform on their platform compared to the mobile web. The tool, with article views calculation methodology verified by Nielsen, will only be available to publishers who have published enough Instant Articles and mobile web versions of articles to measure the difference. The tech giant says they hope to add more metrics to measure Instant Article performance in the coming months.
This is is one of many in a series of moves Facebook has taken to make Instant Articles a better experience for publishers, in light of complaints from some outlets that Instant Articles are hard to monetize and convert for other platforms.
Why it matters: The goal of the tool is to help publishers make better decisions around how they share content on Facebook. In a blog post, Facebook touts the success of Instant articles in engaging users, which means that they likely hope the measurement tool will reaffirm to publishers the power of Instant Articles.
Findings: The Nielsen analysis reveals other variables and effects that Instant Articles' impact on referral traffic from Facebook. Some are obvious, like news cycles and internet connectivity/regional differences affect traffic overall. Others are less obvious, like competition for attention in News Feed drives people to easy to consume formats and people's propensity to click on Instant Articles is correlated to the volume of Instant Articles they see from a publisher.
Success metrics: (Previously reported success metrics Facebook hopes will be reflective in the new tool that Publishers will hve access to measure against their own content.)
20% more clicks: As people see more Instant Articles in News Feeds, they read 20% more Instant Articles
70% less likely to abandon: Once they click, less likely to abandon the article because they aren't waiting on a long load time
30% more shares: People share 30% more Instant Articles than mobile web articles on average
Go deeper