Acting FBI Director: Trump-Russia probe "highly significant"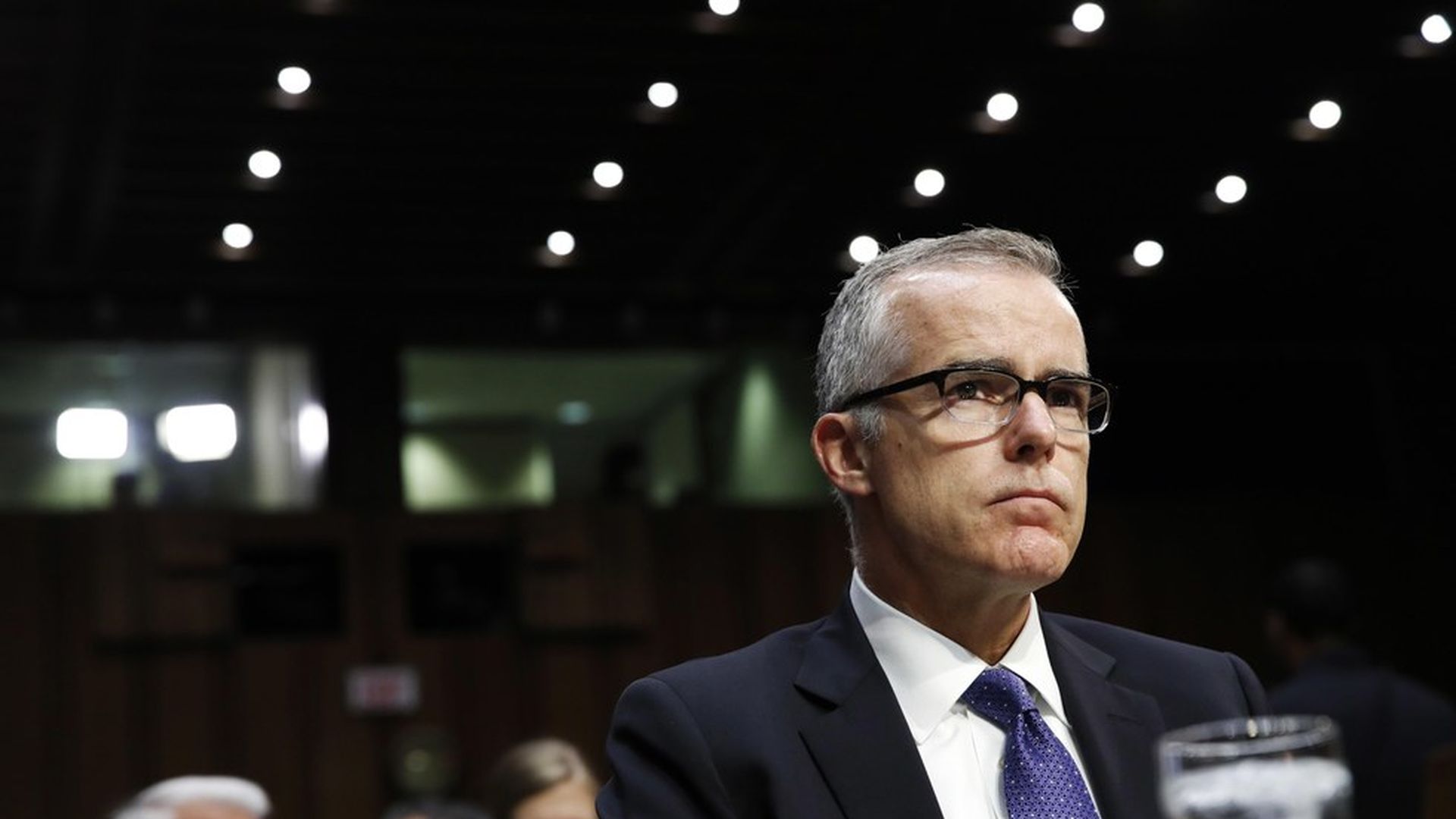 Andrew McCabe, the acting FBI director, told the Senate Intelligence Committee on Thursday that former FBI Director James Comey had not, as the White House said, lost the broad confidence of the bureau's employees:
"I can tell you that I hold Director Comey in the absolute highest regard... It has been the greatest privilege and honor of my professional life to work with him... I can confidently tell you that the vast majority of FBI employees enjoyed a deep and positive connection to [him]," said McCabe.
And a twist: Deputy Attorney General Rod Rosenstein, who penned the memo recommending Comey's termination, showed up in the hearing room for an apparently unscheduled meeting, causing the abrupt departure of Chairman Richard Burr and Vice Chairman Mark Warner.
Live updates:
Will you refrain from updating Trump on the Russia investigation? "I will," said McCabe.
On FBI's Russia investigation: It is "highly significant," said McCabe, pushing back on yesterday's assertion by White House Deputy Press Secretary Sarah Sanders that it is "one of the smallest things that [the FBI has] got going on their plate."
"I don't believe there is any crisis of confidence in the leadership of the FBI... It was completely within the president's authority to do what he did, we all understand that," said McCabe.
Did Comey request additional resources for the Russia investigation? "I cannot confirm that request was made... we don't typically request resources for an individual case. I strongly believe the Russia investigation is adequately resourced."
Would it have been wrong for Comey to inform Trump he wasn't under investigation? "I will not comment on whether the director had that conversation," said McCabe, but told Warner that he will refrain from updating Trump and the WH on the status of the Russia investigation.
Sen. Warner asked if the January assessment that Russia hacked and leaked DNC emails with the intent of influencing November's presidential election still stands: the CIA, FBI, NSA, and DNI directors all said "yes."
Is the Russia investigation impeded? "Simply put, sir, you cannot stop the men and women of the FBI from doing the right thing, protecting the American people, and upholding the Constitution."
Go deeper