What to expect next after Trump's Jerusalem move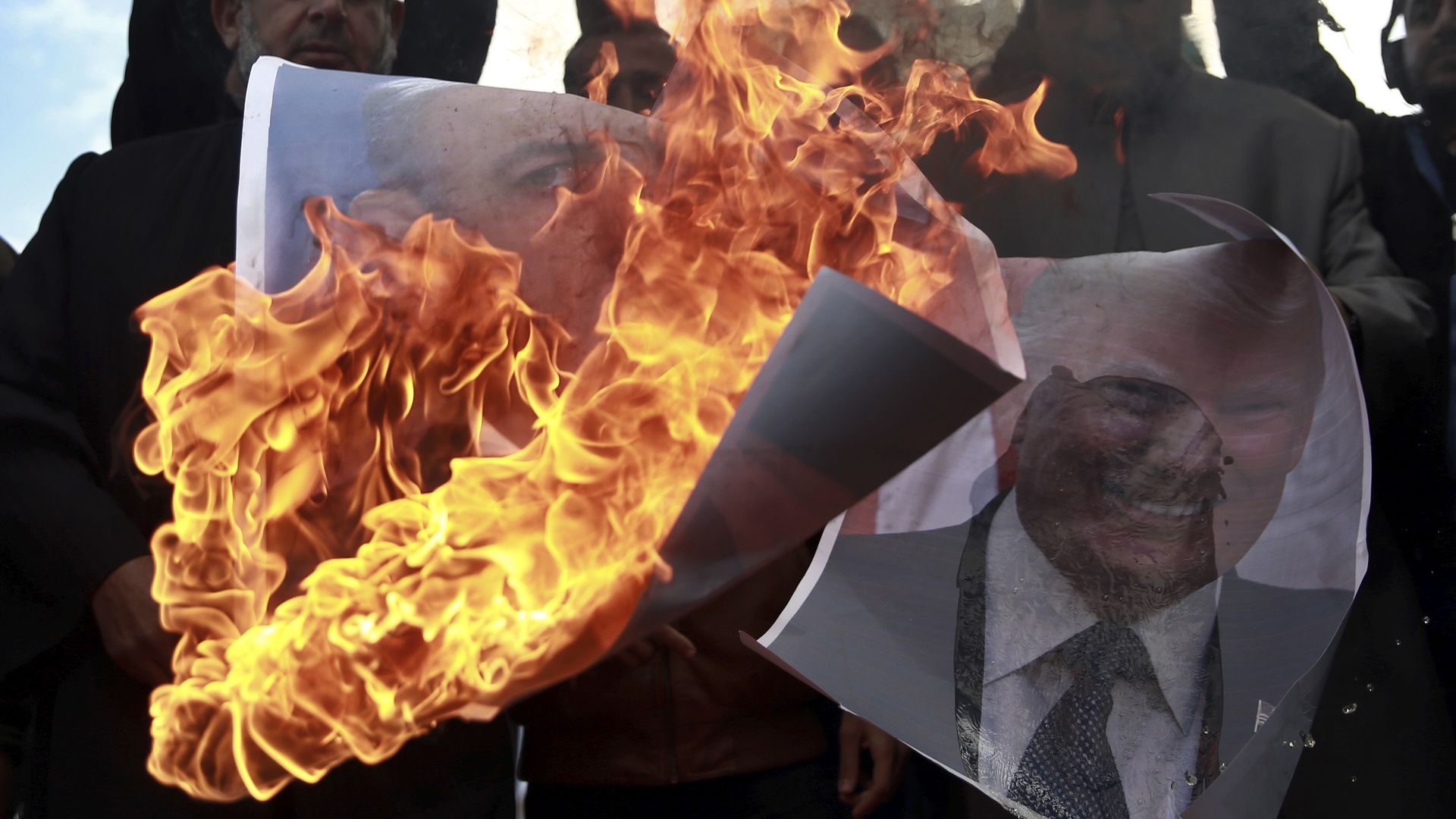 Domestic politics drove President Trump's potentially costly decision to recognize Jerusalem as Israel's capital: Even senior White House officials said they're "prepared for derailment" of Middle East peace efforts — temporarily, they hope.
Barak Ravid of Israel's Channel 10 News, an Axios contributor, gives me this day-after scouting report from Tel Aviv:
The Israeli government is jubilant. For Prime Minister Benjamin Netanyahu, this is the first big diplomatic achievement since Trump entered the Oval Office. But this is also a big political win for Netanyahu, who is entangled in police investigations over alleged corruption and has taken a hit in the latest polls.
Palestinians are depressed. President Abbas managed to mobilize the entire Arab world and part of the Western world in an attempt to stop Trump's move, but failed. Some unrest is already felt in Palestinian cities, but the big thing to look at is what happens after the Friday prayers.
Putting aside the symbolism of the U.S. recognition and the emotional reactions from both parties, a careful reading of Trump's speech shows one very important message regarding possible U.S. peace plan. Trump said he is going to do everything in his power to help the sides in getting a peace agreement and added: "Without question, Jerusalem is one of the most sensitive issues in those talks." So the future of Jerusalem, its borders and sovereignty will be on the table in every Trump-sponsored peace talk.
Whether it is even possible to renew peace talks after Trump's speech remains to be seen.
Expecting a backlash, the State Department is asking Israel to restrain its official response "and is weighing the potential threat to U.S. facilities and people," according to a document seen by Reuters.
From talking points for diplomats at the U.S. Embassy in Tel Aviv to convey to Israeli officials: "We expect there to be resistance to this news in the Middle East and around the world."
Be smart: Trump's defiant decision reflects the focus on his domestic base (including evangelical Christians), regardless of international repercussions, that led him to renounce the Paris climate accord.
L.A. Times: "In his view, he is the president who pushes through toward 'historic' change while those around him urge equivocation. He is the president who bluntly scorns the judgment of elites. And he is the president who tallies 'promises kept.'"
Go deeper