Featured
Highlights from Trump's Israel visit
President Trump is in Israel Monday and Tuesday, the second leg of his first foreign trip, where he's holding meetings with Prime Minister Benjamin Netanyahu and President Reuven Rivlin in Tel Aviv and Jerusalem. Follow along for live updates.
The latest: President Trump meets with Bibi in Jerusalem, where he criticizes the Iran deal as Netanyahu nods along. "We gave them wealth and prosperity... and an ability to continue with terror," said Trump. "Iran will never have a nuclear weapon. That I can tell you." Trump also told Bibi that he "never mentioned the word or the name Israel" during his Oval Office meeting with top Russian officials. "They're all saying I did, so you have another story wrong."
5:21am ET/ 12:21pm GMT: President Trump touched down at Ben Gurion International Airport in Tel Aviv, where he greeted Israeli Prime Minister Benjamin Netanyahu: "Hello, my friend."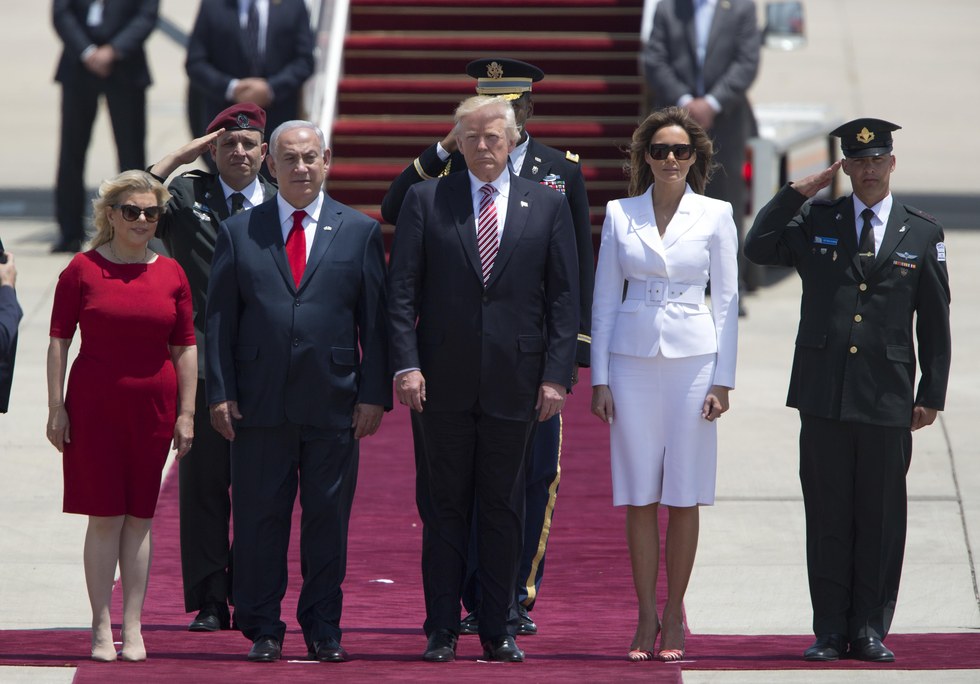 Oded Balilty / AP
6:55am ET/ 1:55pm GMT: Bibi tweets a group photo.

7am ET/ 2pm GMT: Marine One lands in Jerusalem. Trump meets with President Rivlin at his residence for a bilat. Trump commended Rivlin's work, and the two discussed the "opportunity" for Israel and other countries in the Middle East to come together.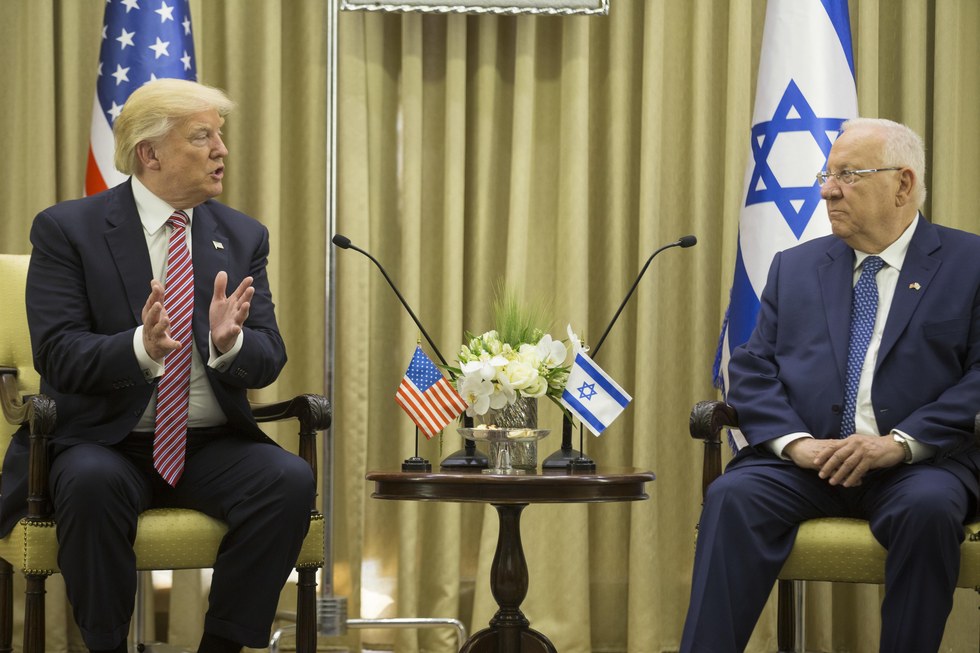 Atef Safadi / EPA Pool via AP
7:50am ET/ 2:50pm GMT: Trump and Rivlin deliver a joint statement in Jerusalem. Key quote:
"This moment in history calls for us to strengthen our cooperation, as both Israel and America face common threats – from ISIS and other terrorist groups, to countries like Iran that sponsor terrorism and fund and foment terrible violence. Together, we can work to end the scourge of violence that has taken so many lives, here in Israel and around the world." — Donald Trump.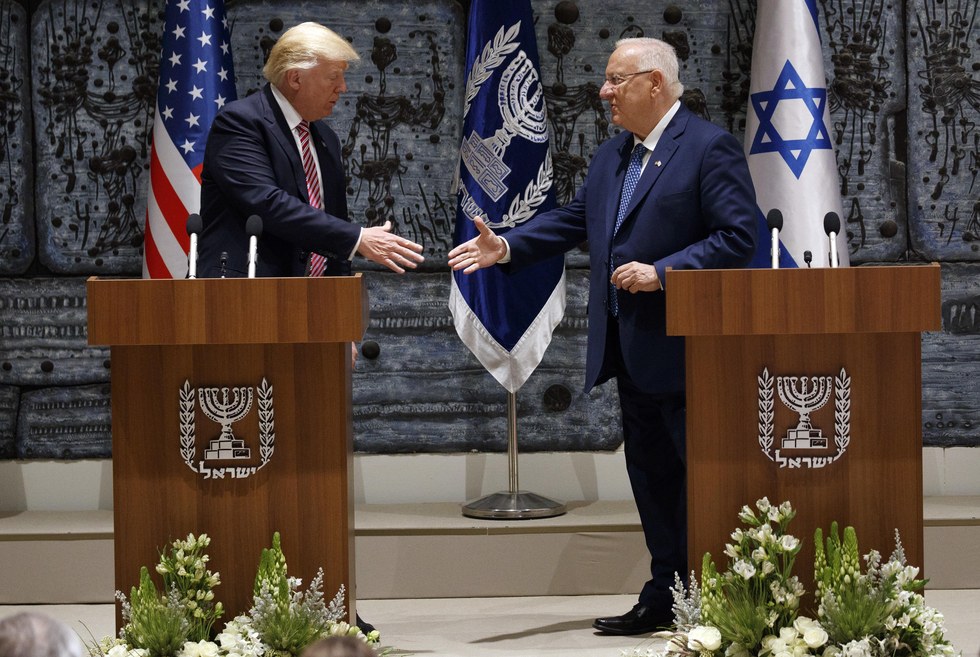 Evan Vucci / AP
8:45am ET/ 3:45pm GMT: Trump and Melania visit the Church of the Holy Sepulchre in Jerusalem.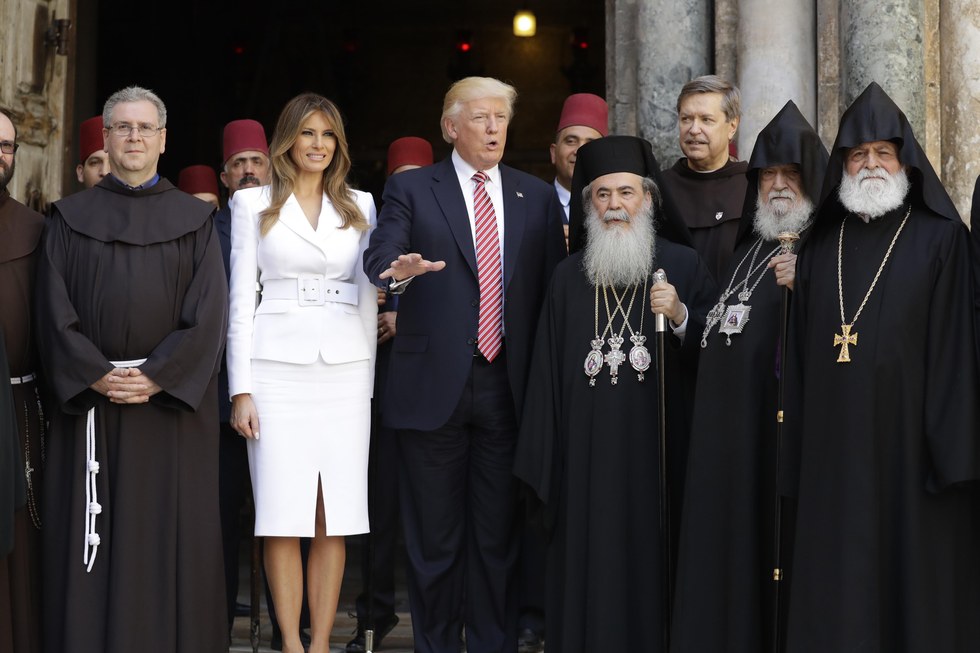 Evan Vucci / AP
9:27am ET/ 4:27pm GMT: President Trump becomes the first sitting president in U.S. history to visit the Western Wall (Obama went as a candidate). He solemnly pressed his right hand against the Holy site, and left a note inside, in accordance with Jewish tradition. Trump was accompanied by Melania, Ivanka, and Jared.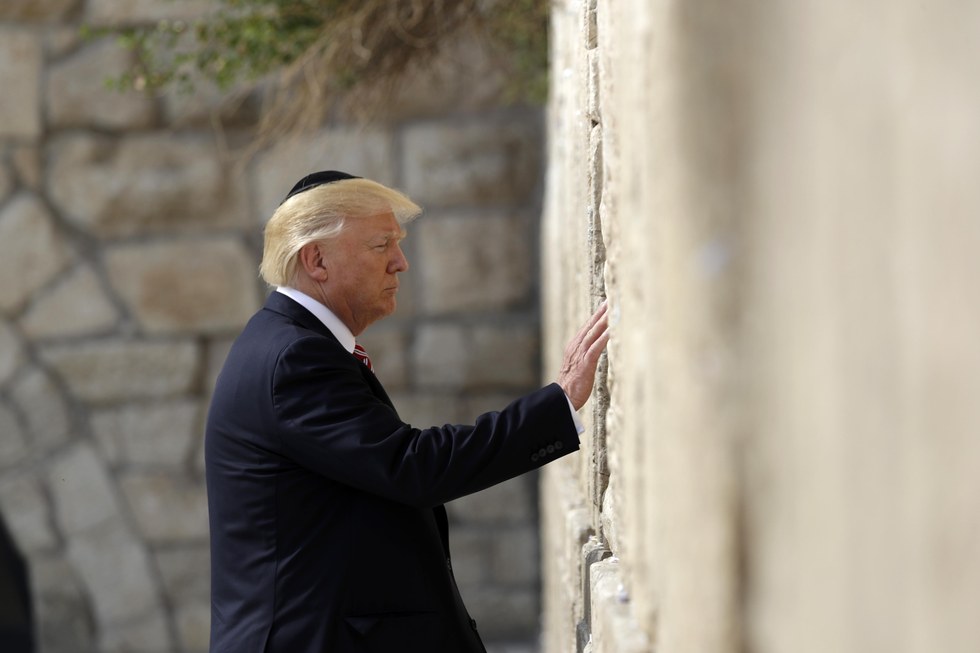 Evan Vucci / AP