March 15, 2023
Good afternoon! Here's a sneak peek of the scoops and sharp analysis you'll soon be seeing regularly in Axios Pro: Tech Policy. The wait is nearly over: We officially launch March 27!
Do you know someone who needs this newsletter? Send them this link to sign up.
And mark your calendars for March 30, when we'll celebrate our launch with a kickoff happy hour at 6pm at the Hawk 'n' Dove. Register here!
1 big thing: Tech antitrust's uphill climb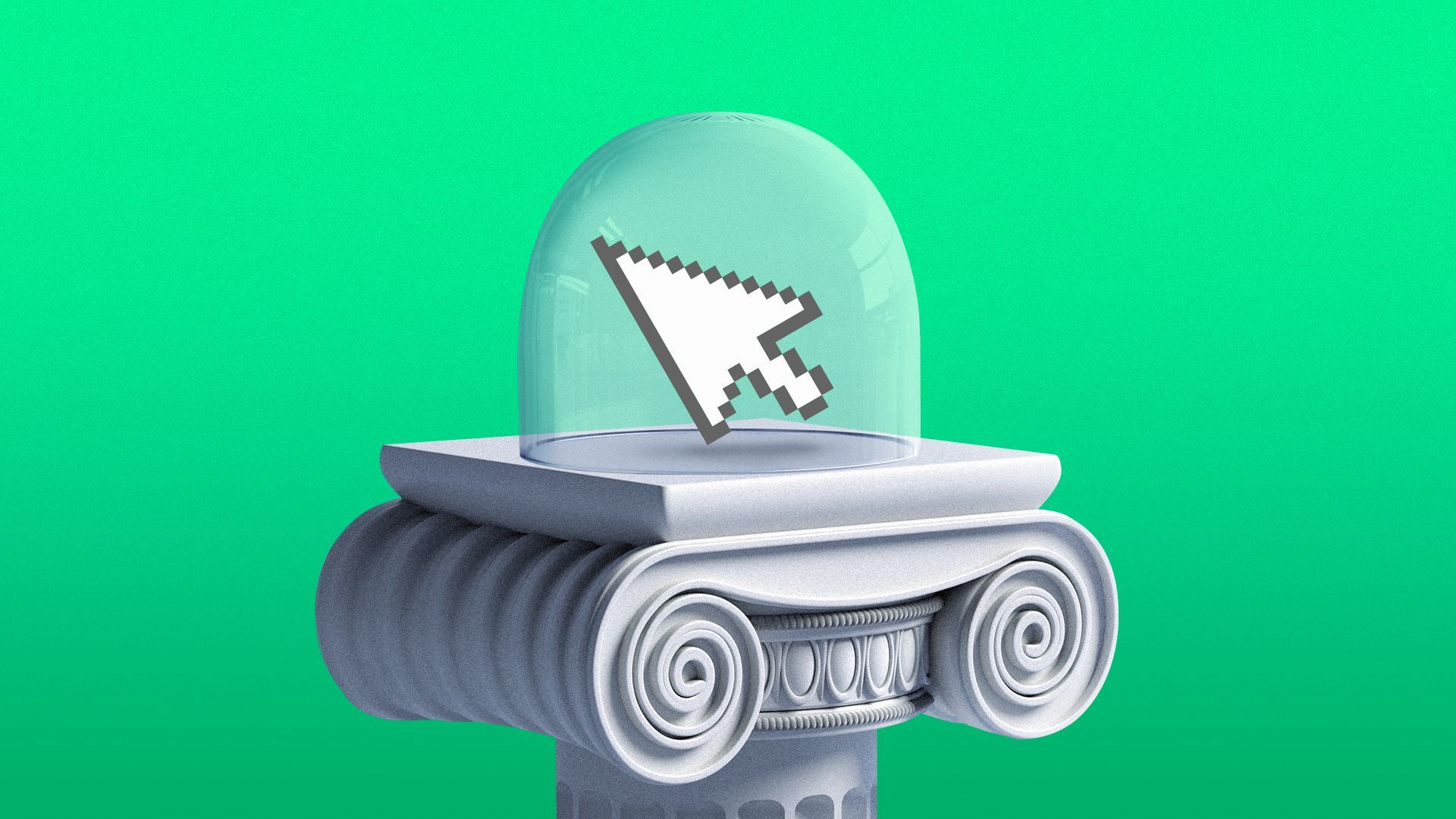 Don't bet on this Congress passing tech antitrust legislation — because despite all of the energy sponsors and advocates will put into it, the political consensus the bills would need is getting further away, not closer, Ashley reports.
Why it matters: A rare bipartisan moment of agreement that Big Tech companies are too big and powerful may be overshadowed by partisan differences over what should be done about them.
Driving the news: The Senate Judiciary antitrust subcommittee held a hearing on digital markets this month, kicking off the tech antitrust conversation again. But remember, bipartisan legislation failed to pass last year despite coming closer than ever to becoming law.
Getting bills that would change the behavior of the country's biggest tech companies passed last Congress was already a tall order; with Republicans controlling the House, it's even harder because of dueling Big Tech priorities.
At the hearing, Sen. Amy Klobuchar, who has led efforts in the Senate, decried the failure of two bills, the Open App Markets Act and the American Innovation and Choice Online Act, in the last Congress despite bipartisan support.
She blamed their defeat on aggressive lobbying by Big Tech.
The intrigue: Reps. Kevin McCarthy and Jim Jordan run the show in the House on tech, and neither have particularly supported the antitrust effort, focusing more on allegations that Big Tech companies "censor" conservatives.
And Rep. Ken Buck lost his post as the lead Republican on the House Judiciary antitrust subcommittee, where he aggressively worked on tech antitrust with outgoing Rep. David Cicilline.
One glimmer for antitrust reform supporters in the House: Minority leader Hakeem Jeffries has championed aggressive anti-tech bills in the past as a member of the House Judiciary Committee.
Another one to watch is House Energy and Commerce chair Cathy McMorris Rodgers, who has said she wants to explore Apple and Google's app store policies to determine "how their decisions to remove or host certain apps limits or increases consumer choice."
What they're saying: "It's obviously harder [this Congress]," Buck told Axios. "I don't think that [McCarthy] has talked about an antitrust solution recently, that reflects his priorities.... [I]t's going to really require the Senate to take the lead this time."
"We cannot afford to waste another two years, getting nothing done, another two years for these monopolies to further entrench their power ... while the rest of the world moves forward," Klobuchar said last week.
"[The bills] clearly do not have the momentum they had last time," because of Buck losing his post and Cicilline leaving Congress, one Republican lobbyist who works on tech issues told Axios.
A bill that specifically targets app store behavior may have an easier road ahead, the lobbyist said: "[AICOA] will stay in the conversation thanks to advocates, companies and lawmakers who care about it; [OAMA] is more targeted and has good momentum."
The big picture: Moves to break up Big Tech companies will continue in the courts both in the United States and abroad, via ongoing FTC and Justice Department suits and action from the European Union.
Between the lines: Many Republicans say Big Tech is unfair to conservatives, but they're reluctant to give federal government agencies more power or money. This tension makes it extremely hard for them to legislate.
"Democrats cannot support legislation to rein in Big Tech unless it leaves untouched the ability of the platforms to censor speech," reads a minority staff memo for last week's Senate Judiciary hearing obtained by Axios. Sen. Mike Lee, the ranking Republican on the antitrust subcommittee, has opposed AICOA.
The minority memo also says a number of Republican senators declined to rejoin the bill in this Congress, though it hasn't been formally reintroduced yet. Sens. Klobuchar and Chuck Grassley are working together to reintroduce this legislation, a spokesperson for Klobuchar told Axios.
Axios reached out to all six Republicans senators who signed on to AICOA last Congress. A spokesperson for Grassley emphasized ongoing support; others declined to comment.
View archive