Behind Google's failed bid to dismiss its ad tech suit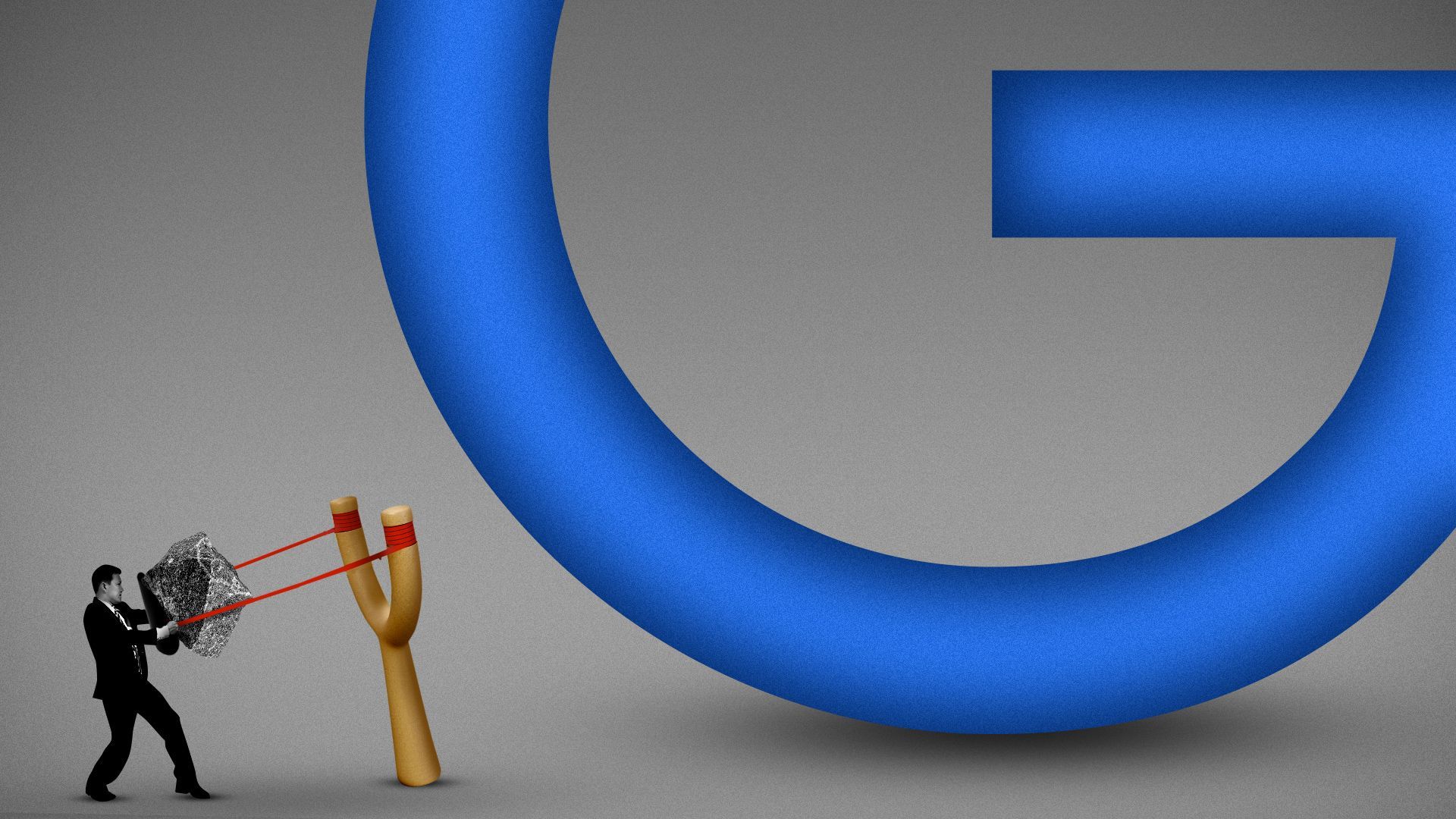 A federal judge late Friday afternoon denied Google's motion to dismiss the Justice Department's suit targeting its advertising technology, per court filings.
Why it matters: Google couldn't persuade a judge to narrow the DOJ's case, a win for federal enforcers seeking to target Big Tech's power and dominance.
Per the decision by Leonie Brinkema, federal judge for the Eastern District of Virginia, Google now must move forward in a case that will produce massive amounts of documents during a relatively quick discovery process (four and a half months), with a trial happening at the earliest next spring.
The big picture: Google is under antitrust scrutiny worldwide, and this is a loss of sorts on its home turf. But it's also a test for the Biden administration, which has pledged to reel in the dominance of big companies.
Flashback: The DOJ and eight states first sued Google in January for "corrupting" the digital advertising market, arguing that the company illegally abused its dominance in the space, violating the Sherman Antitrust Act.
The suit alleges that Google unlawfully monopolized both the publisher ad server market and advertiser ad network in the U.S., tying the products together.
Google bought DoubleClick in 2007 and AdMob in 2011, acquisitions (approved by the U.S. government) that helped build the company's dominance in advertising.
Meanwhile, the DOJ and states' lawsuit against Google for alleged illegal online search dominance, first filed in 2020, is ongoing.
What they're saying: "With few exceptions, courts have recently been kicking out government antitrust claims left, right, and center. This decision is a rare win for an enforcer, even if it's only an intermediate one," Daniel Francis, former deputy director of the FTC competition bureau and a lecturer at NYU Law School, told Axios.
"It confirms that DOJ will have an opportunity to get into discovery and search for documents and evidence to build its case."
"A huge number of antitrust cases die on a motion to dismiss. DOJ has made it past that hurdle and will now ride the litigation equivalent of an express train in one of the fastest courts in the country," Francis said.
Google's take: "This lawsuit ignores the reality of today's dynamic digital advertising space, where we compete against hundreds of companies like Amazon, Apple, Meta, Microsoft and TikTok," Dan Taylor, VP of global ads for Google, said in a statement.
"This lawsuit would slow innovation, raise advertising fees and make it harder for thousands of small businesses and publishers to grow. This case is wrong on the facts and the law, and we'll now set the record straight in court."
The intrigue: Brinkema said during Friday's proceeding that some businesses begin "perfectly appropriately," but at some point "it goes over the line, and becomes so successful it's basically stifling innovation and competition, and the market is closing down," per a transcript viewed by Axios.
The judge said the essence of antitrust law is to "keep the system working by recognizing that, at certain points, some companies may get too big for their own good."
"Whether or not, at the end of the day, the plaintiff has the burden of proof that can show that, that's another question."
Go deeper