Holiday reprieve for distressed retailers may be short-lived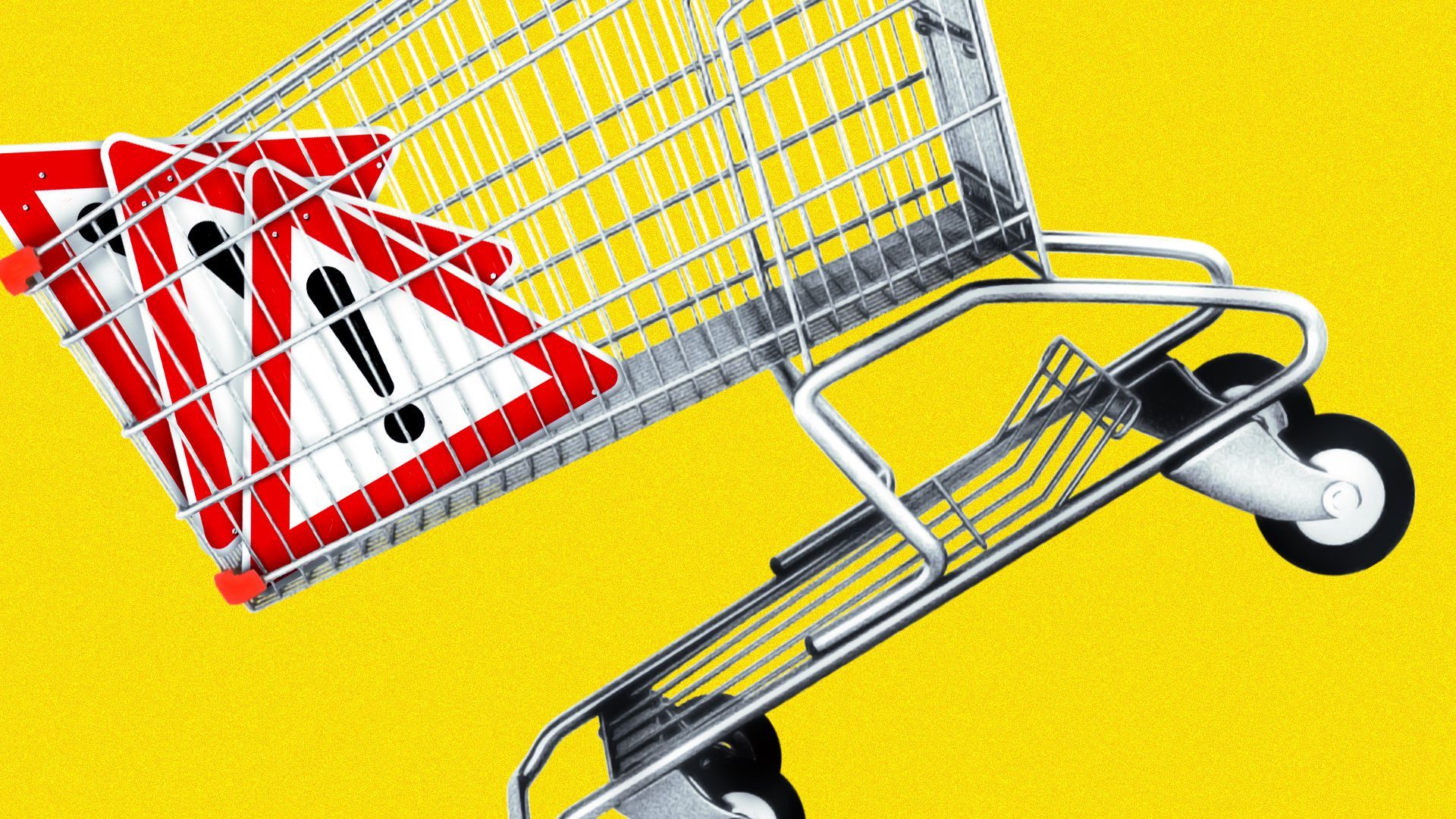 Even though consumer spending, the labor market, and GDP growth remain healthy, there are risks that could put coal in distressed companies' stockings this holiday season, analysts at credit rating agencies say.
Why it matters: November and December are when retailers replenish the cash on their balance sheets — a buttress most will need to weather growing headwinds clouding 2024's outlook.
What's happening: "The consumer will continue to spend," Fitch Ratings retail analyst David Silverman tells Axios.
"The one thing that's been a bedrock is unemployment," S&P retail analyst Sarah Wyeth concurs.
Distressed issuers will also benefit from tapering inflation and reduced costs, resulting in improved margins, Silverman says.
Freight costs, specifically the price of shipping containers, have decreased precipitously, Moody's retail analyst Christina Boni notes.
Plus, retailers are getting better at managing their supply chains and finding new revenue streams from retail media networks and marketplaces, Moody's retail analyst Raya Sokolyanska says.
Yes, but: Among the challenges are the resumption of student loan payments, geopolitical risks posed by wars in Ukraine and Israel, political dysfunction in the U.S. that could lead to a government shutdown, and a continued rise in interest rates.
Elevated default activity over the next two years will be driven by a combination of liquidity challenges and refinancing risk as debt maturities loom, Silverman says.
"We should be concerned about the number of companies that are overextended and have shortening fuse lines," says RapidRatings CEO James Gellert, who suspects 2024 could be a robust year for bankruptcies.
Between the lines: Consumers are also shifting spending from discretionary to experiences such as travel, entertainment, dining and sports, Silverman says.
"The consumer continues to hang in there in terms of aggregate spending. Where weakness shows up is in how they're spending," Wyeth says.
In particular, spending on home appliances and furniture has declined after getting a boost during the pandemic, while apparel is also taking a hit, Sokolyanska says.
Given those shifts, that means that companies in the entertainment and leisure categories are going to benefit more than others.
What we're watching: In all, some 52 issuers in the consumer and retail sectors are rated either CCC+ or Caa1 or below by the major rating agencies, including S&P and Moody's.
Other companies that are on the cusp of being distressed, either rated B3 or B- with negative outlooks, include Conair, Olaplex, Whole Earth Brands and PDC Wellness & Personal Care.
Gibson Brands, Rugs USA, Guitar Center, and Mountaineer Merger Corp., which does business as Gabe's, are also in that mix.
Then some companies fall outside the rating agencies' purview.
Retailers at the top of financial health analytics provider RapidRatings' watchlist include online furniture retailer Wayfair, meal delivery provider Marley Spoon, mattress brand Caspar, and value-oriented retailer Kohl's.
State of play: Separate from the entities it rates, Fitch compiles a watch list of companies in danger of default for both loans and bonds.
Its Top Market Concern Loans' and Top Market Concern Bonds' watchlists include department store chain Belk, automotive retailer Carvana, photo products retailer Shutterfly, pet retailer Petmate, crafts retailer Jo-Ann Stores, discount chain 99 Cents Only Stores, and home furnishings retailer At Home.
Also on those lists are restaurant supplier TriMark, frozen food maker Dessert Holdings, beauty companies Anastasia Beverly Hills and Rodan & Fields, and sewing machine maker SVP Worldwide.
Apparel maker Premier Brands, footwear maker Shoes For Crews, licensed apparel maker Mad Engine, and sports apparel maker Outerstuff are also listed.
Rounding out those lists are food manufacturer Hearthside Food Solutions, restaurant chain Cooper's Hawk, and beer brewer City Brewing.
Go deeper