House budget resolution hits Medicaid once again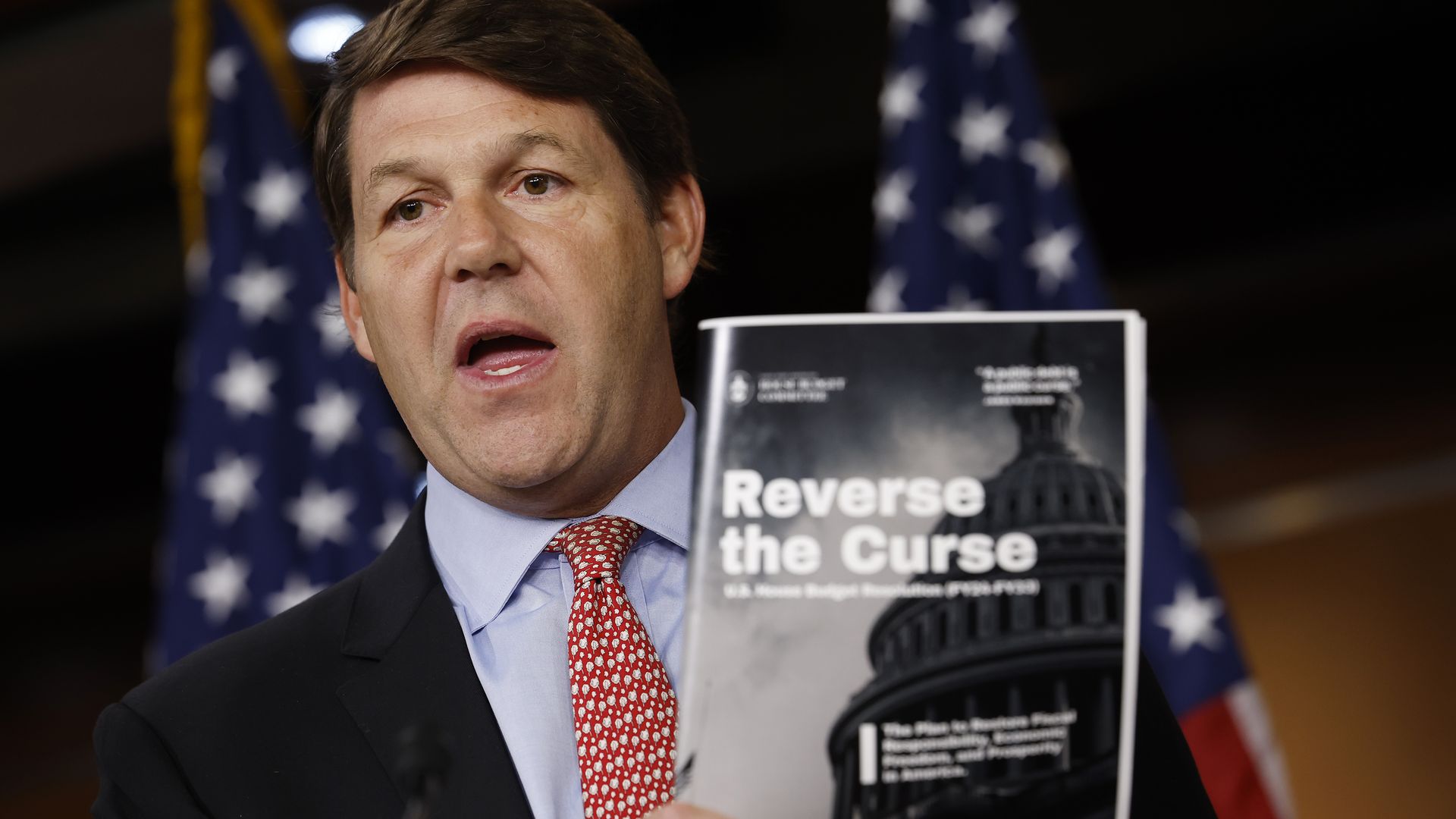 House Republicans are reviving Medicaid work requirements and other conservative health policy goals with a 2024 blueprint that House Budget Chairman Jodey Arrington unveiled and the panel marked up today.
Why it matters: The budget document may be nonbinding and largely symbolic, but it could form the basis of a GOP health platform for next year's elections.
Details: It proposes balancing the federal budget in 10 years while sparing Medicare benefits. But to make the numbers all work, it would implement Medicaid work requirements and per capita caps, roll back Affordable Care Act subsidy expansion and enact site-neutral hospital payment measures.
It proposes setting discretionary spending at $1.471 trillion, which is an 8% reduction or $131 billion below FY23 levels. There's also a proposed cap for spending growth at 1% for FY 2024.
While Arrington has specifically said he doesn't want to cut Medicare benefits, he is proposing a bipartisan fiscal commission that would look at "drivers of U.S. debt, including entitlement spending such as Social Security and Medicare."
That could open the door to a host of provider payment changes that antagonize powerful health interests.
The document sets Medicaid work requirements at 80 hours per month, similar to a proposal in Speaker Kevin McCarthy's original debt ceiling bill that fell out in the final deal in the face of Democratic opposition.
It also envisions a Medicaid per capita cap for states rather than an open-ended federal match.
Outside of Medicare and Medicaid, the budget resolution calls for rolling back $57 billion of ACA subsidies which were expanded under the Inflation Reduction Act.
The resolution has a section devoted to returning to a "patient-centered health care system" with shout-outs to health policies that have already been gaining momentum in the House, including site-neutral payments, PBM reform, transparency for hospitals and insurers and 340B drug pricing reform.
Between the lines: The document didn't specify how targeted the site-neutral measures would be.
As Caitlin Owens noted in her Monday column, the one that's moved in the House transparency package is limited to equalizing Medicare payments for drugs administered at outpatient facilities and doctor's offices, which saves less money than more wide-ranging site-neutral proposals.
The other side: Despite some bipartisan support for site-neutral measures, Budget Committee Democrats didn't hold back criticism in a report released Tuesday.
"It includes various payment cuts to providers, such as lower payments for certain outpatient hospital services and lower hospital reimbursements for uncompensated care. In the past, the most common cost-shifting response from hospitals to such proposals has been to reduce unprofitable services, which disproportionately hurt minority and low-income patients," the Democratic report reads.
The intrigue: Arrington during a Tuesday press conference acknowledged the perils of reducing spending without touching Medicare benefits.
"No party is going to strike that balance on their own. It's just not practical. It's too politically sensitive," Arrington said in response to a question from Axios. "As soon as one party or the other comes out with their grand plan to save Social Security or Medicare, it will be used as a baseball bat against the other."
"It needs to be done on a bipartisan basis, because that's the only sustainable path to that consensus," Arrington added.
But Democrats may not be so on board for such a commission.
"I really have to say, I am very skeptical on any sort of Republican-led commission that wouldn't just be a backdoor way to bring about cuts," House Budget Ranking Member Brendan Boyle said.
Of note: It's also clear that health care spending is definitely going to continue to be a target of the House Budget Committee, evidenced by the attention paid to Rep. Michael Burgess' new health care task force this week.
Reality check: This GOP-led budget resolution comes amid a messy appropriations fight in the House where Republicans can't even agree on spending levels or pass appropriations bills on the floor.
Plus, a budget resolution with such spending cuts stands no chance in the Senate.
Yes, but: "I have full confidence we will get it to the floor in due time," Arrington told reporters last week.
Go deeper