Biden's nursing home rule draws criticism from both sides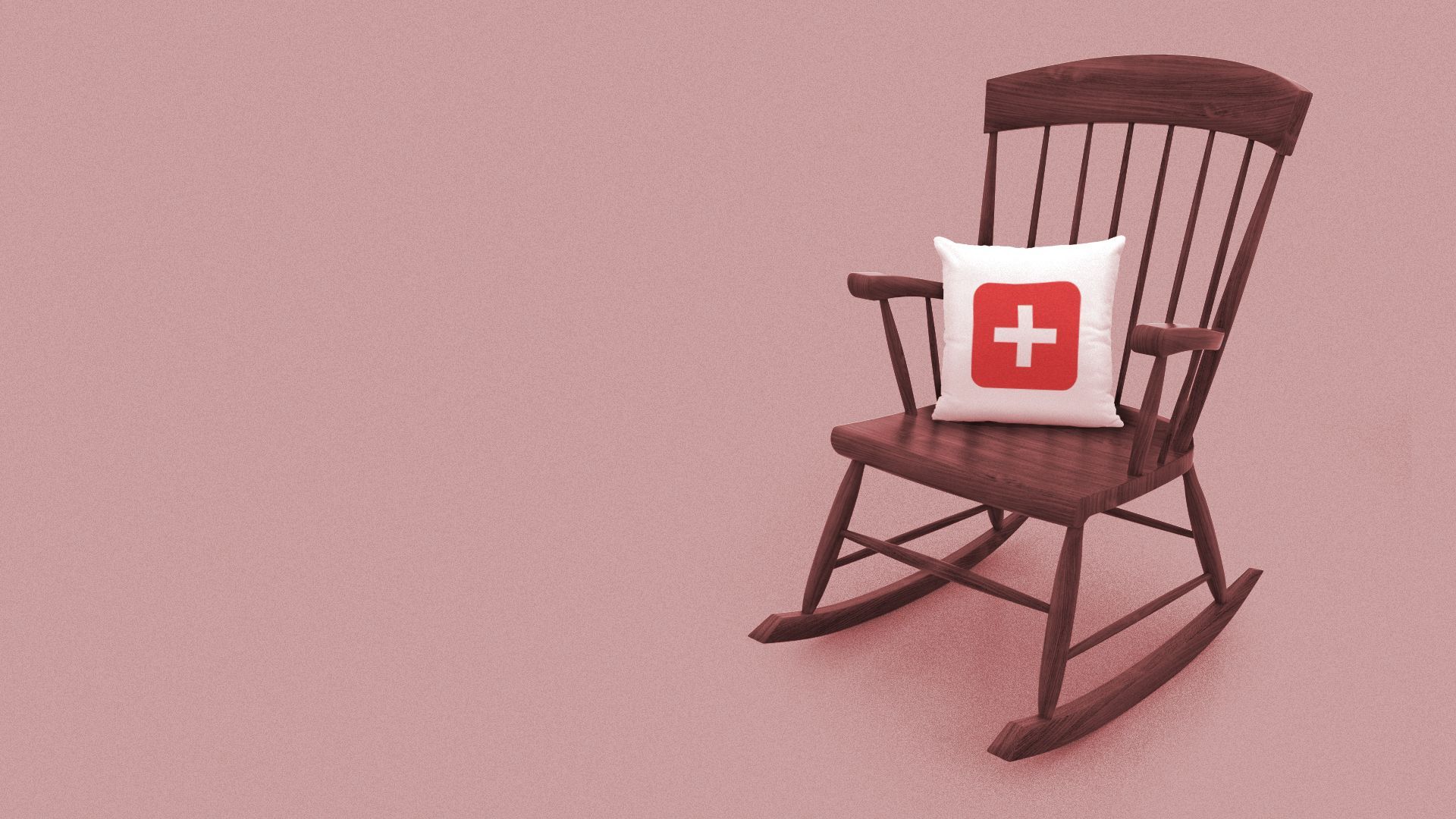 In threading the needle between ensuring patient safety and being realistic about staffing shortages, the Biden administration's nursing home proposal has made lawmakers and interest groups on both sides of the issue unhappy.
Why it matters: Although it's typically harder for an administration to finalize a rule while being blasted by members of its own party over it, it seems nearly impossible for the administration to make Democrats happy, since they're firing at it from the left and the right.
Driving the news: The proposed rule, released Friday, would create new federal staffing requirements for nursing homes, including a requirement that each patient receive at least 33 minutes of care a day from a registered nurse.
The proposal has been a long time coming after President Biden directed CMS to come up with a minimum staffing adequacy level last year.
Biden argued in a USA Today op-ed published Friday that the new standards will ultimately address nursing home profiteering at the expense of patients.
"Think of it this way: we are working to make sure no nursing home can sacrifice the safety of their residents just to add some dollars to their bottom line," he wrote.
What they're saying: Congressional Democrats took both sides.
Sen. Jon Tester — who's one of the most vulnerable Senate Democrats up for re-election next year — released a blistering statement suggesting the proposal goes too far: "It's completely unacceptable for the Biden Administration to impose a one-size-fits-all staffing mandate that will only make things harder on rural nursing homes."
Tester wrote a bipartisan letter to the administration earlier this year expressing concern about staffing mandates, suggesting he's probably not the only Democratic senator with concerns.
On the other hand, Biden is also being accused of not going far enough.
"After repeated delays spurred by industry influence, we have a weak and disappointing proposal that does little to improve the quality of care or stop the mistreatment of nursing home staff," Rep. Lloyd Doggett, the ranking Democrat on the Ways and Means health subcommittee, said in a statement.
Republicans don't seem to like it either, but they're landing in the "goes too far" camp.
"The rule will put nursing homes—particularly in rural areas—in an impossible dilemma as they grapple with how to manage current occupancy levels with the insufficient workforce available to meet the requirements," Energy and Commerce Chair Cathy McMorris Rodgers wrote.
And all of this is before you get to the inevitable blowback from the nursing home industry.
"Nursing homes are facing the worst labor shortage in our sector's history, and seniors' access to care is under threat. This unfunded mandate, which will cost billions of dollars each year, will worsen this growing crisis," the American Health Care Association, which represents nursing homes and long-term care facilities, said in a statement.
"It requires nursing homes to hire tens of thousands of nurses that are simply not there," the AHCA added. "It then penalizes us and threatens to displace hundreds of thousands of residents when we can't achieve the impossible."
Hospitals also criticized the proposed rule and said it could cause nursing homes to reduce capacity or even close.
"Fewer nursing home beds could adversely impact hospital patients who are denied the specialized care they are prescribed when they must stay, sometimes months, in hospital beds awaiting discharge to post-acute care settings," the American Hospital Association said in a statement.
Hospitals also warn that the problem — which is fundamentally that nursing homes run out of room — could become dire in rural and underserved communities.
The bottom line: Good luck, CMS!
Go deeper