The overlapping COVID investigations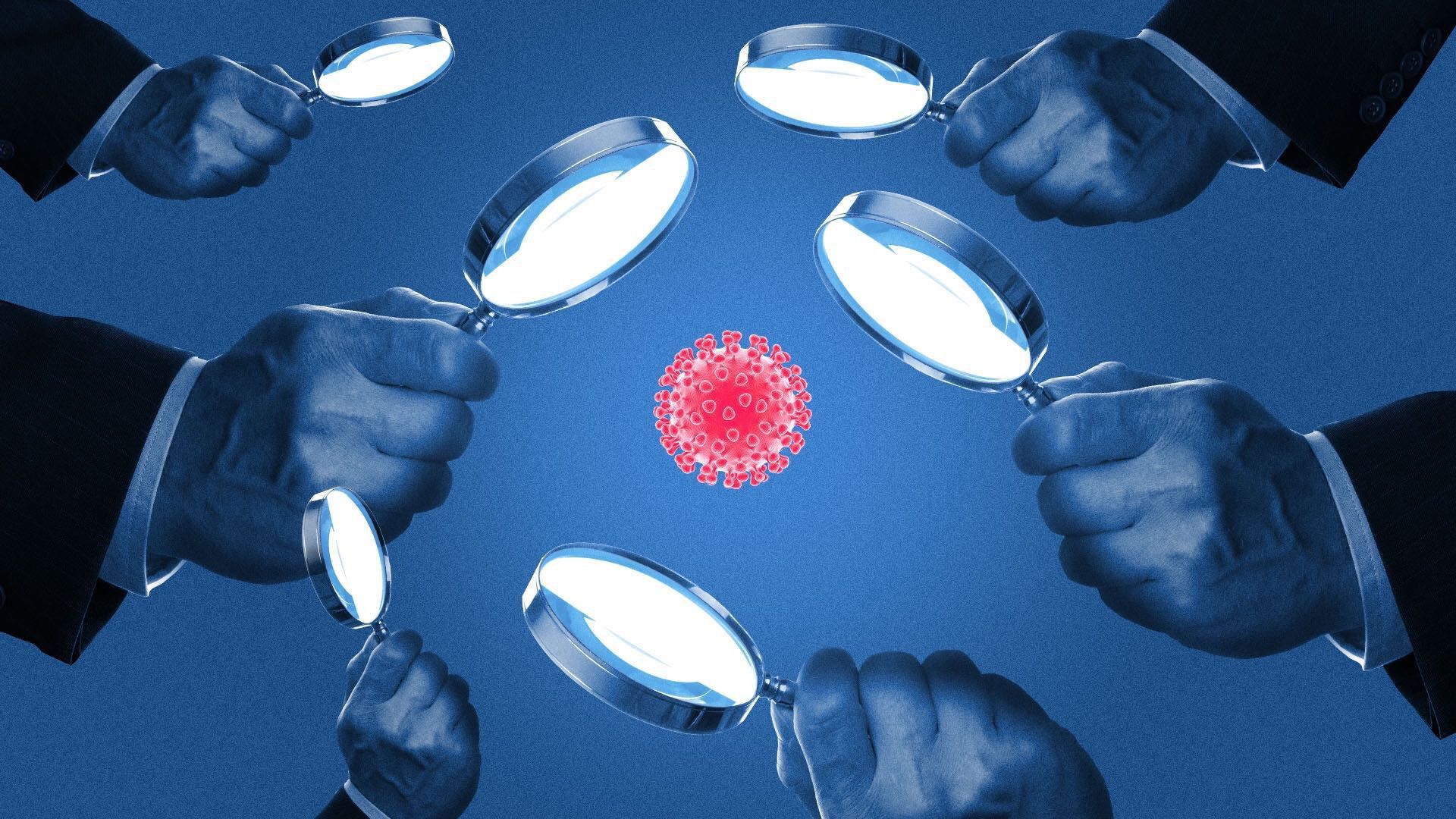 Two House committees, and potentially several more, are going to be involved in investigating the origins of COVID — setting them up for a lot of overlap, and even friction.
Why it matters: What comes out of these COVID origin investigations could have implications for federal funding of scientific research, vaccination campaigns and future pandemic responses — as long as the committees don't blunt the impact by stepping on each other.
There's also the potential for COVID misinformation to be spread, depending on how the hearings are focused and whether far-right members decide to push into those waters.
The main investigations:
Energy and Commerce kicked off the first COVID origins hearing in early February via the Oversight subcommittee, overseen by Rep. Morgan Griffith. Their jurisdiction: public health and research.
The Select Subcommittee on the Coronavirus Pandemic, claims jurisdiction of "pretty much everything related to COVID," as the subcommittee's new chair, Rep. Brad Wenstrup, put it in a hallway interview with Axios. That includes vaccines.
Oversight Chairman James Comer will also be involved, as his committee is housing the select COVID subcommittee.
He and Wenstrup fired off letters Monday to Anthony Fauci, top Biden administration officials and the head of the EcoHealth Alliance requesting information for the select subcommittee's investigation of COVID origins.
What they're saying: So far, key Republicans on those panels haven't cited a plan for how they'll steer the investigations apart — just that they're talking about how not to crash into each other.
"We're going to work together," Griffith told Axios. Asked how the committees are going to differentiate from each other, he said: "I'm going to let the staff figure that out."
Comer said Speaker Kevin McCarthy and Majority Leader Steve Scalise had staff working with everyone to ensure "there aren't any major dust-ups over jurisdiction."
"That communication with the other committees is going to be key. We don't want ourselves stepping all over each other," Wenstrup told Axios.
"In the last Congress, E&C Republicans worked cooperatively with the Select Committee, and we look forward to continuing that work with Dr. Wenstrup," Energy and Commerce Chair Cathy McMorris Rodgers said in a statement.
Yes, but: Two former House Republican senior leadership staffers told Axios that GOP leadership had set up the COVID select subcommittee specifically to head up origins investigations and that there is some annoyance that E&C Oversight is still continuing to look into COVID origins.
One of the former aides added that the COVID subcommittee made its mark on COVID origins with a minority hearing on the subject in 2021 and that E&C oversight could extend into many areas beyond COVID origins.
The other side: "Congressional committees routinely have overlapping jurisdictions and committees in this majority will coordinate amongst themselves to deliver the accountability and oversight that the American people expect and deserve," Mark Bednar, a spokesperson for McCarthy, told Axios.
A current senior GOP staffer also disputed the characterization of tensions, noting that "members from all the relevant committees have met to discuss the effort to use every tool in the toolbox."
"Obviously we want to protect our turf. But we recognize this is such a huge issue that there is not one committee or subcommittee that can get all the answers we need," Griffith told Axios.
The big picture: Even though the two committees are heading up COVID origins, there's also the possibility for several more to get engaged in the COVID origin investigations.
Comer floated the possibility that Homeland Security and Foreign Affairs could also become involved.
Wenstrup, who is also a ranking member of one of the House Intelligence subcommittees, said he thought Intelligence would be involved on COVID origins as well.
A House Republican staffer said the Judiciary Committee and Chairman Jim Jordan will probably be involved, too.
Jordan sent a previous round of letters with Comer last year to entities including the NIH, HHS and EcoHealth Alliance asking for information related to COVID origins. Jordan has also vowed to get Fauci to testify under oath.
And don't forget that Sen. Rand Paul took on the helm of ranking member of Homeland Security and Governmental Affairs instead of Health, Education, Labor and Pensions in part because he was so interested in investigating COVID origins. So Senate investigations could happen too!
Go deeper:
Go deeper