The M&A gears are turning again... slowly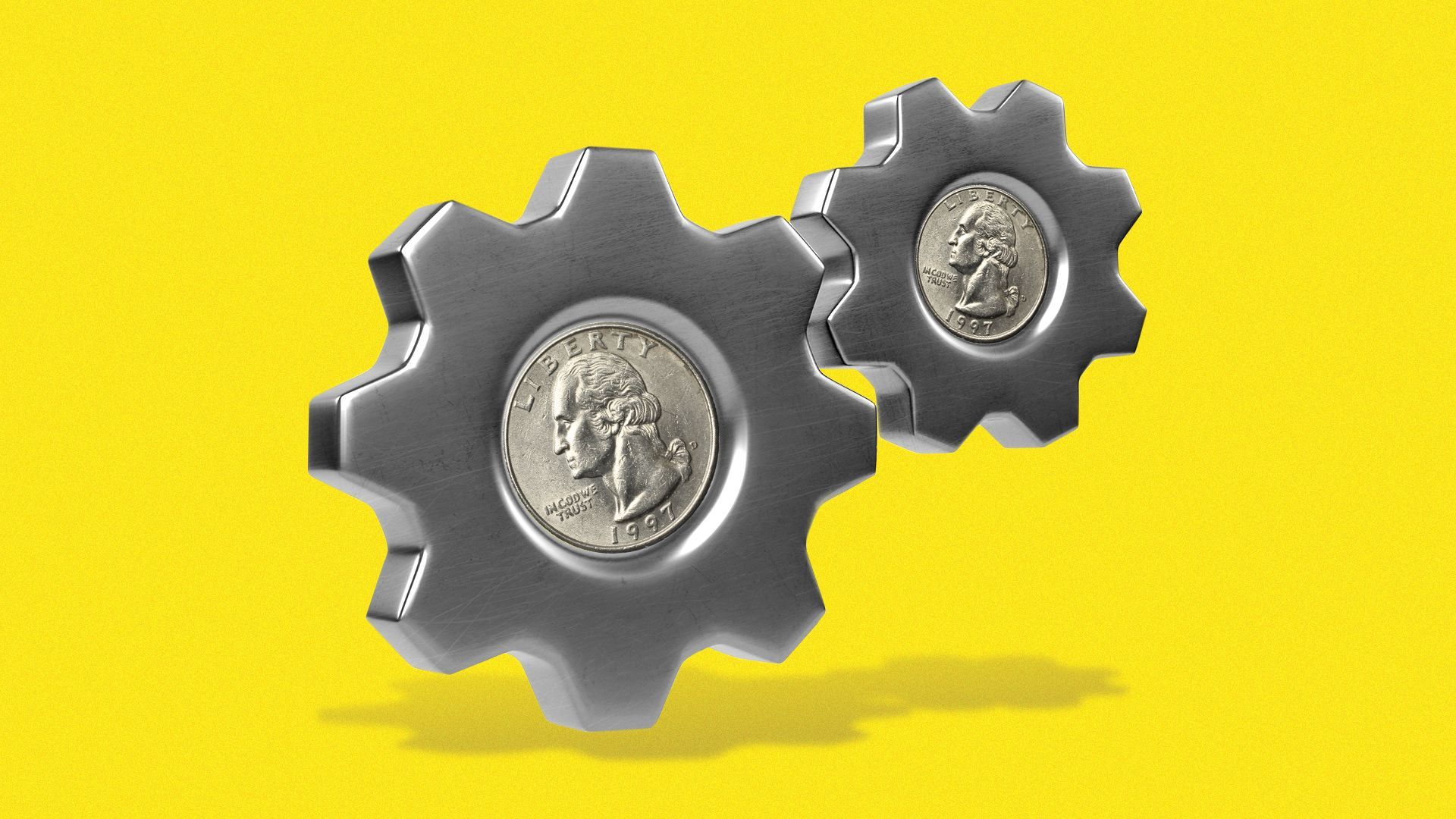 The long-dormant M&A market has started to revive, and dealmakers see rays of hope for the second half and next year as the credit markets ease.
Driving the news: Two big deals in the last two weeks — on July 19, private equity firm TPG bought Nextech for $1.4 billion last week, and on July 13 Exxon bought Denbury Resources for $4.9 billion.
What's happening: Dealmaking has been strangled by pricey, tight debt markets, but banks are lending again, and dealmakers are hanging their hats on a more active 2024.
John Zito, a partner at Apollo Global Management, says financing is flowing faster as banks start to see buyers for hung loans stuck on balance sheets from previous deals.
"The financing market in the past four, six, eight-ish weeks seems to have opened up, with banks more willing to lend," Cleary Gottlieb partner James Langston says.
"Right now, there's a lot of stripping parts and not whole assets being sold off — but there are fire sales coming," Jon Swope, Leerink senior managing director and head of digital health, tells Health Tech Deals' Aaron Weitzman.
Cathay Capital partner André Puong tells Axios he's "actually seen an uptick in the number of books in the past two months," but notes an increased frequency of minority stake deals.
What they're saying: "We see the tide shifting a little bit," says Chris Pedone, a managing director in Houlihan Lokey's fintech group.
Over the last year, sponsors have been reluctant to put their portfolio companies on the block for fear of a low valuation, Pedone says. "But what they're finding in the market is, for them to raise new money from LPs, they need exits," he adds. "So there's a bit of a push-and-pull."
"On the sell side… it's like a traffic jam of assets that have been lining up to transact," Moelis managing director Georgi Balinov says.
Yes, but: While signs of life are evident, don't expect a deal flood in the fourth quarter, says Matthew Tingler, Baird's managing director in consumer and retail.
"To get deals done by the year-end, you really need to be in the market by Labor Day," Tingler says. "I just don't see a lot of kind of new deals coming to market based on conversations with the private equity community."
Of note: This week, the Federal Reserve raised its target rate up another 0.25 percentage point to the highest level in 22 years.
Between the lines: "There's a lot of talk about how to bridge the valuation gap or how to fill gaps in capital structure around financing and the fact that it's gotten more expensive," Langston says.
That dynamic is yielding more preferred, convertible financing and increasingly complex capital structure.
Plus, many sellers are increasingly maintaining a sizable equity stake post-close, Langston adds.
Zito, who is deputy CIO of credit at Apollo, said private equity buyers are consistently signing equity checks worth half the purchase price, assisted by sovereign wealth funds seeking to co-invest on deals.
By the numbers: Over the last 18 months, global deal volume has dropped nearly 10%, with deal value declining by 34%, according to Refinitiv data.
Sponsor-led transactions have seen a nearly 45% downslide in deal value during that time, per Refinitiv.
This year could be the slowest since 2019 for private equity and venture capital deals valued at more than $1 billion, per S&P Global Market Intelligence data.
There was $99.47 billion deployed across 33 deals this year as of July 13, according to S&P.
Catch up fast: From 2011 to 2020, debt comprised more than 50% of the median buyout deal, per data from PitchBook provided to Axios by Harbourvest Partners. That number has since sunk.
Debt in deals completed through the first quarter of 2023 comprised just 37.5% of the median company's capitalization.
In Q1 2023 alone, debt represented only 21.7% of the median deal's capitalization.
Aaron Weitzman, Kerry Flynn, Kimberly Chin, Michael Flaherty, and Ryan Lawler, contributed reporting to this article.
Go deeper